Ariana Grande, Justin Bieber Respond to 6ix9ine's Claims of Chart Foul Play (UPDATE)
The duo's "Stuck With U" topped the Billboard Hot 100 chart this week.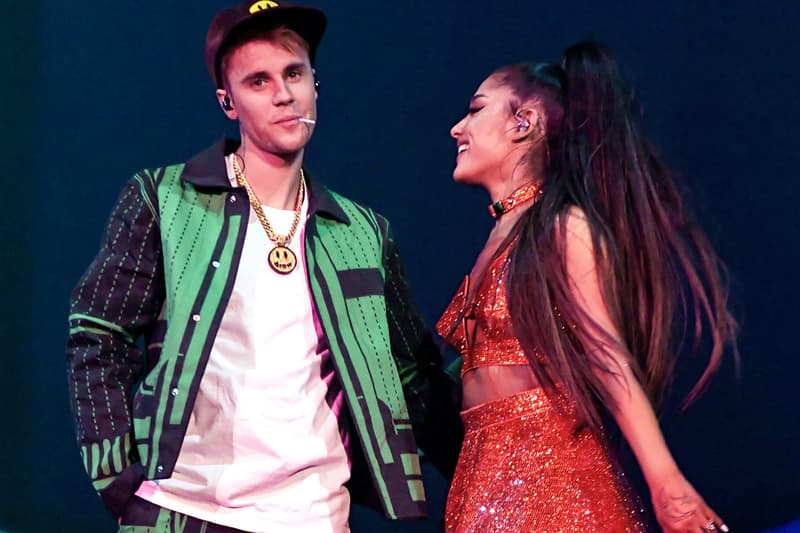 UPDATE (May 19, 2020): Ariana Grande and Justin Bieber have responded to Tekashi 6ix9ine's claims that the duo rigged the Billboard Hot 100 charts with their song, "Stuck With U."
6ix9ine took to Instagram yesterday to say that "you can buy number ones on Billboard." The rapper went on to say that Grande and Bieber's hit submitted 60,000 units on May 14, and that from his research, the duo submitted 30,000 of those units by using "six credit cards."
Bieber has responded saying, "60,000 units came at the end because we don't disclose our numbers until the end of the week." He continued to explain how the charts work, adding "the rules are clear one credit card can buy max four copies. Anything over that, the entire amount gets thrown out."
Ariana Grande took to Instagram to address the rumors, saying "Our fans bought this song (never more than four copies each, AS THE RULES STATE). They are ride or die motherf*ckers and I thank god every day that I have them in my life." The singer continued to say in her lengthy post, "To anybody that is displeased with their placement on the chart this week or who is spending their time racking their brain thinking of as many ways as they can to discredit hard-working women (and only the women for some reason…..), I ask u to take a moment to humble yourself. Be grateful you're even here. That people want to listen to u at all."
You can find 6ix9ine's accusations, as well as Bieber and Grande's responses below.
Justin Bieber addresses #6ix9ine and the cheating accusations he's making toward Justin and Ariana Grande and Billboard.

"if you gonna say her name… make sure you say mine" pic.twitter.com/lWU14r1bVa

— The Cruz Show (@TheCruzShow) May 18, 2020
---
Original Story (May 19, 2020): Ariana Grande and Justin Bieber's hit "Stuck With U" has landed at No. 1 on the Billboard Hot 100, taking over last week's reigning queens Doja Cat and Nicki Minaj with their version of "Say So."
"Stuck With U" debuted at No. 1 while Tekashi 6ix9ine, who was also trying to get his debut post-prison track "Gooba" to the top spot, came in third. Grande and Bieber pushed "Say So" to second, while Beyoncé and Megan Thee Stallion's remix of "Savage" moved from second-place to fifth.
The #Hot100 top 10 (chart dated May 23, 2020) pic.twitter.com/BoTzLgUgmW

— Billboard Charts (@billboardcharts) May 18, 2020
6ix9ine's track has dominated YouTube this week accumulating over 180 million streams, while "Stuck With U" garnered considerably less at 40 million. However, Grande and Bieber's track did amass 108,000 downloads on the Digital Song Sales chart and 28.1 million U.S. streams. Sales made from "Stuck With U" will also be partially donated to the First Responders Children's Fund, helping those in need during the coronavirus pandemic.
6ix9ine recently accused Billboard of manipulating the charts. In an Instagram video, the rapper showed an email that would forecast his track to land at No. 2, and see "Stuck With U" stay at No. 5. However, he then showed another email that predicted "Stuck With U" would land at No. 1.
In other news, Future could score his seventh No. 1 album on the Billboard 200 chart with his latest offering, High Off Life.