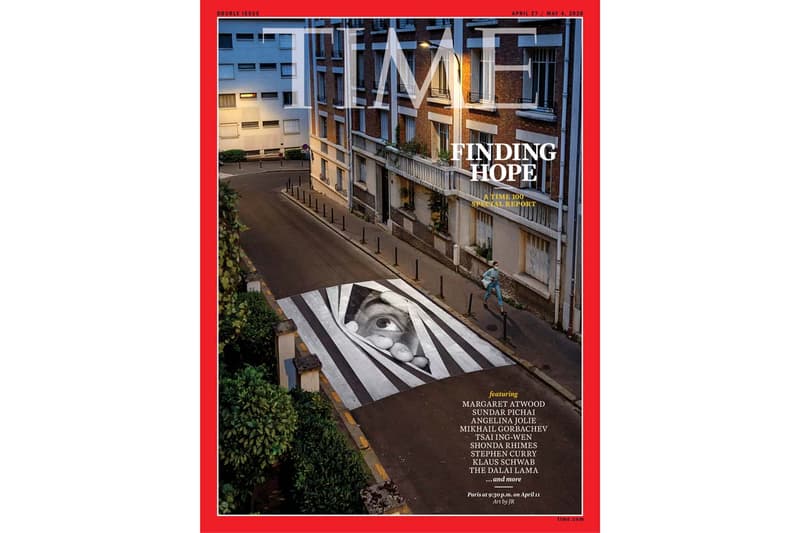 'TIME' Enlists Artist JR for 'Finding Hope: A TIME 100 Special Report' Cover
Featuring essays from Stephen Curry, James Corden and more.
---
TIME magazine has shifted its annual TIME 100 edition to a special format in light of the coronavirus pandemic. Instead of its usual profiles on tastemakers around the globe, the publication has asked its dozens of honorees to share advice for the world during these unique times and has called upon French photographer and artist JR to illustrate his take on the theme: "Finding Hope."
JR, who previously conceived TIME's "Guns in America" cover, took to the streets of Paris' 19th arrondissement to create the 15-by-21-foot artwork. Inspired by the days of his youth when he'd do graffiti around the area, the artist pasted strips along the road to create a trompe l'oeil-style image of someone peeking out of the window, a bittersweet depiction of the increased time spent indoors and the lingering hope that better days are on the horizon.
As the last step, JR — who himself contracted the virus and recovered a few weeks ago — took a photograph of the anamorphic image, which he says took about "20 to 25 minutes" to complete. "I hope it will inspire and reflect what everyone is feeling right now," he said. "It's a special time. I hope this image sends hope when we can go back on the street—walk on the streets again."
More than 50 members of the TIME 100 community are featured in the issue, including Stephen Curry, James Corden, Angelina Jolie, Shonda Rhimes and more. TIME editor in chief and CEO Edward Felsenthal stated in his letter to readers: "Throughout these contributions…'there is an under­lying message of resilience and hope.'"
Visit TIME's website to read essays from the issue now.
For more in the arts, read about how the MoMA design store recently dropped over 100 rare books from the archives.