Stay Home Snaps: Alex Kasavin
The brand consultant is making the most of springtime, even in quarantine.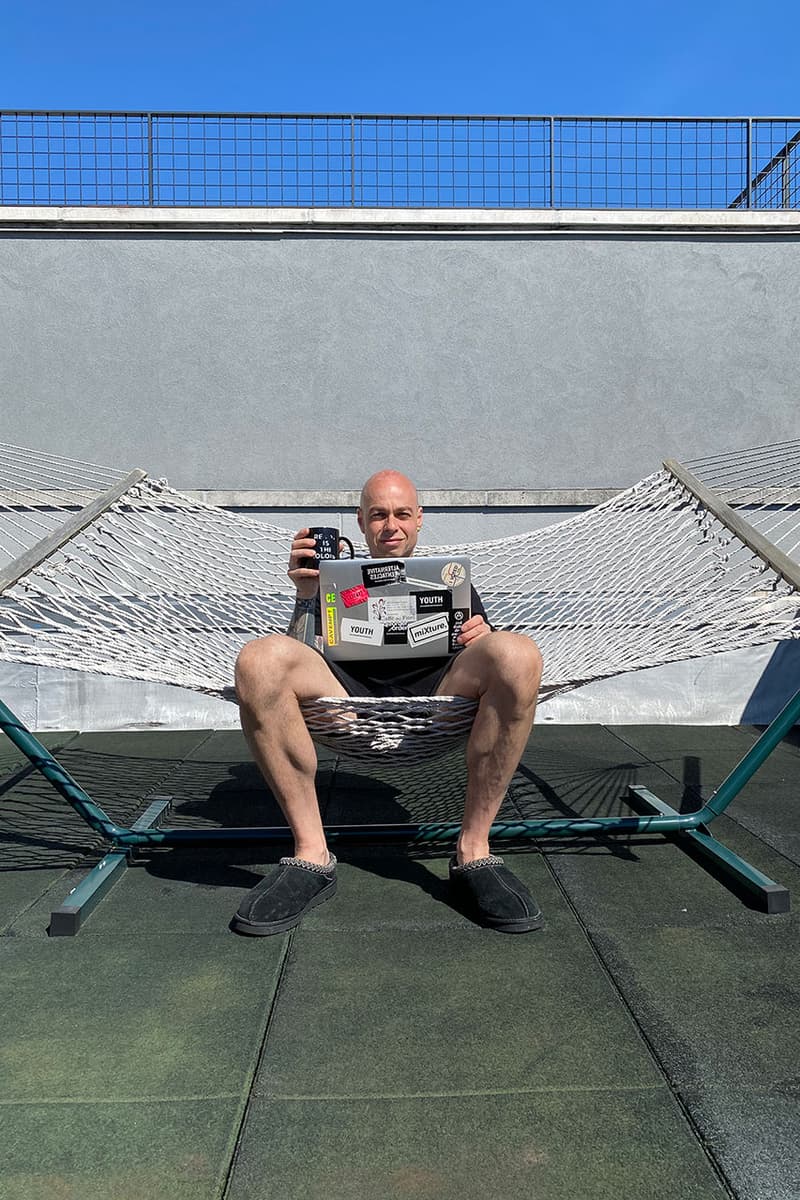 Stay Home Snaps: Alex Kasavin
The brand consultant is making the most of springtime, even in quarantine.
Alex Kasavin isn't letting self-isolation slow him down. The brand consultant and ex-fashion director for Idol Brooklyn may not be creating editorials and flying to Europe to scope new collections as he used to, but a myriad of projects are keeping him busy as he, like everyone else across the globe, navigates the tricky coronavirus quarantine.
Safely holed-up in Brooklyn, Kasavin has engendered a uniform of comfortable clothing ideal for balancing out the exhaustion of the 24-hour news cycle. Another essential technique for staving off cabin fever? Occasionally indulging in some less-than-healthy snacks.
What's your daily routine?
I wake up around 8:30, make coffee and watch business news. If the weather is nice, I'll go for a run through the neighborhood or up to my roof deck for a round of circuit training. After lunch, my wife and I take Nero, our 15-year-old Scottish Terrier, around the block. My afternoons and evenings are spent catching up on the day's events in world news and social media, talking and texting with friends and family, browsing LinkedIn for opportunities, cooking, Netflix.
Where in your home do you like to work?
I alternate between the kitchen table, couch and hammock.
What do you wear while working from home?
Lately I've been working in a Cold Cave tee, Warren Lotas shorts and UGGs. For walking the dog, grocery shopping, and other outdoor expeditions I reach for my Kiko Kikostadinov x ASICS Gel-Kiril and Vetements "Global Mind F*ck" hat.
What are you eating now?
I balance healthy meals with junk-y snacks and lots of vitamins.
How do you stay a good headspace while in isolation?
After grinding as hard as I have in the past few years, I'm not pushing myself to be especially productive at this time. I'm using the opportunity to recharge and reset so I'm refreshed for whatever comes next.
What are you listening to and doing for fun?
Yves Tumor, Fivio Foreign, City Morgue, The Big Short, Tiger King, Tony Robbins, Wall Street Bets, ZeroHedge.