How Swizz Beatz and Timbaland Turned Instagram Live Into a Hip-Hop Celebration
The music icons are using Instagram Live to stage digital beat battles.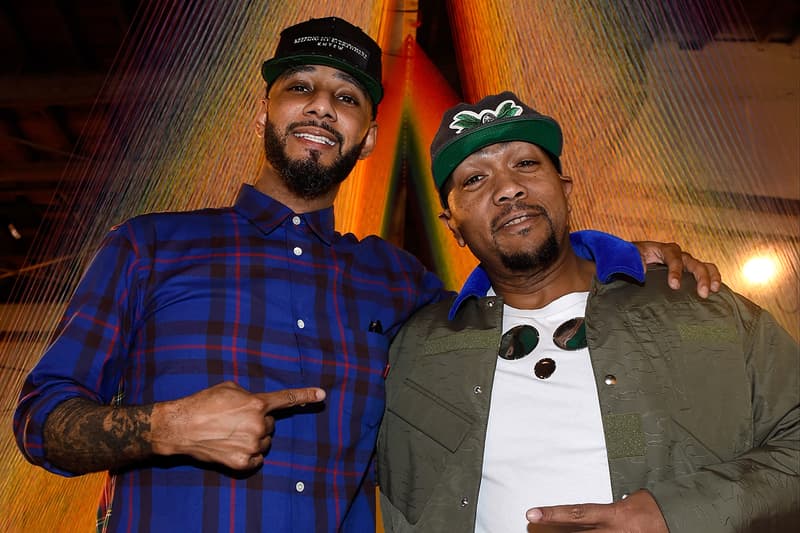 Ever since the outbreak of COVID-19, the music industry has been thrown into a whirlwind, as musicians try to figure out how to keep their fans engaged.
The most entertaining content we've seen has been split between Instagram and TikTok, but Instagram is taking the lead. VERZUZ, by GRAMMY Award-winning Swizz Beatz and Timbaland, has created a wave of celebrity-studded live beat battles celebrating hip-hop's greatest legends on Instagram Live.
On March 24, the two icons posted about a friendly challenge to see "who has the most hits." The two went from posting back and forth on Instagram posts to hopping on Instagram Live and going beat after beat, pulling from a discography spanning JAY-Z, Aaliyah, DMX, Missy Elliott and more.
Next they enlisted many of their colleagues in head-to-head battles, including Sean Garrett vs. The Dream, Scott Storch vs. Mannie Fresh and Lil Jon vs. T-Pain. The Lil Jon vs. T-Pain battle alone accumulated over 280,000 live viewers, providing audiences a new escape to the global pandemic.
HYPEBEAST spoke with Swizz, Timbaland and the producers and musicians who have joined the battles, such as Lil Jon and Sean Garrett, about their battles on VERZUZ. Read on for how they started the battles and where they see it going. And check out this weekend's upcoming battle, with Babyface and Teddy Riley facing off this Saturday at 9 p.m. EDT.
Swizz Beatz and Timbaland
HYPEBEAST: What is VERZUZ?
Swizz: VERZUZ is a celebration to the creatives. It's also an educational celebration because a lot of people like to use the word battle, but what we're really doing is celebrating a lot of great artists.
Whose idea was it to start the battles?
Timbaland: Me and Swizz… we had this idea about three and a half years ago and everything is about timing. Which timing is perfect right now.
Swizz: It definitely wasn't to have it on Instagram, it was something we were going to do on tour and pair these interesting matches up like what we're doing now. We saw the opportunity with Instagram and that everyone is home right now, so we were thinking of doing something unique. Everyone wanted me to DJ and there's a lot of interesting DJs out there who we respect and they got a good head start on doing that so I said you know what, I think this is a good time to bring our idea to the table.
We definitely didn't know or think it was going to spark so fast to be honest because people have a lot of options to watch different things and we were just having fun. But so many people responded to it so well, that you know it just kept getting more serious and bigger every day. Even last night, the different people that were in the chat was unbelievable. (NBA, UFC, Netflix, iFC, SportsCenter, MC Hammer… everybody!)
You know, what's important is that it's letting people go back into the catalogs of these artists which a lot of people may have forgotten about. It's like a deep dive. Example, nobody knew that Lil Jon produced the "Capelton (Tour Remix)" song before last night. It's just showing the creatives in the right light. Tim can tell you, everybody's catalogs are going up after these battles and these artists are being called for superwork. Lil Jon said he sent out 80 beats the next day based on the request. You know, so it adds to the culture as well.
How are you selecting participating artists?
Timbaland: What a lot of people don't understand is that this is a job that Swizz and I wanna see the best curation of the celebration. We really get on the phone and talk about matchups and we put out calls… he'll call one person, I'll call another person. You know, it's a process. It may not be what people wish but we really sit down and try to curate the best for the people.
How are they being paired?
Swizz: They have to submit their 20 songs and Tim and I approve. Because a lot of artists may pick the wrong 20 songs and so our main thing is to keep the energy going and displaying the best of the artists. So we help a lot of the artists understand to come with your best. You saw how last night T-Pain came out of the gate with "Good Life" (by Kanye West) and from there the momentum was going.
And a lot of artists may play a song that the people may have never heard before… and this is not that. We encourage them to play their best. So when they send us the list, me and Tim already know what type of celebration we're about to have because of what we're seeing on the list.
How long did it take you to organize this for Instagram?
Swizz: We just went, you know. Now we plan on upgrading the quality, upgrading on every level because a lot of greats are getting ready to participate in it as well. We want to build something that's special for the artists and creative community. We're not just talking only music, we're going to graduate to other sides of the spectrum. You now, we want to build something that has life after quarantine and that's why we're being very selective in our taste level as something that people are enjoying. Everyone is calling for battles you know, but you have to qualify. You have to have 20 something songs to match.
Sean Garrett
HYPEBEAST: With the battles right now, you're a hot topic. Whose idea was it to battle The Dream?
Sean Garrett: It was actually Timbaland and Swizz. They started the battle, and I wanted to challenge DJ Khaled. Swizz and Tim were like, "Sean you're a producer but you also write records too" so let's match you up with somebody that's more up your lane. They were like let you and The Dream go at it. I was like that's cool, I was with all of that smoke, so sh*t let's get it going.
Why did you agree to do it? Did you want anything out of this?
Sean Garrett: Well the great thing about the battles was that, number one the coronavirus scenario is happening, and it's really a moment where everybody is sort of going through a tremendous time in their life. Everything could stop, everything could end, when you have a situation about people literally dying, these could be some people's last day on Earth. Everything has stopped, and when it comes to music, music is one of the last things to go. I feel like the battles was an opportunity for people that really do music to have a chance to show the world what we really contributed to the business and to the culture.
Scott Storch
HYPEBEAST: When you're making a hit record, what do you channel? What inspires you?
Scott Storch: I feel like if we look at it, as if I'm going to make a hit record, that's the kiss of death and it loses its art. So we just go in and hopefully we come out with something special. You know one of every 10 to 15 beat ideas, there's one that has a special magic to it. Being able to identify which one is that special one is part of the gift, and is one of our jobs as a producer. And then we try to, you know, silly putty, we try to sculpt it into something special and we hope for the best. We never really know which ones are going to become hits, every now and then you'll hear something and you'll be like yea that's a hit record.
What's next for you?
All my focus is on the upcoming album in partnership with Atlantic Records and a cannabis rehabilitation for healing center I started with my manager Steve Lobel. Be on the lookout for a new single with Ozuna and Tyga.
Lil Jon
HYPEBEAST: After your battle, did you see an increase in your numbers or people contacting you?
Lil Jon: Yeah, I mean on all fronts. My followers went up a lot, my songs and T-Pain songs were trending on Twitter last night. It's just an incredible time right now. Everything is blowing up. I'm taking everything and all day long I've been tagged in so much stuff. My Instagram is getting so much activity that I can't even open up my activity page right now, it's frozen or something. There's too much activity.
Do you think coronavirus is gonna shift the music industry after this is all said and done?
I mean who knows, we are going day by day or week by week now. Things are changing so fast now with all of this stuff going on, I just don't know man. Literally we were just talking Wednesday, I just woke up and I didn't know we were going to be doing this on Saturday. It just kinda came quick, and last night happened and it's like wow. Something is moving so fast, but I think we are forever changed in how we do a lot of things. It's really crazy.