8 Drops You Don't Want to Miss This Week
Featuring Supreme, PLEASURES, Takashi Murakami, C2H4, Palace and more.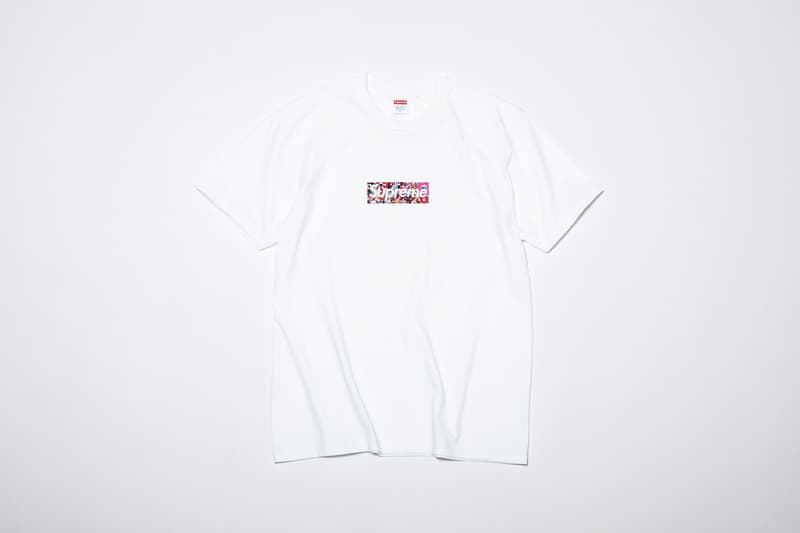 With another week we have yet another installment of our product drops series, this time marked by a host of standout releases. Leading the list is the release of Supreme's ninth Spring/Summer 2020 drop and Palace collaboration with Anarchic Adjustment.
Coming back with its major collaboration series, the Week 9 drop from Supreme features a collaboration with My Bloody Valentine centered around the iconic Dublin rock band's original album artwork. Additionally, Supreme tapped Takashi Murakami for a timely Box Logo T-shirt release intended for Coronavirus COVID-19 relief.
Palace's release this week brings '80s post-punk label with Palace's signature logos and branding for an array of edgy streetwear offerings.
The standout collaborations this week comes from J Balvin and Takashi Murakami who are continuing the smiling-flower design used for Colores and the PLEASURES by Left Hand Earth Day capsule collection. Other notable releases include HYSTERIC GLAMOUR's Korin Ogata capsule collection and Hong Kong-based techwear imprint NILMANCE's SS20 collection. Rounding up this week's product drops is C2H4's second drop of its Case#R001-X "Neonaissance" collection, led by the label's first foray into the jewelry realm.
C2H4 Case#R001-X "Neonaissance" Jewelry Release
C2H4 has now delivered the second drop of its Case#R001-X "Neonaissance" collection.
Leading Drop 2, is the label's first foray into the jewelry realm. Centered around its established unique science thematic concepts, the accessories express dynamic whimsical styling. Crafted of 925 sterling silver, pieces showcase ideas of gender fluidity and build on the cross-class dynamic of the seasonal collection. The Stereoscopic Earrings, Two-Piece Necklace, Fluent Layered Bracelet and Stereoscopic Bracelet all present impeccable attention to detail and layering elements.
When: Now
Where: C2H4
PLEASURES by Left Hand Earth Day Collection
To mark this year's Earth Day, PLEASURES has teamed up with DIY specialist Left Hand on a capsule centered around upcycling.
The limited collection features a mix of archive and exclusive PLEASURES items reworked into new and exciting pieces. Left Hand looked to honor the aesthetic of the streetwear imprint while infusing its method of building, modifying and or repairing. All proceeds generated by the collaborative capsule will go to LA Compost, an organization that supports the transition of food waste into resources.
When: Now
Where: Left Hand
J Balvin x Takashi Murakami Capsule Collection
Continuing his relationship with Takashi Murakami, J Balvin teamed up with the celebrated Japanese artist on a bright range of T-shirts and hoodies. Murakami's iconic flower motif is expressed on the garments across a purple, white and black color palette. Like the smiling-flower design used for Colores, the flowers in the capsule feature unique lightning bolts as eyes.
The colors correspond to songs like "Rojo," "Amarillo" and "Azul" found on J Balvin's Colores album. The songs "Morado" and "Blanco" are also incorporated into the collection, appearing in a spray-painted font. Elsewhere, hoodies sport the flower motif in varying sizes on the fronts and backs, while lightning bolts adorn the sleeves.
When: Now
Where: JOYCE
NILMANCE SS20 Collection
For SS20, Hong Kong-based techwear imprint NILMANCE has returned with a variety of lightweight options focused on functionally-aligned apparel.
Utilizing innovative textiles, utilitarian cuts, and military aesthetics, the collection encapsulates the idea of division, defined by dividing the various garments into different sections as exemplified by convertible cargo parts with a vertical zip opening, convertible jackets with removable sleeves, and more. A standout is the Schoeller-clad 3L jacket and high-density nylon vertical chest zip parka, the latter of which can be converted into a travel-sized bumbag with an adjustable sling. The rest of the range employs unique textiles that feature a thermo-sensitive resin, the adaptable windproof and waterproof Schoeller c_change textile, Schoeller 3XDRY technology and more.
When: Now
Where: NILMANCE
Hysteric Glamour Ogata Korin Capsule Collection
For its latest release, HYSTERIC GLAMOUR put together a souvenir jacket and Hawaiian shirt emblazoned with artful depictions of Raijin and Fujin, Japanese gods of weather.
The specific print by prominent 17th-century Japanese painter Korin Ogata are set atop a sleek black foundation of the souvenir jacket and Hawaiian shirt. The jacket features standard lapels, silver-toned zippers and an elastic hemline for a fitted look. While the button-up boasts dark brown bamboo buttons and a semi-boxy cut for a breezy relaxed fit.
When: Now
Where: HYSTERIC GLAMOUR
Supreme SS20 Collection Week 9 Online Release
Keeping its Spring 2020 releases coming, Supreme has now readied the Week 9 drop of its latest seasonal collection.
Jumping back into its major collaborations of the season, the New York imprint has now teamed up with iconic Dublin rock band My Bloody Valentine. The special range taps original album artwork from My Bloody Valentine's discography: the Trucker Jacket, green Rayon Shirt and one T-shirt design celebrate the EP Feed Me With Your Kiss; the pink Rayon Shirt and Hooded Sweatshirts reference the album Loveless; the blue Rayon Shirt design comes from their namesake promo My Bloody Valentine; and the other T-shirt variation from their EP Glider.
Additionally, Supreme tapped Takashi Murakami for a timely release intended for Coronavirus COVID-19 relief. 100 percent of its proceeds will go to HELP USA, a charity organization that started out as a shelter in Brooklyn, and has expanded nationwide supporting all youth and families of all backgrounds that are facing homelessness during the pandemic. The contemporary artist and skateboarding label have put together a Box Logo T-shirt marked with the original artwork centered around Murakami's iconic flowers and skulls motifs. The Takashi Murakami x Supreme Charity Box Logo T-shirt for COVID-19 relief will retail for $60 USD and is available online in the U.S. and Canada only April 24.
Accompanying standout garments include the New Era MLB Varsity Jacket and matching fitted cap, Quilted Cordura Lined Jacket and Overdyed Hooded Sweatshirt. Other notables include the Top of the World T-shirt, Star Logo T-shirt, Dog Raglan Top, Hourglass Raglan Top. Bottom offerings include Double Knee Painter Pants, Cotton Cinch Pants and Overdyed Sweatshorts. This week's boldly branded accessories come in the form of the Hanes Tagless Tank Tops (3 Pack), Heller Mugs (Set of 2) and Waterproof Lighter Case Keychain.
When: April 23, Japanese Release April 25
Where: Supreme Online
Anarchic Adjustment x Palace Spring 2020 Capsule Collection
Following their collaboration with EVISU, Palace has now readied its latest team-up with '80s post-punk label Anarchic Adjustment. Founded by Nick Phillip in 1986, Anarchic Adjustment was known for fusing punk, acid house and skate aesthetics. After gaining popularity with the UK's street style BMXers, the brand became influential in Japan in the 1990s and was adopted by San Francisco's rave community.
The special range brings together a string of punk-inspired graphics that make up the brand's signature aesthetic with Palace's signature logos and branding. The capsule comes in a color palette comprised of black, green and neon yellow. Stand-out graphics include text such as "London counter culture," "the future is unwritten" and "nothing is true, everything is permitted." Additionally, imagery including outstretched hands and barbed wire features alongside the classic Anarchic Adjustment logo and Palace's Triferg.
When: April 24, Japanese Release April 25
Where: Palace Online