PARTYNEXTDOOR Embraced Vulnerability and Made His Biggest Record Yet
The reclusive artist on how lonely midnight drives sparked 'PARTYMOBILE.'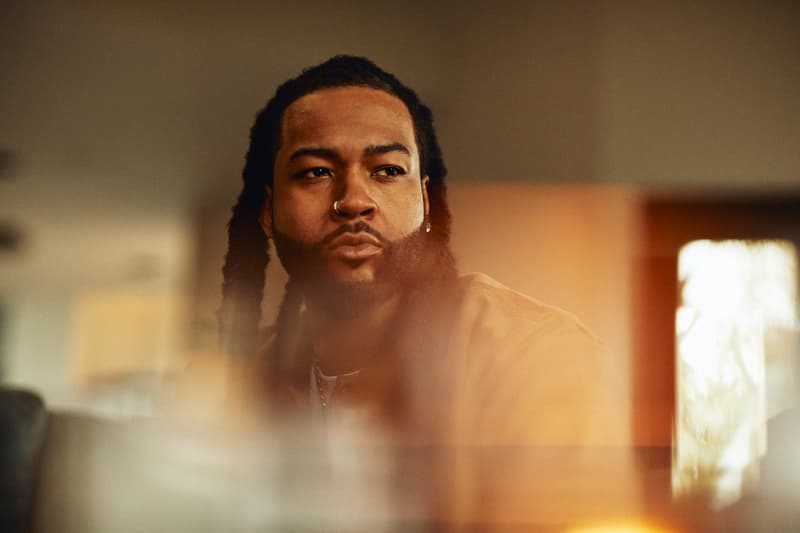 PARTYNEXTDOOR has spent most of his creative life as a recluse. He's been holed up in his recording studio tirelessly perfecting his new album, critiquing his latest cuts on lonely drives in his Range Rover over the steady background noise of his fans' demands for new music.
Now, when he's finally readied his first project since 2017's Seven Days EP, he finds the world is a reflection of his past three years: quarantined at home. PARTY doesn't mind, though. "I've still been in the studio through all of this, so nothing has really changed for me," he tells HYPEBEAST. In fact, he was still fine-tuning mixes, keeping reference tracks and preliminary streams away from his label until the last second.
His latest full-length LP, PARTYMOBILE, is out today through OVO Sound/Warner Records. Throughout the 15 tracks, the Canadian-born musician, legal name Jahron Anthony Brathwaite, battles relationship drama with both empathy and indulgent self-hatred. Compare the opening lines of his Drake collaboration, "Loyal," with his 2014 hit "Recognize" and there's an undeniable growth. He interpolates his native Jamaican Patois in the opening verse, aiming to get on his girlfriend's friends' good side.
It's the type of song that will be added to wedding playlists for years even if its main themes are paranoia and doubt. Get past the addicting "You're my best friend" refrain and PARTY slips right into his comfort zone with, "Pain goes away when you're with me/Even when your troubles all look risky/It's all under control."
His music is still dripped in the same FL Studio preset that inspired his name a decade ago. Originally featured on his earliest work because it was the closest plug-in to match Noah "40" Shebib's production on early Drake records, PARTY has since flourished within and away from the October's Very Own camp, which he signed to in 2013.
His collaborations with Rihanna, stemming from an impromptu writer's workshop at her home, resulted in two of her biggest hits with "Work" and "Sex with Me." On PARTYMOBILE, the duo reunite for a surprise single, "Believe It." It was rumored to be in production over a year ago, but as PARTYNEXTDOOR tells it, he had to be reminded by Drake that it was still on his personal hard drives.
"I had cut a demo and there was just nobody that could execute it," he says. "I think maybe four months ago when I had just started the mixing process for the album, Drake and my team called me and reminded me of this demo that I did and she was on board. She ended up loving the record. It's very self-aware, it's a conversation."
PARTY kicks off the album with "Nothing Less," where he promises to give his partner the best of him even while their relationship stretches him thin. The song could just as easily be a message to his fans after a lengthy hiatus. Seven chapters into his career, PARTYNEXTDOOR is efficient at offloading his personal pain through his work. And that can still be exhausting.
Ahead of PARTYMOBILE's premiere, PARTYNEXTDOOR joined HYPEBEAST to talk about the inspiration behind his latest record, his perfectionism and dealing with the weight of vulnerability.
HYPEBEAST: It's been around three and a half years since the world last heard from you. With everything going on, how are you feeling?
PARTYNEXTDOOR: I'm excited. Super excited, you know? I haven't been this excited about a project since like P1, man.
Wow, that's saying a lot. What do you attribute that excitement to?
I think it's the stories, the music, the presentation and personal expectations. It's just been so long since I last dropped.
I know you value your personal privacy, so how do you prepare for the attention after PARTYMOBILE releases?
I talk to my guys who are around me a lot. They keep me prepared for this stuff.
With many holed up with the current Coronavirus outbreak, have you revisited your past of producing in your bedroom and home studio at all to make music during this time?
Oh yeah. I've still been in the studio through all of this, so nothing has really changed for me.
What was the inspiration behind the title PARTYMOBILE?
I got it while I was driving, listening to a lot of my music maybe last summer going into fall. And as I plugged the phone into my Range, the screen read Party: Mobile. And that's the reason — it just all came together, it looked dope and it just felt like that — it felt right. I wasn't leaving the house much for a minute because I was feeling down for a while. But as I started to go out more I had theme songs for those moods, for every time I left the house.
What were your cars of choice during your personal listening sessions?
My Range Rover, my Jaguar — I love that car. I think those two cars, they sound completely different, but something about them. I needed to drive in a sports car, and I needed a truck. They were both custom sound systems, but I think the quality of the sound in the Range was just so important, and was also very nostalgic to me.
What else were you listening to for inspiration?
I was listening to a lot of my old influences and the music that I was currently making at the time. None of that will ever be released, but I listen to myself a lot. I have to be my harshest critic. I think it's important.
"I listen to myself a lot. I have to be my harshest critic. I think it's important."
You left the Toronto area for Los Angeles almost a decade ago. How did those drives in California shape the sound of this new record?
I'm basically an hour outside of LA so it's a little less busy, but I did the album out here at my house, but I'd say I did 50% of the work was also done out in Toronto. The drives out there were just as important. I took a lot of time to myself when I was in Toronto making this album, driving out there in my old neighborhood. The soundtrack was just as important over there. Some songs felt more personal out there.
What did you notice about the sonic changes? Was there a particular sound that you'd discover in LA and that would change when you were in Toronto?
Nah. Nah nah nah nah. I'd hope not (laughs).
In the past, you've talked about how an almost militaristic routine was important to your creative output. What was your routine like when you were crafting this project?
For recording it, it usually started in the afternoon and would go through the night, but during the mixing process it would start in the early morning. I'd take a break and then revisit it later on in the night. When I make my music, it's never done in just one day, even though I can record in one day — the time that I have to sit with it and craft it, think about the backgrounds — that could take a month or months before I get a final bounce of the record.
So you're going over single songs with multiple takes, multiple revisions. Would you call yourself a perfectionist?
In my own way, what I think is perfect, yeah. I would call myself a perfectionist, yeah. People would call me one too.
Do you feel like there are any pitfalls in perfectionism? Like how it affects your output?
It can be stressful, obviously. It's always more stressful than dropping sh*t and letting anything fly.
How does being so vulnerable during the songwriting process affect you? How do you adapt to the flow of everyday life after that?
When I'm able to execute, say like, "The News," getting that song off, I felt so relieved. These songs are my therapy, especially with this album. [Recording] is very emotional, very deep. You have to imagine that in the middle of the verse that it's very vulnerable.
So how do you decompress?
Video games (laughs). Right now I'm caught up playing 2K, working out a lot. Oh man, [the NBA suspension] it's hurtful. Toronto didn't get a chance to level up, but we'll see, we'll see.
You've detailed that you take particular care of your voice – taking a shot of vodka if you want to sound raspy on a track, drinking hot tea if you want some clarity. Did you change any of those techniques for PARTYMOBILE?
I think a lot of this is second nature now, so I don't really think about the process as much anymore.
"These songs are my therapy, especially with this album."
"Loyal" marks around the 10th time you've released a collaboration with Drake. How has your relationship with him and OVO grown?
Has it really been 10? (Laughs). Wow that's crazy. Our relationship has grown, man. I love that guy. That's my big bro. You know I think our relationship is perfect, and I think that's mutual. We're really close.
The video for "Loyal" was a surprising turn because you branched out and enlisted a claymation artist. How'd that come about?
I'd seen William [Child]'s work on YouTube and it was just so interesting to me. It reminded me of this childhood cartoon that I used to watch and I immediately sent it to my manager. I don't remember [the childhood cartoon's title] he had a dog or something and he didn't talk. I think it was a British show.
Wallace and Gromit?
Yes! So [William's work] reminded me of that and I was like, "Oh my God! I gotta do this."
You also opened up a lot more for the production credits on this one. Who else can we expect to hear on PARTYMOBILE?
I worked with Murda Beatz, we worked on the intro together. Bizness Boi, he did the Rihanna song. Just a lot of the hometown team, you know? I'm really proud of how this production came out. It's really solid work. I'm excited.
Stream PARTYNEXTDOOR's latest studio project below and be on the lookout for more from the prolific singer-songwriter throughout 2020.