Kanye West Talks Trump, Coronavirus & Virgil Abloh's Success In New Interview
"I believe that Yeezy is the McDonald's and the Apple of apparel."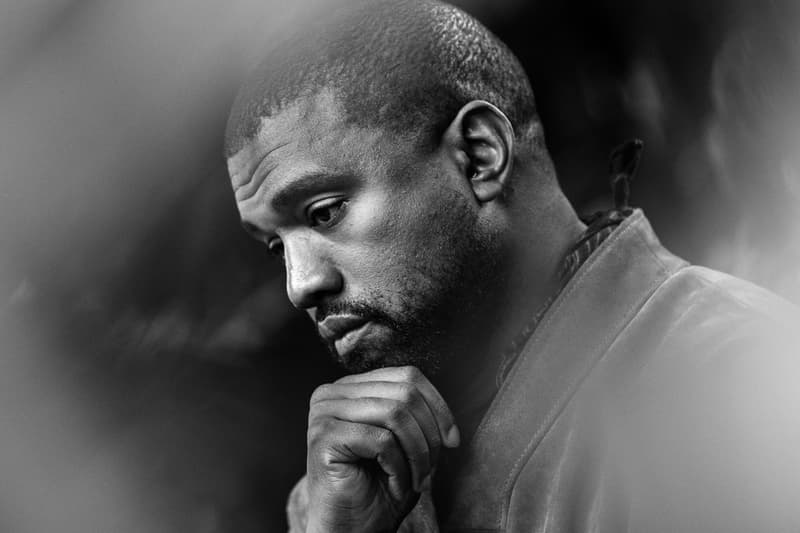 Kanye West recently gave WSJ. Magazine contributor and veteran fashion reporter Christina Binkley unprecedented access over a number of months for a new profile, out today. It covered nearly every side of West's creative output, going behind the scenes at Paris Fashion Week, during rehearsals of his ongoing Sunday Services and in and around his Calabasas creative world. Throughout the process, Kanye pulled all of his endeavors and inspirations together for a truly stream of consciousness monologue about his ideas and what he's currently working on. That included working on "the perfect hoodie."
The 42-year-old rapper, designer, turned evangelist wanted something cropped at the waist and heavier, like a winter coat, and wanted to sell the creation en masse for just $60 USD. He wanted it to be ubiquitous, saying, "I like Costco as an idea. I like Walmart, too."
WSJ. Magazine took an in depth look at Kanye's now infamous dome concept housing plans (which have now been demolished after not seeking out proper building permits). He was aiming to explore prototypes for low-income housing on one of his properties with a mood board in his office dubbing two separate development projects as GOD and MAN.
On the music front, West was holed up in a recording studio in Cabo San Lucas, Mexico with plans to work on an entirely new record this spring, but had to re-route to his home in Calabasas given the ongoing Coronavirus (COVID-19) pandemic. After donations to Los Angeles and Chicago in an effort to give free meals to families and the elderly affected by the outbreak, West contemplated about giving away his "perfect hoodie" for free, too. He ultimately decided against it, telling Binkley, "The hoodie is arguably the most important piece of apparel of the last decade." According to the article, Kanye is currently looking into the feasibility of manufacturing masks and gowns for the pandemic.
The interview also touched on his relationship with Louis Vuitton's Men's Artistic Director Virgil Abloh, and how, while West is ultimately incredibly proud of his close friend, his own larger, Louis Vuitton collaboration never coming to fruition "was pretty devastating." He continued, "That included one of my best friends being crowned king. Virgil. Louis Vuitton. We grew up on Louis Vuitton–Marc Jacobs duffels," West said. "My best friend."
WSJ. Magazine recently tapped A$AP Rocky for a profile as well, and Kanye was particularly close to Rocky's Swedish legal situation given his proximity to and support of US President Donald Trump. Kanye talked about the preconceived notions that come with his Presidential co-sign. "I'm a black guy with a red [MAGA] hat, can you imagine?… It reminded me of how I felt as a black guy before I was famous, when I would walk in a restaurant and people would look at you like you were going to steal something. 'This is your place, Ye, don't talk about apparel. This is your place, Ye, you're black, so you're a Democrat.'"
Read the full interview at The WSJ. Magazine. In more fashion news, images of new colorways of Kanye's adidas YEEZY Foam Runner have surfaced.