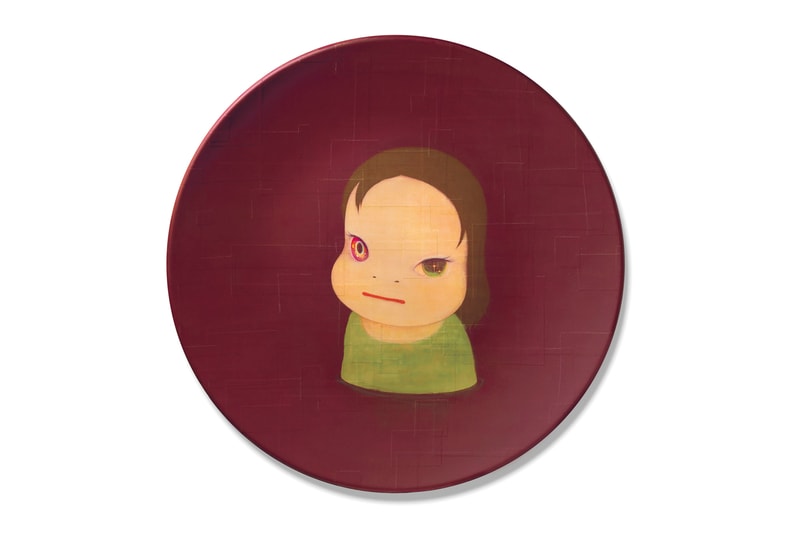 Yoshitomo Nara Painting May Fetch $4 Million USD at Christie's London Auction
The Japanese artist's iconic 'Dead of Night' (2004) piece.
---
Last year, acclaimed Japanese artist Yoshitomo Nara's Knife Behind Back (2000) fetched $25 million USD at Sotheby's Hong Kong — making the painting the artist's most expensive work ever sold at auction. Nara's Dead of Night (2004) is now heading to Christie's Post-War and Contemporary Art Evening Sale in London next week. The 180 x 180 x 26.5cm work is expected to fetch up to $4 million USD at auction.
Dead of Night features Nara's signature angry-eyed female subject in the center of a circular panel. Her starry eyes are two different colors — one matches the green shirt she is wearing, the other with the work's burgundy background. Composed from patchwork squares of canvas on fiber reinforced plastic, the work belongs to a series of iconic "concave discs" Nara began in 2001 after returning to Japan from twelve years in Germany.
Christie's Post-War and Contemporary Art Evening Sale will take place on February 12. To browse more work from the sale, head over to Christie's website.
In other art-related news, Benedict Radcliffe announced a new sculptural edition inspired by the Porsche 934.
Christie's London
8 King St
St. James's, London