Philipp Plein Responds to Complaints for "Insensitive" Kobe Bryant Tribute (UPDATE)
Plein pens a letter to critics of his recent runway show.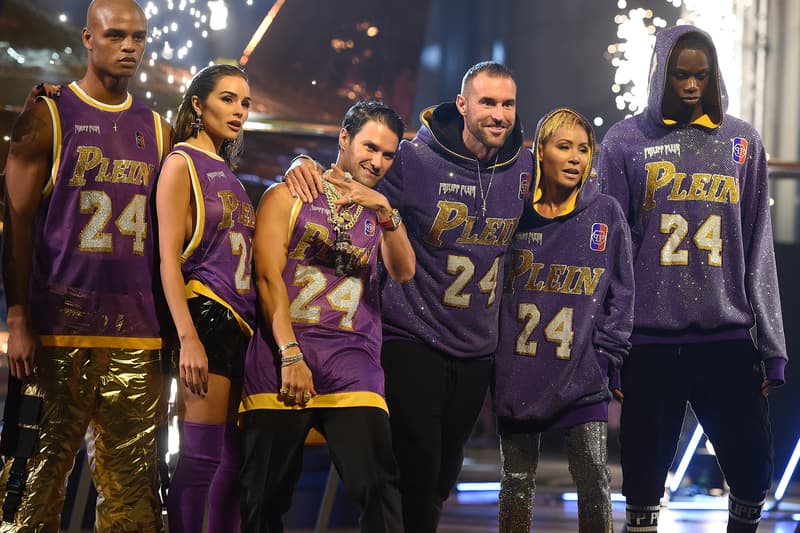 UPDATE (February 25, 2020): Philipp Plein has responded to the widespread criticism levied at his Fall/Winter 2020 runway presentation, held during Milan Fashion Week. The show, which drew in celebrities like Tyga, Missy Elliott and Jada Pinkett-Smith, featured Lakers-inspired, crystal-studded jerseys emblazoned with both Plein's name and Kobe Bryant's number, which were primarily responsible for the social media firestorm. Social media commenters targeted the perceived insensitivity of Plein repurposing Bryant's jersey and number so soon after his untimely passing; a gold-plated helicopter that also appeared on the runway only compounded matters.
Plein attempted to ward off criticism — he highlighted forthcoming donations to Bryant's Mamba & Mambacita charity on Instagram and insisted that the helicopter had been paid for long in advance, and therefore couldn't be removed from the show. Nevertheless, the response on Twitter, Instagram and elsewhere was uncompromising and in response, Plein to release a statement.
"I feel that my fashion show have been the best moment to express my respect and admiration," Plein says. "It is sad to see how something positive and constructive can be misinterpreted…." He also purports to have donated over $20,000 USD to Mamba & Mambacita, reiterating that he is "really doing something to help," emphasizing the effort with handwritten red pen marks. Read Plein's letter below.
---
ORIGINAL STORY (February 24, 2020): Polarizing designer Philipp Plein is facing criticized for a questionable Kobe Bryant tribute included in his Fall/Winter 2020 presentation, which took place at Milan Fashion Week over the weekend.
Plein's show featured — among many flashy, gold-drenched and gem-studded garments — Los Angeles Lakers-inspired jerseys and sweatshirts. The Swarovski crystal-riddled jerseys marked with Bryant's number has drawn critical Tweets, as social media users decry the "distasteful" presentation as an attempt to profit from tragedy. Additionally, many were quick to point out a Plein-branded gold helicopter, plane and yacht featured on stage, citing the helicopter as another symbol of insensitivity.
Philipp Plein made two gold helicopters for his show today, which falls 27 days after Kobe died in a helicopter crash
➖
BUT DONT WORRY he whipped up a bunch of Swarovski Kobe jerseys (with "Plein" written on them??) so it's cool.
➖
Fuck you, Philipp. pic.twitter.com/UHjbubXuG9

— Bliss Foster (@BlissFoster) February 23, 2020
#PhilippPlein stays making T R A S H. I'm not ok with this…at all. pic.twitter.com/ChmsUGFaT4

— L. BOOGIE (@notyoursnvrwas) February 23, 2020
Plein told Vogue that the gold-plated helicopters were out of his hands. "If I would have known what happened, after the accident, I would not have put helicopters there… I couldn't cancel the helicopters." The designer also reiterated on his Instagram that proceeds from the tribute capsule, which went on sale via Plein's website immediately after the show, will be going to the Mamba and Mambacita Sports Foundation.
Meanwhile, a more conventional Kobe Bryant public memorial is set to take place at the Staples Center this month.
Wow. #PhilippPlein is absolute garbage. ? #KobeandGianna #Lakers #KobeRIP #KobeBryant #FashionWeek pic.twitter.com/rhNZCtFfVo

— Valerie Marissa Michaels ♡ (@Valeri3Michaels) February 23, 2020