Medicom Toy Drops Glistening Silver Plated Daruma BE@RBRICK
For good fortune.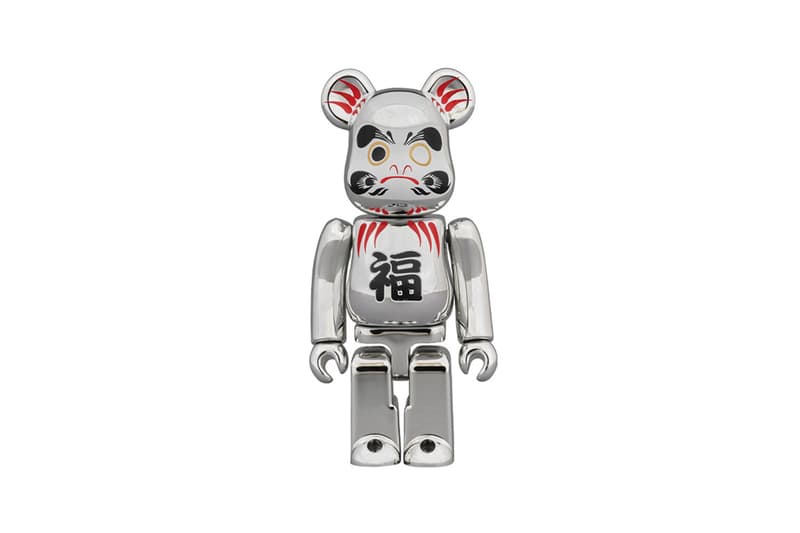 Back in October, Medicom Toy reinterpreted a traditional Japanese daruma in the form of a glossy red BE@RBRICK. A daruma is a Japanese doll that's traditionally red, round and hollow, a talisman for good fortune and also considered a symbol of perseverance as one sets out to achieve a goal. This time around, the Japanese toymaker has put a silver-plated spin on the doll.
Fully covered in a shiny silver coating, this BE@RBRICK comes with a set of motifs that are typically found on regular darumas. One detail, however, is a slight departure from the traditional design. Darumas are usually sold with blank eyes, upon which the owner paints in one eye when he/she sets the goal and later fills in the other eye when the goal is completed; this figure already comes with one eye filled in. Other details include red markings at the ears and upper body, complemented by black brushstrokes that illustrate the eyebrows and beard. As a final touch, the front of the body is boldly emblazoned with the kanji character "福," which roughly translates to "good luck."
The Medicom Toy Daruma BE@RBRICK will be available exclusively at Medicom Toy's Soramachi Store, Tokyo Skytree Town, on Februrary 8 in sizes 100% and 400% for $20 USD and $63 USD, respectively.
Medicom Toy Tokyo Soramichi
1 Chome−1−2 Tokyo Skytree, 4/F
Sumida City, Oshiage, Tokyo
Japan
Most recently, Funko Pop's Baby Yoda figure has become the company's best-selling toy of all-time.