Best New Tracks: Tame Impala, Grimes, The Strokes & More
Featuring long-awaited releases from Kevin Parker and Julian Casablancas.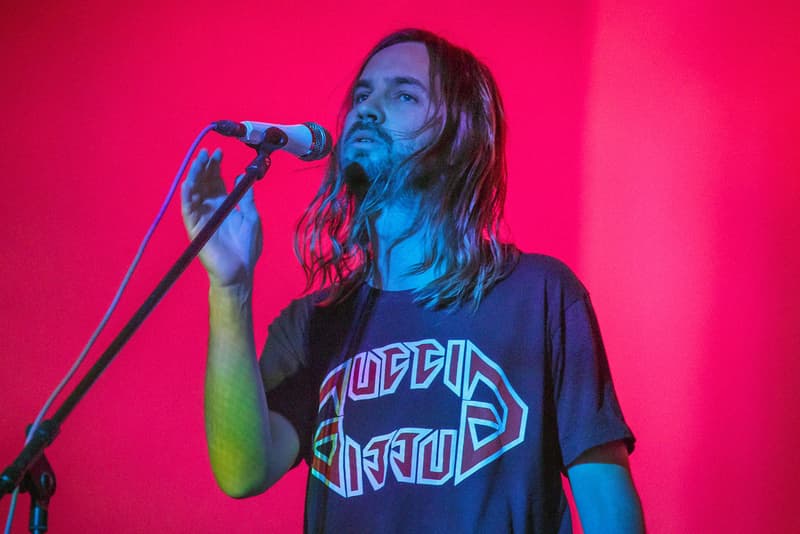 Valentine's Day is here, and with the arrival of Cupid's holiday comes ten of HYPEBEAST's favorite musical releases from the past week. Tame Impala reflects on the gradual passing of time with Kevin Parker's first full-length project in nearly a half decade in The Slow Rush. The Strokes made a major comeback announcement at Senator Bernie Sanders' New Hampshire Presidential campaign rally, announcing an April 10 release date for the band's album, The New Abnormal. Then Julian Casablancas and company introduced a new single in "At The Door" with a new music video. Other standouts include Grimes' new cut "Delete Forever," Sudan Archives' homage to loneliness and drifting away from friendships in the age of the internet from her critically acclaimed Athena LP and plenty more. Scroll down for the full Best New Tracks rundown and listen to our latest HYPEBEAST: PLAYLIST Valentine's Day edition.
Tame Impala – The Slow Rush
Tame Impala has returned with Kevin Parker's first full-length project in five years, The Slow Rush. The 12-track LP sees Parker reflecting on the nature of time and mortality — the latter being the most evident in "Posthumous Forgiveness," a track written for his late father who passed during the album cycle of Innerspeaker. The pensive lyricism, however, takes on a new and more joyful form as he dresses the album up in funky bass lines and dynamic textures, moving away from the mainstream sound of 2015's Currents to add a corresponding yet refreshing album to his discography.
The Strokes – At The Door
It's been a long and winding road for faithful fans of The Strokes who have been waiting for their next full-length project for seven years. The five-piece accompaniment finally confirmed news for the album, announcing a release date for The New Abnormal and premiering its lead single "At The Door" during Bernie Sanders' Presidential rally in New Hamphshire, eventually playing their hit "New York City Cops" next to actual cops who were less than politely asking the band to leave the stage for safety concerns. The latest single sees the veteran rock outfit trading guitar-heavy sonic structures for more synth-dependent ones, while frontman Julian Casablancas continues to explore and experiment with auto-tune, similar to his most recent work with The Voidz.
Grimes – "Delete Forever"
Grimes shared a new cut from her forthcoming album Miss_Anthropocene entitled "Delete Forever." The stripped down, track features simple drums and guitar as the mother-to-be aimed for a country or Patsy Cline-sounding record, however she claims to have ended up with "this sort of like 'Wonderwall' kind of vibe." Focusing on the opioid epidemic, Grimes revealed that the song was the result of Lil Peep's death and was written on the night of the tragedy. "I've had like, quite a few friends actually like, passed away," she said. "In particular, one friend when I was like, 18 passed away from complications related to opioid addiction. It's just like, you know, artists keep dying and stuff so, I wrote this song on the night Lil Peep died or whatever 'cause I just got super, super triggered by that."
Sudan Archives – "Limitless"
Singer-songwriter, producer and violinist Sudan Archives revisited her critically-acclaimed Athena LP for a thought-provoking visual for "Limitless." Directed by Femke Huurdeman, the music video was shot over three days in Barcelona, Spain and focuses on humans being torn by multiple emotions. "It's not choosing one over the other, but it's about embracing we all have different layers, and once you know that, you can accept those complexities. A yin cannot exist without its yang, just like you can feel strong and vulnerable at the same time," Huurdeman said. "Or, you can be a vampire queen but still feel heartbroken. The dancers in the video represent the twins, dualities within Sudan, going in and out of sync, pushing and pulling. I wanted to portray Sudan as fiery vampire queen, showing clearly her dark side whilst singing about more vulnerable emotions, yet in the end both sides will make her stronger than ever."
Conway The Machine – "Sign Language" and "Yikes" Freestyle
Conway The Machine and Griselda Records are kicking off 2020 in full gear, already releasing multiple projects as we're halfway into February. Linking up with in-house producer Daringer, Conway dropped the hard-hitting track "Sign Language," aided by Daringer's harsh electric guitar riffs and minimal drums that come straight out of '90s boom bap. The rapper also flexed his abilities with a freestyle over Nicki Minaj's "Yikes," seamlessly rapping double-time about the Roc Nation brunch and his photos with Rihanna, along with an upcoming project with a still-announced release date.
Orion Sun – "Coffee for Dinner"
Philadelphia-by-way-of-New-Jersey singer Orion Sun is back with a new dystopian visual for "Coffee for Dinner" from her debut album Hold Space For Me, out March 27 via Mom + Pop. The lovelorn record benefits from an Ad Astra-esque Kodak film music video directed by Josh Sondock and Sam Culter-Kreutz that finds Orion Sun maneuvering through an abandoned Earth where everything is seemingly the same, sans people. She sings about working two jobs just to afford a car, her significant other seeing her as a winner even when she feels like a loser, and the warmth that comes from coffee even if it's your entire dinner.
Knxwledge – "Learn/Howtocope."
Even though his last full-fledged solo project Hud Dreems released five years ago, Knxwledge has remained as prolific and consistent as ever thanks to his collaborative spirit. Now the Los Angeles-based producer returns with two new singles ahead of Hud Dreems' follow-up 1988 in "Lean/Howtocope.". The offering features a tongue-in-cheek interlude of what sounds like radio personality Ebro Darden saying, "F*ck all that Knxwledge, I don't want to hear that." Half spaced-out synths on the front half and half looped soul vocal samples on the second, Knxwledge returns in pristine form. 1988 releases March 27, 2020 via Stones Throw Records and will feature limited vinyl runs with additional tracks not available through traditional streaming formats.
Ivan Ave – "Triple Double Love"
Norwegian rapper Ivan Ave lays on the irony and nostalgia thick with his latest music video, "Triple Double Love", an homage to poor pick-up basketball players in need of training and 1990s infomercials. A frequent collaborator with Mndsgn, DâM-FunK and Kaytranada, Ivan stands out here due to some excellent creative direction and by swapping out his usual lo-fi sample-heavy productions for clean synths, crisp 80s-esque drum patterns and some seriously groovy bass lines that all seems too effortless. His next project, Double Goodbyes will release on April 20, 2020 through Playground Music and Mutual Intentions.
Medhane – "Dan Freeman"
Rising Brooklyn rapper Medhane dropped the latest music video for "Dan Freeman" from his upcoming project Full Circle, an LP produced entirely by himself with some help from alter-geo AFB due out next week. The track pays homage to the 1969 novel and following 1973 film The Spook Who Sat by the Door by Sam Greenlee and its protagonist, the first black CIA officer Dan Freeman. What results is an hypnotic reversed sample flip and a gritty black and white X-ray-esque editing style by director Christopher Currence. Medhane reflects on his destiny aligning, battles with depression and hints at what's to come.
Cassowary – "Belt Notch!"
Los Angeles-based 25-year-old musician Miles Shannon, frequently known as Cassowary is readying the release of his debut album in the months to come with the introduction of his latest single "Belt Notch!". The song focuses on re-entering the dating scene after a longterm relationship and all of the stress that follows. Cassowary manages to cut through the dating anxiety as "Belt Notch!" is an incredibly laid back groove that sees the musician play multiple instruments while showcasing his RnB vocals.