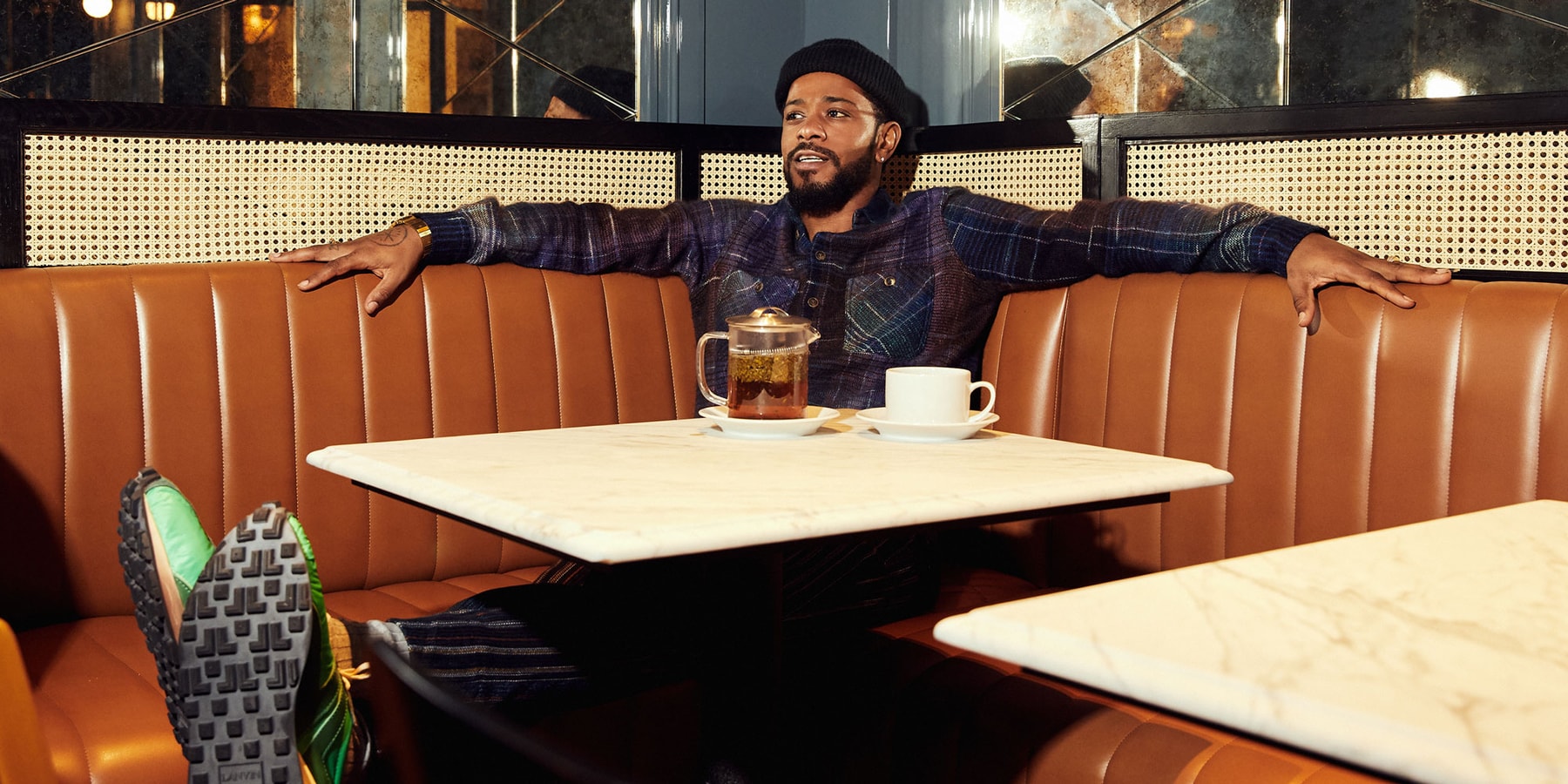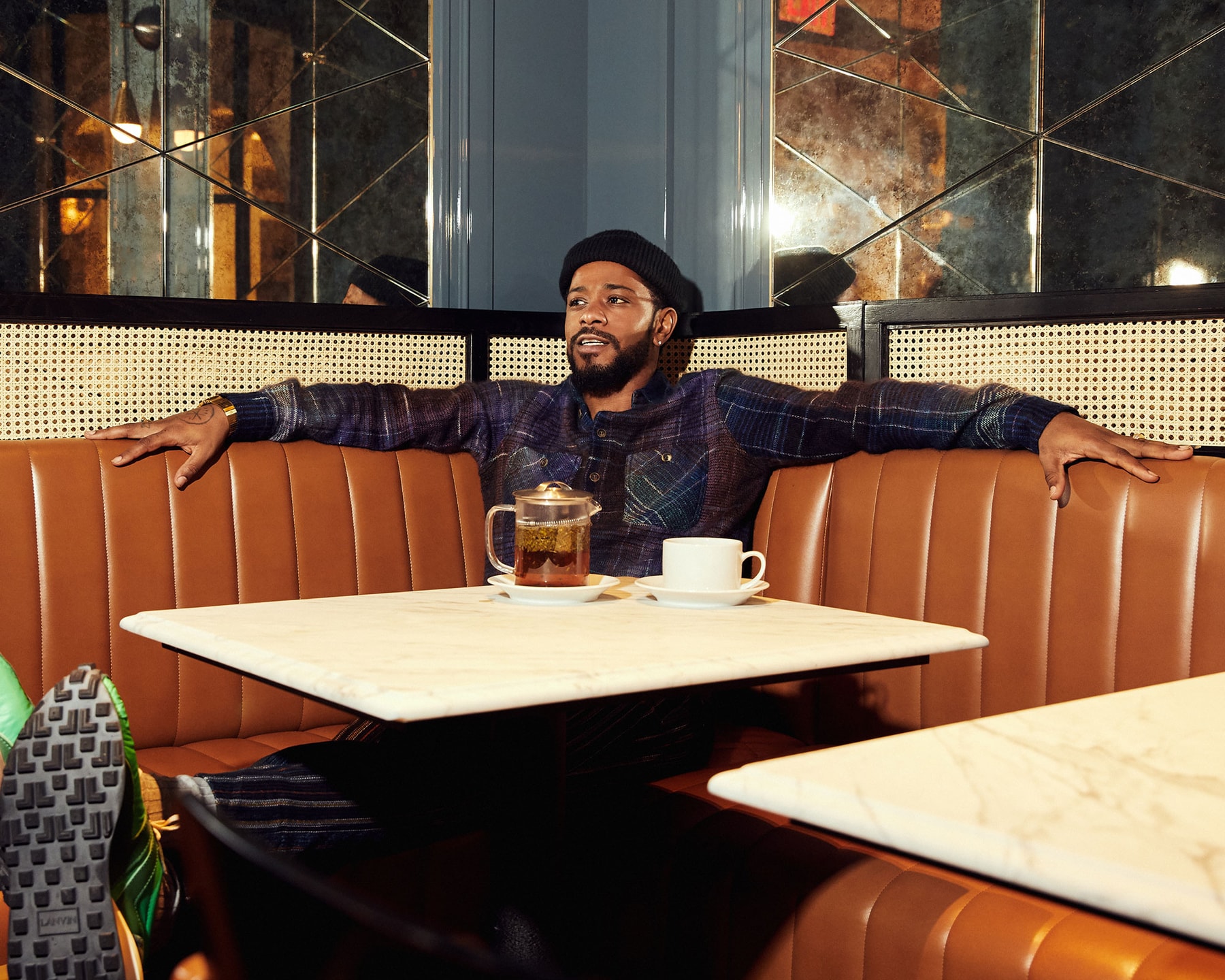 LaKeith Stanfield Is Letting His Imagination Run Wild
The actor's dynamic range lands him in a new love film, The Photograph.
Blink and you might have missed him. You wouldn't know Bergdorf Goodman's sparkling new Goodman's Bar, on the second floor of Goodman's men's store, is a micro-sized 32-seater, as LaKeith Stanfield managed to find a way to work every literal inch of the room. He sipped grapefruit juice and tea in the booths, he ate yogurt mousse and passion fruit sorbet at the bar while ushering over waiters, he used a biscotti cookie as a mock lighter and he even danced on the tufted brown leather seats in his bright green Lanvin sneakers (cue Dave Chapelle's famous "F*ck Yo Couch" skit). By any account of the term, it's safe to say that energy is not something that Stanfield is lacking.
"I love performing in front of the camera," he said, confirming what everyone was likely already thinking while watching him bounce around the bistro. Yet the actor's ability to seamlessly transition into interview mode, to turn on his zen so to speak (he's channeling guru vibes from the likes of Mooji and Satguru these days), proves that past the sprightly antics, not only does Stanfield mean business, but the man's got some serious range. And it's precisely why the business wants him right back, with Stanfield already housing a memorable selection of works in his arsenal thanks to titles like Atlanta, Sorry to Bother You and Uncut Gems.
But now in a seeming deviation from his usual subject matter, Stanfield has turned his talents to the romance realm for his leading role as Michael Block in The Photograph. Directed by Stella Meghie and also starring Issa Rae as his love interest Mae, the sentimental plot gives Stanfield a "new muscle to stretch" as he described it. Aptly premiering on Valentine's Day, the movie centers on the usual rom-com themes of love and relationships, while bringing to the forefront two Black leads in a genre that doesn't usually make room for anyone outside of the white mainstream.
"I got an imagination and I'm not afraid to express it."
Yet, ever the introspective (his Instagram live videos can be just as entertaining as any fictional story he takes on), Stanfield explains that this latest work is meant to be a universal depiction of love. "It's Black, because we Black and everything we do is going to be just that and that's what's up. But at the end of the day, it's just love," he said. "It's just humanity, and it's grounded in something that everyone can benefit from and understand."
Ahead of the film's premiere, HYPEBEAST sat down with Stanfield to talk more about his own experiences with relationships, expanding his artistic purview, future projects and more.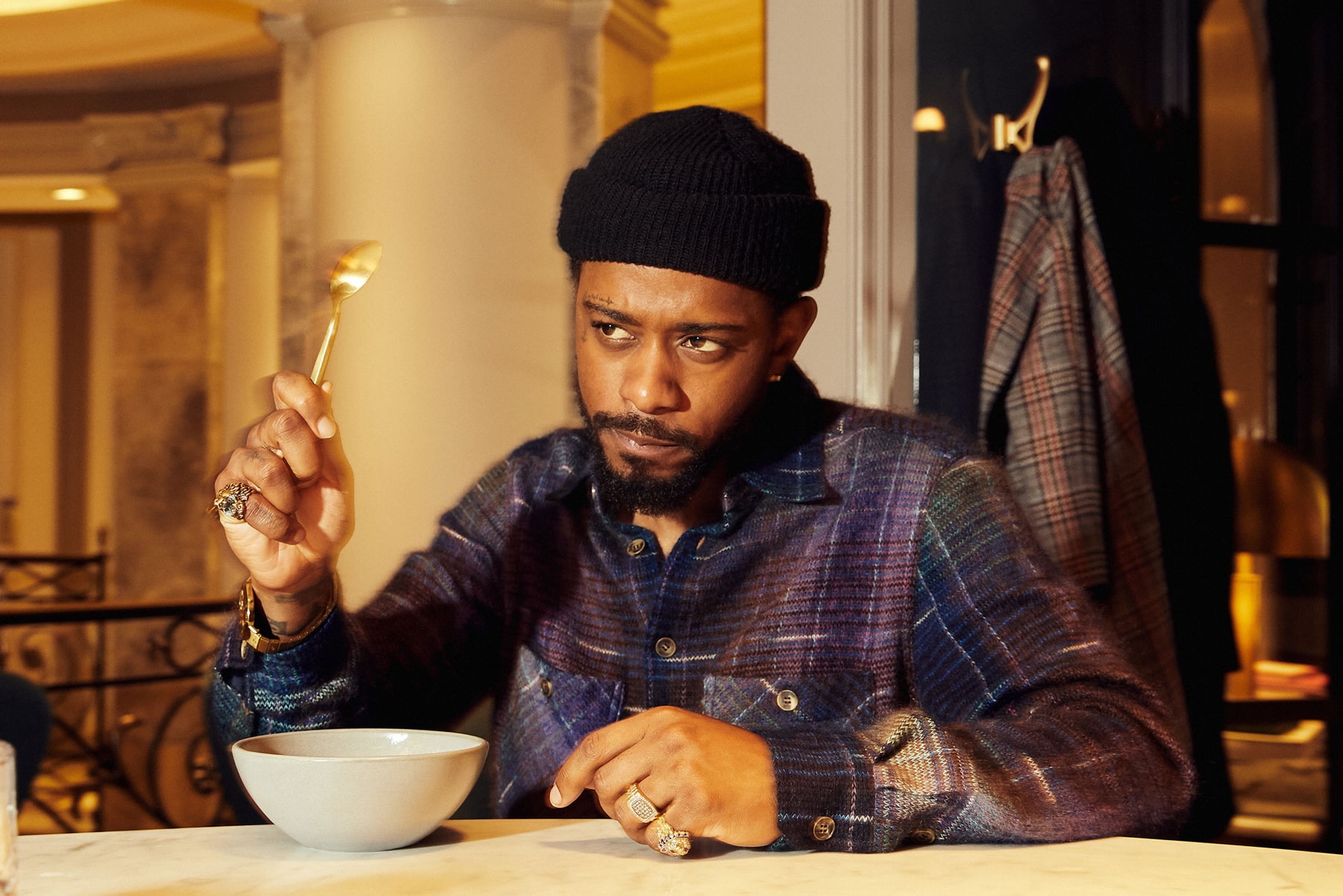 HYPEBEAST: How did you become involved with this movie and what was the casting process like?
LaKeith Stanfield: Stella reached out to me with the opportunity to read over the script, this love story that had to deal with generations and operating through generations, generational love and transference of information. And I read it and I thought, well, if Issa is going to be the girl — because that's what the information was at that point — I was like that would be a beautiful thing to see two dark-skinned people on the screen and it'd be an opportunity to spread more images like that, and be a part of this really brilliantly written story. So I was excited and I sent in an audition tape. And she liked it and I did a chemistry read with Issa.
You touched on there being two Black leads, and it seems that a lot of your roles paint a broader picture of the Black experience. Is this something you've consciously striven for or has it grown organically in your career?
Kind of both. I think the intention was always there for me to be a part of stories that would reflect my deeper feelings about the world and my place and my people's places, and women, and Black women's place and how that affected me growing up. And how much I love all the Black women in my life and I want to perpetuate images that show them in a positive light, or in a light that I feel reflects the genuine nature of things. I'd like to be portrayed in that way too, if I can help it. I do try and pick projects that speak to me and that don't speak to stereotypical sensibilities, unless there's something that can be learned from it.
I try to be a bit conscious of it, but I wouldn't say that I completely have done that. I think it's just that I've also been very fortunate to have opportunities that reflect those viewpoints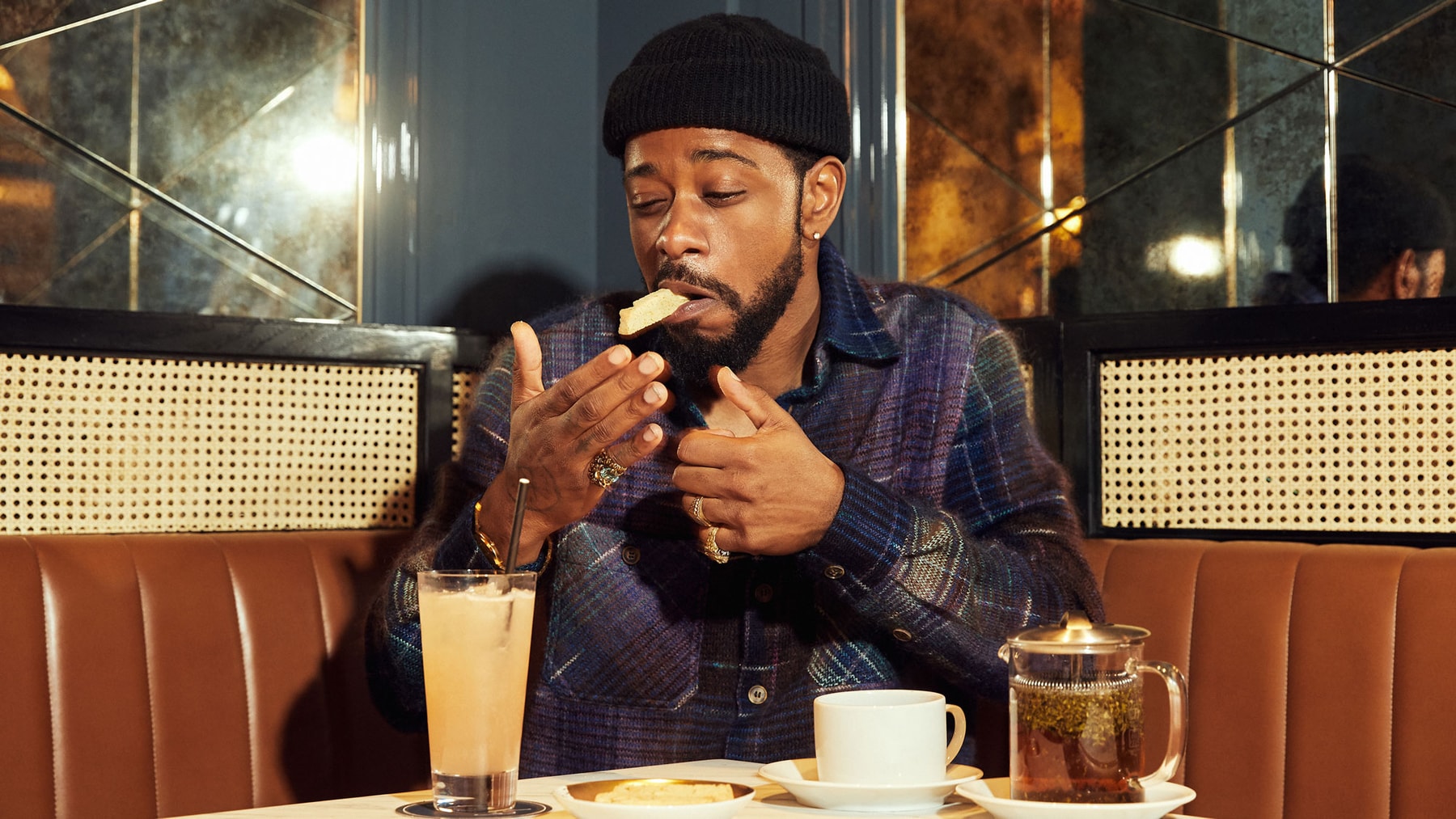 The Photograph has obvious themes around relationships and love. What reflecting did you have to do about your own relationships to get into the character's mindset?
It was just all there. I was just recently in a relationship, going into it. Yeah, I mean, all of the themes and stuff that were happening in the movie, a lot of them I could reflect on and refer to in my own life. And so it was easy to see that there were parallels there and I knew that there were parallels for me that would be there for other people. Cause we're all different but we ain't all that different. Everyone's excited for it being like a Black love film, but I want people to realize it's a love film too and it appeals to everyone.
"If I can go back and tell myself anything, I would tell myself nothing."
And how do you feel about Black love as it's currently reflected in the media? Is it an accurate depiction?
I don't really pay too much attention to the media to be honest, although I know I'm speaking to the media. But no, I mean with no disrespect. I just don't really watch much news. I don't consume much media stuff. So I don't really — I find my own independent investigations and things like that to be a little bit more fruitful than what I might get, especially from some of the larger media environment.
Because if I know more than anyone, I know that sometimes the media can misrepresent people and have them be skewed through a certain viewpoint. So I try to just focus on my own understanding of things rather than look to the media for that, although I love media's role in certain things. I know that they have a place in the world and that they're important, but I don't really go there for my primary source.
With The Photograph being more sentimental, a love story, is this an indication of you wanting to branch into more similar films? Or is this more of a one-off experience?
As long as I have the capacity to love and I can continue to question my love, my understanding of love and my connection with others, there will always be a spot for me in terms of movies that carry the same subject matter.
Music is a big part of what you do as well. Can you talk a bit about your band and your experience there?
Yeah, MOORS is a project that I went into with my friend, Hrishikesh Hirway, and we were doing live instrumentations and stuff. Now I'm delving into my solo project, which is going to be called Self Control. And these are more of my personal experiences with people that I know who have been my brothers, [my experiences] with love, hate, fame, all this stuff, money, all these things that have been coming into my life in the last couple years. And how I might be able to approach that by what I call the rebirth, the old self dying and coming back anew. So that's kind of the idea with this new project. I want to come full circle, full cycle and show everybody where I came from, where I ended up and where I'm going.
I do briefly want to touch on the Oscars, which recently took place and several celebrities have continued to speak up about it not being diverse. Are you hopeful at all that it will get more diverse or are you not necessarily concerned about who they recognize?
I think it's a little bit of a reflection, right? Like, as society gets more open and understanding of our place in the world — which whether they want to or not, they're going to have to because we're coming through and we're making strides every day. People like Issa, people like Donald [Glover], all of us are creating more and more wide platforms for us to have a voice. So if they are not willing to, if any constituency is unwilling to appreciate that, I think people will start to find that that's not going to work in their benefit. It's going to work against them because the world is moving. And not only us, but everybody has a voice and something to say.
And so if you're not paying attention to that, I think you're gonna get lost in the wind. And so hopefully everyone catches up and then we're able to all have a discussion about it and be able to all tell our stories on an open platform. But that being said, I don't look to those people for validation, none of those constituencies for that. We don't work thinking about getting an Oscar or getting nominated for anything. We kind of just work to work. So, while it's nice to sit around and get these statues and clap for ourselves and all of that, I don't think that's our primary goal. We just want to tell good stories.
"I don't look to those people for validation, none of those constituencies for that."
So what does drive you, someone with such an eccentric, funny character? Where does the passion for acting come from?
I think I just think of things a little bit differently. Not differently — I think I just have an imagination. And people assume that to be many things, quirky, weird, I've gotten a whole bunch of things. I think it's just that I got an imagination and I'm not afraid to express it. So a job like this would be probably a good job for me because it allows me a playground to express that in a safe space where I can put it into different characters and use it to my advantage. And I love doing it. I love performing in front of the camera.
Now more and more, I'm starting to want to be positioned behind it though. I've got a vision and I want to have my vision be realized before I could direct some cool stuff. So that's on my horizon soon. I'm exploring now. I'm making my own stuff on my YouTube page, I'm starting to write stuff on there just you know, starting from the ground up. I'm directing my music videos for my projects. And just going to do my own thing and build it for myself. And then from there, I can continue to expand out and hopefully at some point, I got plans to start creating the foundation for a production company that will start to put out the kinds of things I want to see.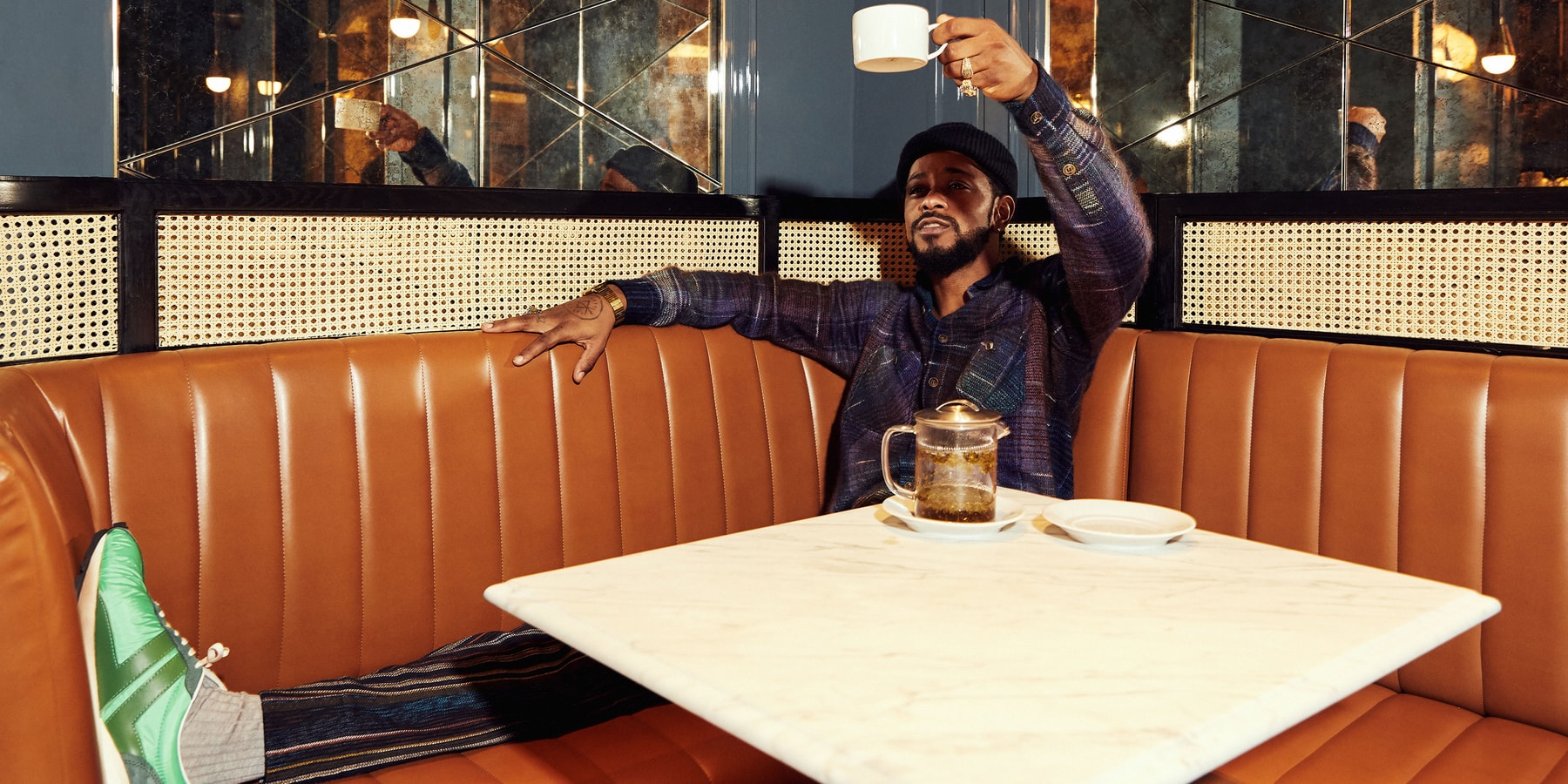 You've done so many projects but is there any one that you would say has made the biggest impact on you?
Right now, it's the one that I have coming out with Daniel Kaluuya that I'm doing with Shaka King. It's untitled right now, it's a Fred Hampton project. And that was profound, the effect on me because I had this fist tattooed on me far before I knew that this story would ever come into my life. Because the Black Power movement was so profound and beautiful to me that people stood up and said, "f*ck this, we're going to do something different. And we'll stand up and die for it." And I love that pride in oneself that our people have and that there's these young men and women who were putting their lives on the line. Actually more so women than men in the Black Panther Party in this particular chapter, the Chicago chapter.
So it was an opportunity to step into a time and space where I just — I feel like we're going back there, you know, we're going back to just fros poppin, all of us really loving and living in our skin and doing it while moving with love. So this really affected me because the role that I played was kind of everything that was the antithesis of that, because I played the guy who infiltrated the Black Panther Party who works as an FBI agent. So it kind of was just a whirlwind, this crazy emotional journey and I hope that people can enjoy it. That one has affected me the most so far and I think that one is coming this summer.
We've thrown out a lot of words, like eccentric and quirky, to describe you. But what is it that you really want people to take from you and your personality?
I am a survivor. I am an open vessel and I'm a reflector of you. You that's sitting here, the person reading this, the person listening to this. And my message is just to continue to go on the journey and continue to learn. If I can go back and tell myself anything, I would tell myself nothing. I want to continue to fall, continue to get up, continue to learn. And that's always what we are doing but let's do it together.