Apple Patents All-Glass iPhone With Wraparound Screen
A departure from the foldable phone trend.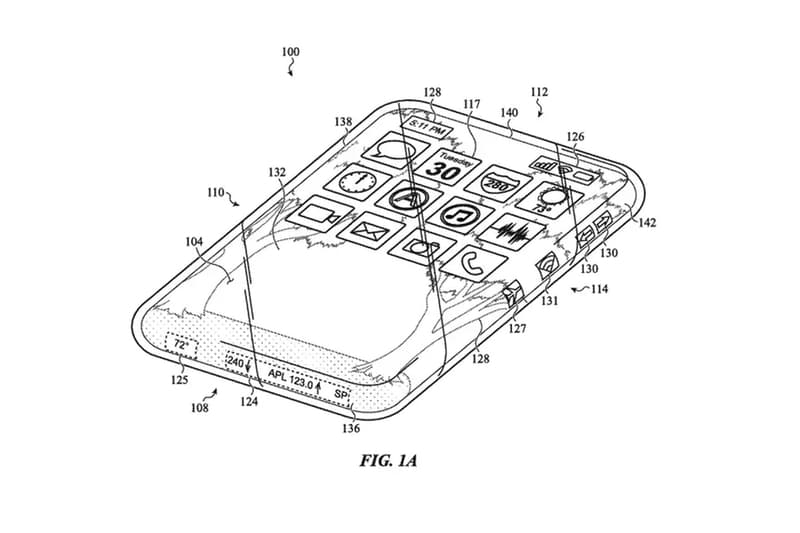 Foldable phones seem to have taken the spotlight recently, many believing it to be the next step forward in smartphone innovation. Massive companies like LG, Samsung, Motorola and Huawei have all jumped on the concept, designing their own models with displays that close up when not in use. Apple, however, has yet to announce any plans for a foldable phone but perhaps trying to stay one step ahead of the game, the tech giant has now patented a new iPhone model entirely constructed of glass.
According to the patent, the new design features a device crafted glass with six surfaces (like a usual iPhone), but instead of the conventional flat display on current-gen iPhones, it will be equipped with a wraparound screen instead. Describing its possible functions, the patent reads:
Enclosures having glass defining multiple sides of the enclosure may facilitate or enable numerous additional functions and uses that are not realized with conventional enclosures. For example, glass backs and glass sides may be transparent, allowing the electronic device to include additional displays that are viewable through the sides and/or the back. Moreover, the side- and back-viewable displays may be made touch and/or force sensitive using touch- and/or force-sensing systems, effectively turning the side and back surfaces into additional input devices or surfaces with which a user may interact to control the electronic device."
Of course, large companies file patents regularly for all kinds of designs which never come to fruition, so only time will tell if the product in question will ever make it onto the production line.
Elsewhere in tech, Facebook will now pay its users for their voice recordings.