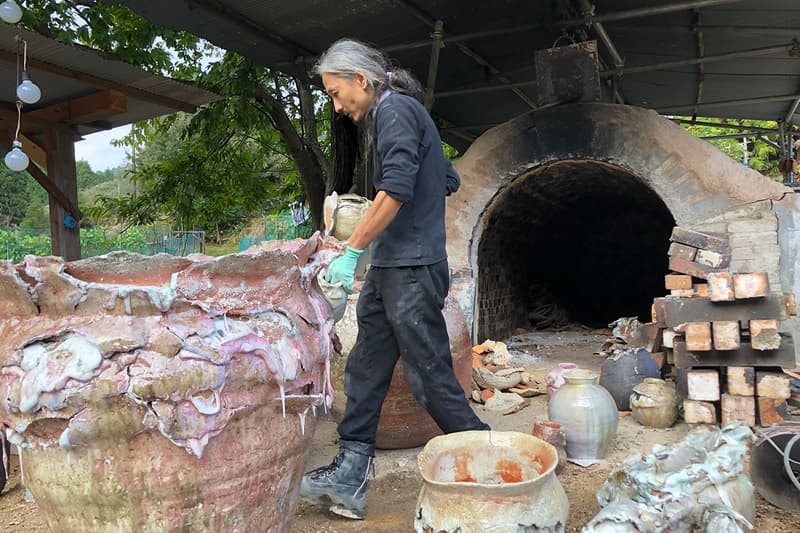 1 of 4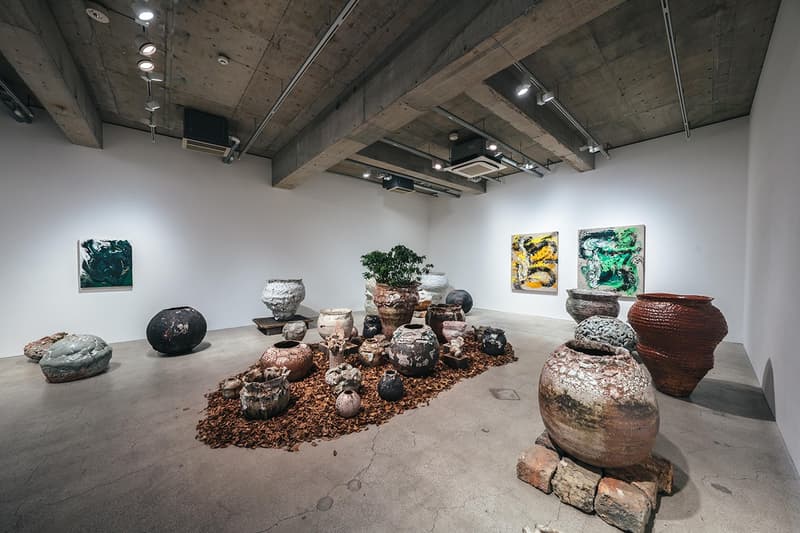 2 of 4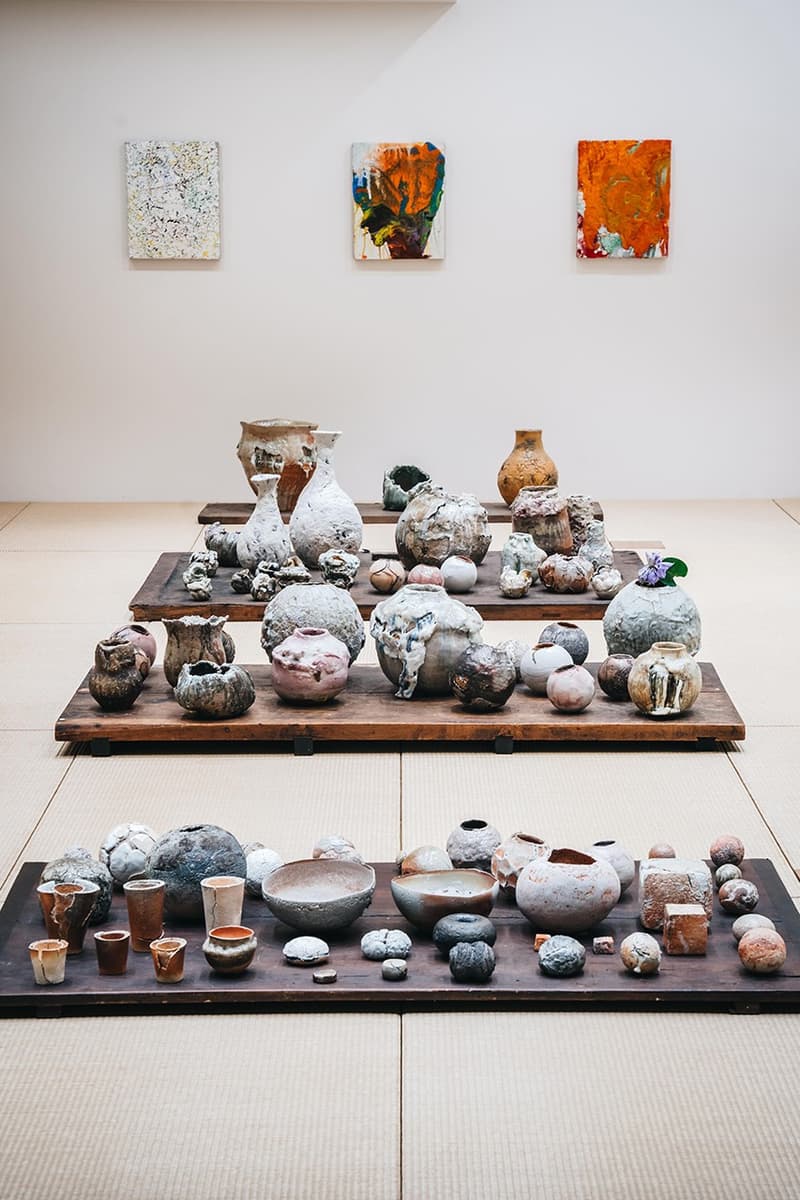 3 of 4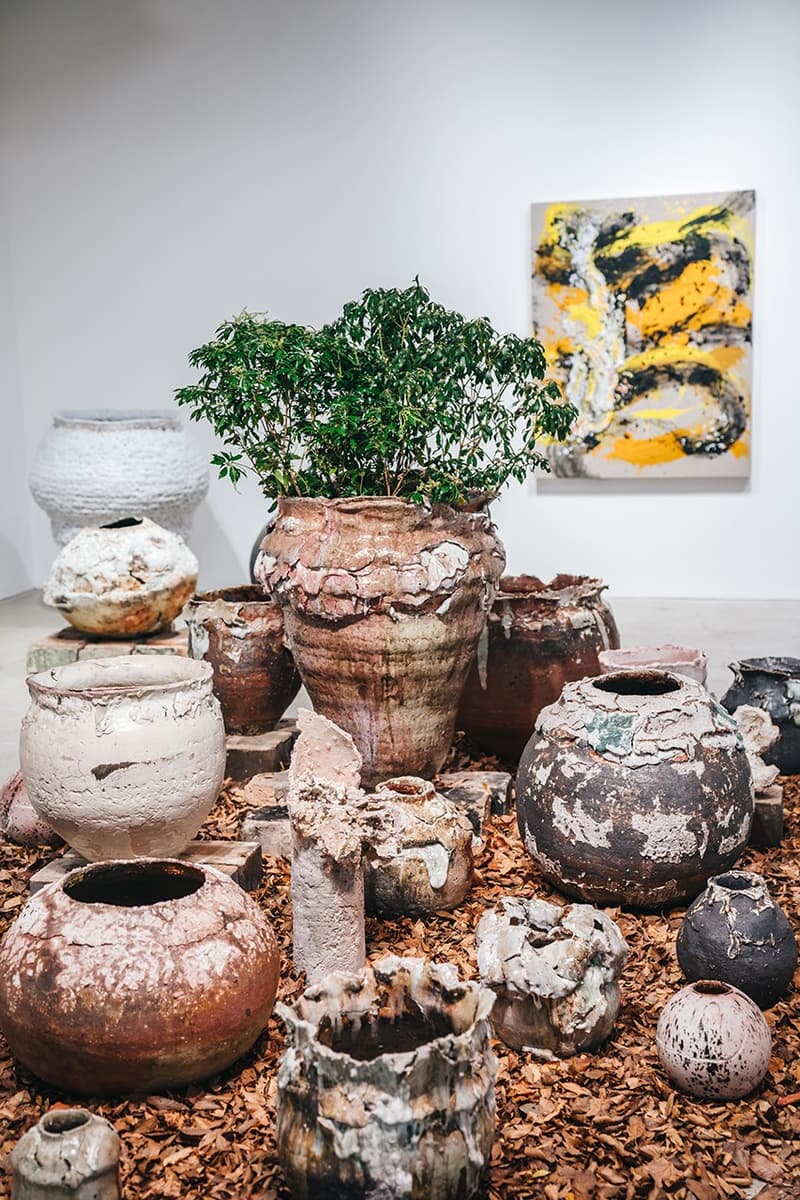 4 of 4
Yuji Ueda Unveils Eroded Ceramic Planters and Abstract Paintings in Tokyo
On view at Takashi Murakami's Kaikai Kiki Gallery.
---
Takashi Murakami's Kaikai Kiki Gallery in Tokyo is currently hosting the second solo exhibition of Japanese ceramicist and painter Yuji Ueda of Otani Workshop. Titled "Picking Up Seeds," the exhibition features a selection of Ueda's signature planters that feature eroded exteriors and misshapen forms while retaining the silhouette of a recognizable household item. The abstract decay observed across the ceramic pieces is also translated in a series of paintings filled with unruly brushstrokes of bold and vivid colors.
"I knead clay, leave it to dry, and fire it in a firewood kiln. The clay transforms itself as it is left exposed to the force of nature. My process of creation is a back and forth between leaving my work entirely to the power of nature and intervening with my intentions," said Ueda in a statement.
"Picking Up Seeds" follows Ueda's major presentation with the gallery since November 2018. Kanye West and Kim Kardashian West were in attendance at this previous show and purchased all of the pieces that were still available to display in their home in Calabasas, California. Following West's big purchase, Kaikai Kiki Gallery had to shut down the exhibition after just four days because the rapper wanted all of the works to be shipped to the United States. "What surprised us the most was that he asked us to bring all the works he had purchased to Haneda airport by the next morning, in just a few hours, so that he could fly back with them on his private jumbo jet. What…!? So we abruptly closed the exhibition and started packing," as per a statement by Murakami.
"Whenever I ask Ueda what the theme for his work is, his response is anti-climactic in its childishness: 'I want to make attractive works,'" said Murakami. "His words may seem inadequate for someone over forty, but the body of work he produced for his last show overcame his linguistic childishness, harboring something like a divine artistic glow. It was a body of work that would retain its freshness when seen in the distant future, whether ten or fifty years from now; the artist's life, ambition, sorrow, and hardship were all lumped up and evident in those works."
Check out installation views for "Picking Up Seeds" above and then head to Kaikai Kiki Gallery's website to learn more. The exhibition is on view until December 24, 2020.
Elsewhere in art, Nina Chanel Abney unveiled a new mural in Arkansas to spread a message of love.
Kaikai Kiki Gallery
B1F Motoazabu Crest Building
2-3-30 Motoazabu
Tokyo, Japan