AP Names Naomi Osaka and LeBron James as Female and Male Athlete of the Year
For their activism on and off the court.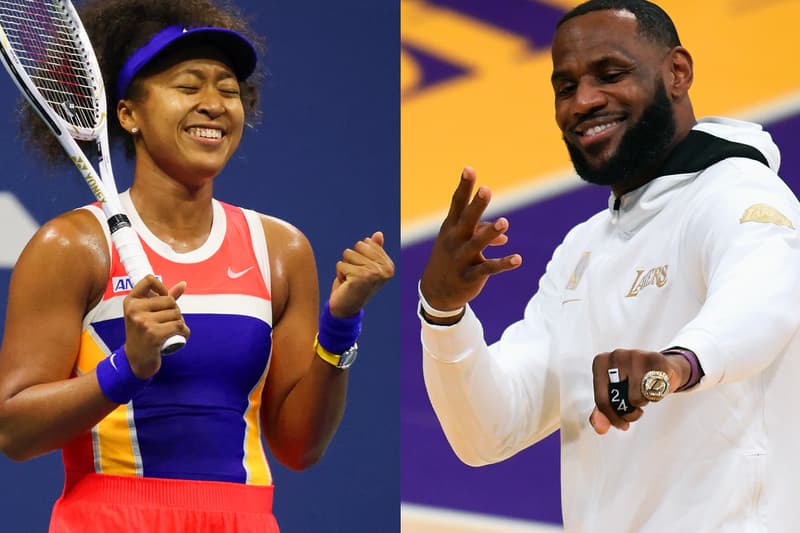 2020 has been a year where activism and sports have greatly intertwined to draw awareness to current political events. Naomi Osaka and LeBron James have been awarded the Associated Press Female and Male Athlete of the Year, respectively, both noted for their activism on and off the courts.
Naomi Osaka has been outspoken about the socio-economic effects of the pandemic and the political injustices that occurred this year. Though her third Grand Slam title was a memorable feat, it was her ability to utilize her platform to shine a light on the individuals affected by racial inequality that made a lasting impact. During the U.S. Open, she arrived at each game in a face mask bearing the names of Black victims of violence, including Floyd, Taylor, Tamir Rice, Elijah McClain, Ahmaud Arbery, Trayvon Martin, and Philando Castile.
12-time Grand Slam title winner and long-time social advocate, Billie Jean King, praised Osaka claiming, "She ignited a conversation on social justice, the results of which were bigger than tennis, larger than sports, and in doing so raised the bar for all those who want to leverage the gifts and talents we have to make a difference in our world." Osaka's actions spoke louder than words when she declared that she would not be playing in the semifinals, joining NBA players in protest regarding the Jacob Blake shooting. She reflected on her personal upbringing as a Haitian-Japanese and expressed that it was the right time to speak up. Osaka also cites LeBron James as a positive influence on activism in sports.
NBA Champion, LeBron James has now won AP's Male Athlete of the Year for a record-tying fourth time. This year, James out-scored and made more assists than any player in the NBA, became the first player to be NBA Finals MVP for three franchises, and moved to No. 3, past Kobe Bryant on the all-time scoring list. Not only is he a great leader on-the-court, but he has spearheaded many off-the-court initiatives as well. His More Than A Vote organization brought together more than 42,000 volunteers to work at polling stations during the November election while pushing for greater turnout amongst Black and young voters.
James continues to grow his I PROMISE School and aided students when the pandemic began to impact daily school life. He ensured students received hot meals and even complete meals during the holidays. With the end of the pandemic nowhere in sight, James acknowledges that "No matter your situation, no matter where you are in life, it's been rough. And the first thing I thought about, besides the stoppage of the season when the pandemic hit was 'What am I going to do for my kids back in my back in my school?'." He continues to support his hometown of Akron with an affordable housing project, House Three Thirty, introducing James' accessible family financial health programming, job training, and community center.
Like Osaka, James was amongst one of the most prominent figures to use his professional platform to call for action on the social injustices this summer. Not only did he want to raise awareness, but encouraged conversations globally. Both Naomi Osaka and LeBron James have been exceptional with their sports accomplishments this year, but it is their activism that truly amassed their win as AP's Female and Male Athlete of the Year.
In other sports news, Detroit Pistons hire Big Sean as Creative Director of Innovation.
Naomi Osaka is the AP Female Athlete of the Year for 2020.

The tennis player's year included a U.S. Open title and social justice advocacy.

Osaka's goals for 2021? "Work hard, do better, speak up, be kind."

Full story by @HowardFendrich: https://t.co/xaiEsnvVRr pic.twitter.com/bfyuBeRbTB

— AP Sports (@AP_Sports) December 27, 2020
From encouraging people to hit the polls to taking home his fourth NBA Finals MVP trophy, LeBron James had a prominent year.

He is named AP's Male Athlete of the Year.

Full story @ByTimReynolds: https://t.co/hvA0rOvdtM pic.twitter.com/bkT4vvk9iM

— AP Sports (@AP_Sports) December 26, 2020