Start the New Year With HUMAN MADE's 2021 Wall Calendar
Get 'em while they last.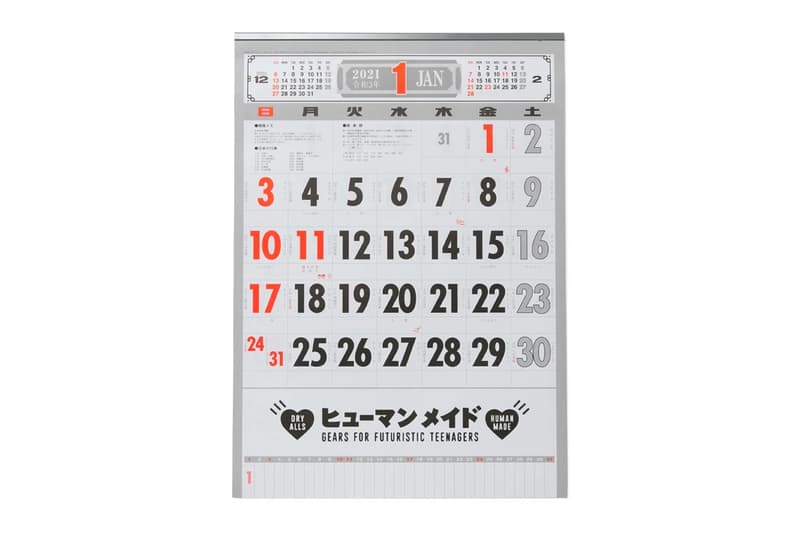 HUMAN MADE has unveiled a crisp 2021 wall calendar to prepare you for the new year. It's an exclusive calendar that will come with any purchase of over ¥10,000 JPY (approximately $95 USD) from the brand.
Much of the calendar is printed in Japanese, but there appear to be enough numbers and English letters to make it easy for just about anyone to use. The only thing that a non-Japanese speaker will need to adjust to is the upper row listing out days of the week in Japanese kanji. But once you get over that, it becomes pretty straightforward. The year's month is written at the top of the calendar, "ヒューマンメイド" ("HUMAN MADE") branding is placed near the bottom and Sundays and Japanese public holidays are colored in red. Additionally, each day of the month is also listed in skinny columns at the foot of the calendar.
HUMAN MADE's 2021 Wall Calendar is exclusively available to purchases made at official HUMAN MADE stores. The brand has urged customers to get them quick since quantities are limited.
For more from HUMAN MADE, check out the label's vibrant FW20 collab with Girls Don't Cry.
HUMAN MADE ® OFFLINE STORE
1-25-13 Aobadai, Meguro-ku
Tokyo, Japan
12 p.m. – 7 p.m. JST
(+03) 3712-2525