Eminem Might Drop 'Music To Be Murdered By' Sequel Soon
Releasing in two days if rumors are true.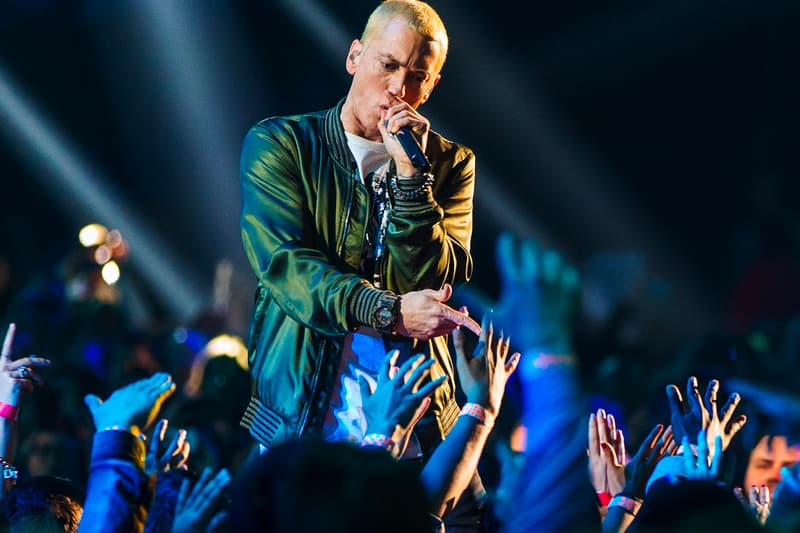 Eminem's latest LP Music To Be Murdered By was released at the beginning of the year, but it seems the rapper could be dropping yet another album before the end of 2020. Rumors of a possible MTBMB sequel have been circulating, suggesting December 18 as its release.
An unreleased album cover of Slim Shady wearing a fedora with a crow on his shoulder has been a major source of the rumors. It reads "Music to Be Murdered by B-Side Deluxe Edition." So far, there isn't any official information that can confirm the cover's authenticity, but some Shady fans appear to be pretty convinced that the album art they're seeing is legitimate. One Eminem fan site wrote on Twitter, "There were fake MTBMB Deluxe Version Covers before. This one looks like it could be real tough, based on the different pic." In addition to the cover art, there's also been a photo of the album's tracklist floating around, suggesting the potential LP could have 12 songs with features from Cordae, Boogie and Royce 5'9". Rapper Page Kennedy also hinted at the album's release in a recent tweet, "Yo @Eminem is it time??? Or nah?"
In other news, Playboi Carti's Whole Lotta Red is expected to drop on Christmas.
Rumors say Eminem is dropping "Side B" to Music To Be Murdered By" the upcoming Friday December 18th. There were fake MTBMB Deluxe Version Covers before. This one looks like it could be real tough, based on the different pic. As far as I saw, there isn't official info yet. pic.twitter.com/rRPVVjAqcu

— Eminem & Shady News (@ShadyFansite) December 13, 2020
Eminem. Shady. Album. MTBMB. Side B. Friday… I think I'm losing my mind ? ?? pic.twitter.com/QQv6VDyM7i

— Code Black #EndSARS (@joe_unofficial) December 13, 2020