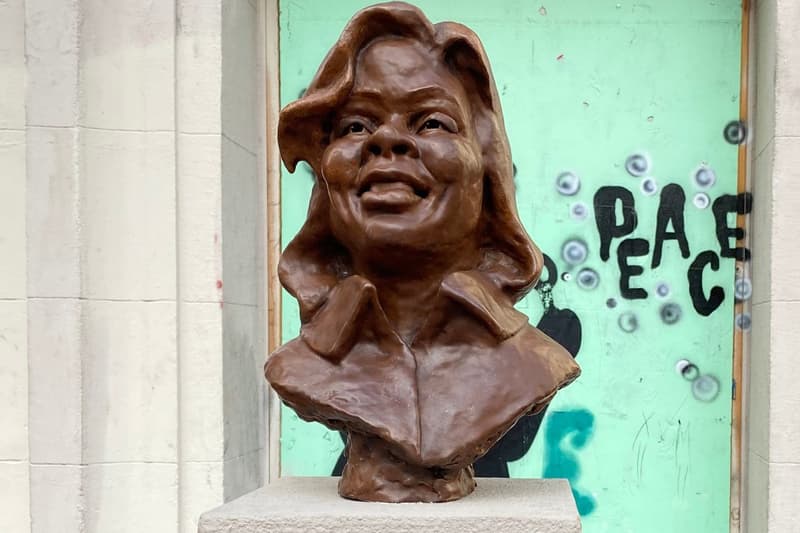 Vandalized Statue of Breonna Taylor in Oakland Now Stolen
Authorities are investigating both incidents.
---
Less than two weeks after it was unveiled, a ceramic bust in Oakland, California honoring Breonna Taylor was vandalized, as per The New York Times. This past Tuesday, the artist behind the work, Leo Carson, argued that the vandalized piece has now been stolen. After the piece was battered in several places, Carson set up a GoFundMe page to rebuild the broken statue in sturdier bronze material.
"The vandals are continuing their campaign of intimidation against the Black Lives Matter movement and we must resist their attempt to erase Breonna's image," Carson said in an Instagram post this past Tuesday. He added that he believes the bust is "likely completely destroyed."
The ceramic bust which was emblazoned with the phrase "Say Her Name" was found vandalized the day after Christmas. It was installed in Oakland's downtown neighborhood. The artwork paid homage to Taylor, the 26-year-old Black woman shot to death by police inside her Louisville, Kentucky apartment during a mishandled drug raid back in March.
A new GoFundMe page was launched this past Sunday to raise $5,000 USD to rebuild the work in bronze. The fundraiser surpassed its goal in less than 24 hours, topping off at $25,644 USD. Carson stated that any money not spent on reconstructing the bronze bust of Breonna Taylor will be given to her family. Oakland police are currently investigating both incidents.