Music Projects You Missed This Week
Featuring Maggie Rogers, Toro y Moi, Hayley Williams and more.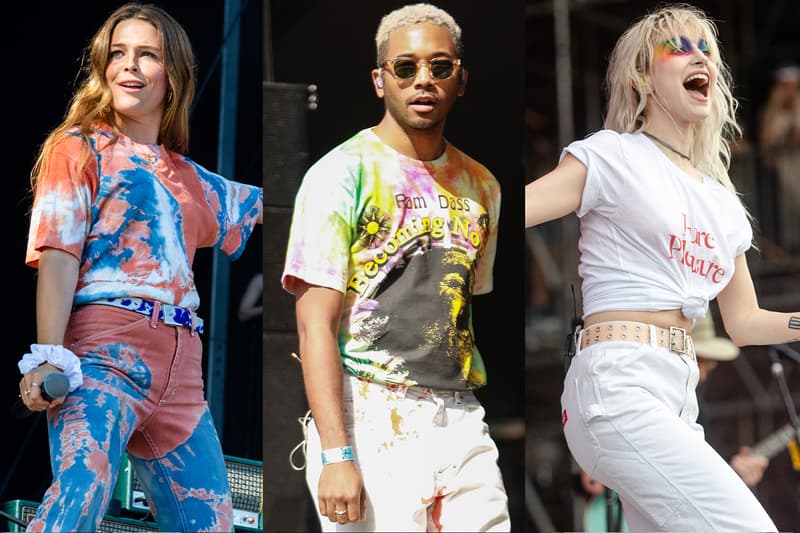 As we power through the week of Christmas, HYPEBEAST has rounded up a carefully curated list of Music Projects You Missed This Week.
This selection includes full-length albums from Jackboy and Sheff G, along with EPs from J.I the Prince of NY, Maggie Rogers and Hayley Williams. tobi lou also joins the list with a brand new single, along with Toro y Moi who delivers a HAIM remix.
---
Jackboy — Love Me While I'm Here
Jackboy is closing out his 2020 with the release of his debut studio album, Love Me While I'm Here. The 19-track effort hears the Florida rapper by way of Haiti team up with producers like DZY, Murda Beatz, Kid Hazel, D.A. Doman and guests Kodak Black, Tyga, Dej Loaf, and Juelz Santana, Rylo Rodriguez, Lil Mosey, 42 Dugg, Hotboii, Denzel Curry, Dreezy, Tokyo Jetz and more.
Listen: Spotify | Apple Music
Hayley Williams —  PETALS FOR ARMOR: SELF-SERENADES
Hayley Williams took a big leap this year with the release of her debut studio project PETALS FOR ARMOR, and now she's gifting fans with acoustic renditions of her celebrated record. "I spent this year at home like everyone. I hadn't spent that much time at home alone with my guitar since I was a teen, before Paramore hit the road," she said in a statement. "Once I realized I'd likely not be performing any of my new songs live for a while I guess it just felt right to play them for myself and re-imagine them, just a little bit lonelier. It wasn't long before I started writing new songs again and one of the demos I made seemed fitting for this little EP." SELF-SERENADES also includes a brand new cut entitled "Find Me Here," which the frontwoman bills as "the feeling of surrendering your loved ones to their own, personal struggles; Letting them take their time and come to their own rescue. It's a hard version of love to learn but it is an important lesson in loving someone well."
Listen: Spotify | Apple Music
Sheff G – Proud of Me Now
Winners Circle Entertainment leader Sheff G dropped off his debut studio album Proud of Me Now to end his stellar year. Clocking in at just over 20 minutes, the 11-track project is a coming-of-age lyrical journey that hears the Brooklyn rapper detailing his evolution with no shame. "Proud of Me Now is my first album in partnership with RCA and my label Winners Circle. A lot of hard work went into making this album," he said in a statement. I'm proud of the music I'm making. I'm proud of my team. I'm proud of being a CEO. I'm proud of me, now!!!"
Listen: Spotify | Apple Music
tobi lou - "2hrs"
Continuing his stream of releases this 2020, tobi lou shared a visual for his latest cut "2hrs." Produced by DatBoi and DILIP, the track hears the Nigerian-born/Chicago-raised artist honestly touch on why he just "spent two hours crying." He's surrounded by jellyfish and colorful backdrops as shiny tears stream down his face: "It's getting harder to hold back these tears."
Listen: Spotify | Apple Music
Maggie Rogers – Notes from the Archives: Recordings 2011-2016
After getting a co-sign from Pharrell Williams during a 2016 masterclass (with the video of his reaction to her track "Alaska" now viral), Maggie Rogers dropped her debut studio album and received a GRAMMY nomination for Best New Artist in 2020. It's been a wild four years for the young artist, and she's taking it all in with the 16-track retrospective Notes from the Archive: Recordings 2011-2016. The project features newly remastered versions of her nascent material and six never-before-heard cuts, and marks the first release on her own record label, Debay Sounds.
Listen: Spotify | Apple Music
J.I. the Prince of N.Y. – Hood Life Krisis Vol. 3
J.I. the Prince of N.Y. shared the third installment of his revered mixtape trilogy, Hood Life Krisis Vol. 3. The seven-track project features the young rapper teaming up with A Boogie Wit Da Hoodie for "R&B Shit," and also hears the 19-year-old expand into his Latin roots with his solo Reggaeton cut, "Suficiente."
Listen: Spotify | Apple Music
Toro y Moi x HAIM – "3am (Remix)"
Chillwave artist Toro y Moi put his own spin on HAIM's 3am," offering a brighter ring to the Women in Music Pt. III cut. The Filipino-American musician spent his year working on his Les Sins side project and teaming up with Flume and MadeinTYO, while the sister trio dropped their third studio album and earned GRAMMY nods Album of the Year and Best Rock Performance.
Listen: Spotify | Apple Music