TASCHEN's Latest Coffee Table Book Digs Deep Into Tattooing History
'TATTOO. 1730s-1970s. Henk Schiffmacher's Private Collection' spans 240 years of the art form's history.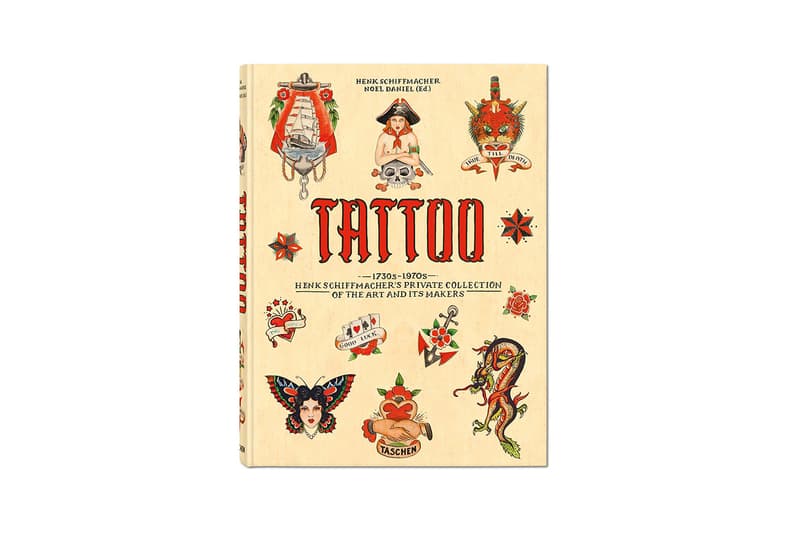 1 of 6
2 of 6
3 of 6
4 of 6
5 of 6
6 of 6
Fine book publisher TASCHEN has opened up about its latest coffee table-worthy showcase, tapping the legendary tattooer and historian Henk Schiffmacher for a book titled TATTOO. 1730s-1970s. Henk Schiffmacher's Private Collection.
The oversized book takes us on Schiffmacher's personal journey with tattoos all while evaluating the art form over a period that spans 240 years. It features an array of images taken from Schiffmacher's personal archive — many of which are extremely rare such as the selection of vintage flash sheets from major names in the early days of Western tattooing — and is accompanied by commentary from Schiffmacher himself.
Speaking on the project, Schiffmacher said, "This book is so badass, loaded with fantastic sh*t from the history of tattooing that I've collected over 40 years. There's a lot of stuff in it that's never been seen before. This has been a serious labor of love."
It's a piece for true lovers of tattooing, and no detail has been spared in the production of this book. For example, the front cover looks like a retro flash sheet thanks to its mixture of tattoos and aged yellow-hued finish, while the pages inside are finished in a similar yellow tone.
Topics such as Schiffmacher's "Life in Tattoos" to "An Age of Exhibitionism" and information about traditional Japanese tattooing can be found throughout the 440 pages. For those interested in TATTOO. 1730s-1970s. Henk Schiffmacher's Private Collection, head over to TASCHEN's website, where the book retails for $175 USD. It is available now in the U.K., but certain countries such as the U.S. will have to wait until December to receive their copy.
In case you missed it, here is what tattoo artists think of the current tattooing culture — and how it's not going anywhere.