8 Drops You Don't Want to Miss This Week
Featuring Supreme, The North Face, VETEMEMES, Stüssy and Palace.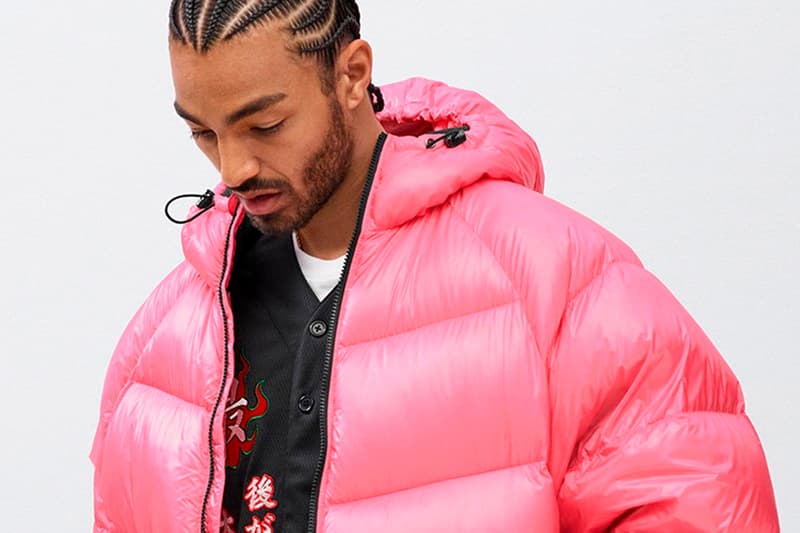 With another week upon us, we have yet another installment of our product drops series. Leading the list is the eleventh drop from Supreme's Fall/Winter 2020 collection along with Palace's Winter 2020 Week 6 drop complete with a New Era collaboration.
For its Week 11 release, Supreme has readied a team-up with late Japanese artist Toshio Saeki. The three-piece capsule was developed with the artist before his untimely passing, aged 74 and features a work jacket, hooded sweatshirt and work pants covered in a patchwork of Saeki-penned pieces.
Other standout collaborations include the Richardson x UNUSED tartan capsule and mindseeker's Rocky Mountain Featherbed Christy Jacket release. VETEMEMES has returned with for FW20 and M.A.N.K.I.N.D has released its latest collection, titled "Soile Solstice." Rounding up this week's drops is The North Face's retro-themed "Snow Rogue" capsule and Stüssy's Holiday 2020 collection.
VETEMEMES Fall/Winter 2020 Release
Taking a three-year hiatus, Davil Tran's playful VETEMEMES brand has mounted its triumphant return for Fall/Winter 2020. Picking up where it left off with its BOOLENCIAGA creations, the self-described parody of a parody has put together a range of wares inspired by select VETEMENTS styles.
Building on the tongue-in-cheek outlook of the Zürich-based fashion label, VETEMEMES went to the beyond with its pop-culture references and reverence of the memes all around us. Leading the FW20 release is the Ecstasy Fish Hoodie and Screaming Alien Hoodie which both feature oversized fits and heavyweight cotton construction. Other standouts include the Battle Royale Mesh Long Sleeve, Love Ringer Tee and Screaming Alien Tee. Rounding up the selection is the 3 Pack of My Feet Hurt Metal Socks, Bleeding Hat and Minion-themed Banana Bandana.
When: Now
Where: VETEMEMES
M.A.N.K.I.N.D Fall/Winter 2020 "Soile Solstice" Collection
Back for Fall/Winter 2020, Bandung, Indonesia-based label M.A.N.K.I.N.D has returned with its latest collection, titled "Soile Solstice."
Building on the established theme of how the continuous story of M.A.N.K.I.N.D manifests itself, the seasonal range focuses on persistent cultural elements of ethnic or social groups. Moving through western and eastern folklore, a wide range of references are expressed through illustrations, characters, ornaments, themes and images in the form of printed graphics, embroidery and patterns. The homage to history and diversity distinctly come through via the craftsmanship methods, fabrics and techniques used to construct the bold jackets, sweaters, shirts, T-shirts, bottoms and caps of the season.
When: Now
Where: M.A.N.K.I.N.D
mindseeker x Rocky Mountain Featherbed Christy Jacket
mindseeker has now tapped Rocky Mountain Featherbed to offer its contemporary take on heritage styling. Drawing from the storied label's Jackson Hole, Wyoming beginnings in the '60s, the team-up builds on high functionality developed with a mix of premium materials with sophisticated vintage designs.
For the collaboration, the Christy Jacket was reimagined with vintage American bandanas accented by a western yoke, made of seamless single leather. The iconic yoke design is in reference to the leather capes created by the wisdom of the native Americans. Accenting the jacket is striking "mindseeker" embroidery on the front and back, along with plush collars that match the cold protection theme. Coming in a range of colors, each jacket is one-of-a-kind expressing different tones developed through natural wear.
When: Now
Where: mindseeker
The North Face "Snow Rogue" Capsule
The North Face has now readied a retro-themed capsule collection, titled "Snow Rogue." The special range takes inspiration from the early days of extreme skiing for a colorful, dynamic collection of fleeces and outerwear.
Pulling from the '80s and alpine culture, the capsule riffs on the palette and silhouettes of the era. The unisex selection features a variety of puffer jackets, graphic T-shirts and fleece pants in Dramatic Plum and Summit Gold colorways for head-to-toe looks. Matching footwear and several accessories like the Fleeski Beanie and the Armadillo Bucket Hat. Other notable items include a women's full-body haize suit and men's Flare Shibori oversized-print Lhotse jacket.
When: Now
Where: The North Face UK
Supreme Fall/Winter 2020 Week 11 Drop
Continuing its major FW20 collaboration series, Supreme has teamed up with Toshio Saeki once again for its Week 11 Drop. In honor of the "Godfather of Japanese Erotica," Supreme is releasing a three-piece capsule developed with the artist before his untimely passing, aged 74. Comprised of a work jacket, hooded sweatshirt and work pants have been covered in a patchwork of Saeki-penned pieces, both colorful and black-and-white. 
The accompanying Week 11 Drop is led by the Hooded Down Jacket in four colorways, Brushed Plaid Sweater, Side Logo Crewneck and 2-Tone Cinch Pants. Other standouts include the Classic Logo Denim Shirt, Woven Label Longsleeve Top, Small Box Longsleeve Tee and Sati Uniti Stripe Shortsleeve Top. Headwear this time around comes in the form of the Snakeskin Corduroy Bell Hat, WINDSTOPPER Small Box Earflap 6-Panel, Alpine Beanie and Woven Label Beanie. While this week's boldly branded accessories include the Camo iPhone Case in four colorways and the Hohner Harmonica Keychain.
When: November 5, 11 a.m. EDT & Japan Release November 7, 11 a.m. JST
Where: Supreme Online
Richardson x UNUSED Winter 2020 Tartan Collaboration
Building on its expansion to Japan, Richardson has now tapped anonymous design collective UNUSED for a tartan based collaboration.
The collection channels a mutual love for punk subcultures, blending tartan plaid, bondage detailing and furry mohair sweaters into a cohesive cold-weather offering. Baggy bomber jackets and matching pants feature heavy wool constructions and two all-over styles – each sourced from the Abraham Moon and Sons mill – while the cardigans opt for either monochrome branding or statement color-blocking. Rounding up the selection are Kindermann Engineered Corduroy trousers with extra pockets and a set of cozy branded socks.
When: November 5
Where: Richardson
Stüssy Holiday 2020 Collection
Stüssy has now readied its expansive Holiday 2020 collection for release. Putting together another strong showing, the upcoming seasonal range is unveiled via a unisex lookbook highlighting some notable styling outlooks.
The Holiday 2020 collection from Stüssy features an array of street leaning pieces marked by bold prints and striking textiles that serve as excellent layering options. Expressing quiet confidence with a bold mentality, some standouts include the waterproof shell jacket and matching pants, dyed puffer jacket, paisley fleece jacket, Venus knit sweater, flower print shirt, carpenters pants and plaid slacks. As per usual, a series of headwear options like Stüssy branding marked bucket hats, caps and beanies round up the seasonal selection.
When: November 6
Where: Stüssy
Palace Skateboards Winter 2020 Week 6 Drop