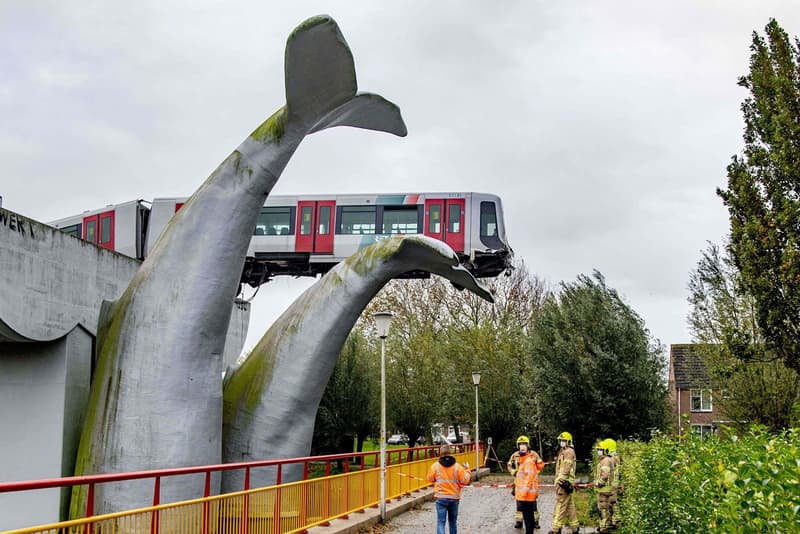 Dutch Train Saved From Crash by Whale Sculpture
The artwork's official name, 'Saved by the Whale's Tail,' could not be more apt.
---
A subway train in Rotterdam, Netherlands was saved from a fatal crash when it sped through buffers and landed on a sculpture of a whale's tail. The incident took place at the De Akkers metro station in Spijkenisse around 12:30 am on Monday. Instead of falling more than 30 feet to the ground, the train was stopped by one of two whale tail sculptures at the end of the track.
The driver of the train was able to escape safely, but was sent to a hospital as a precautionary measure as per local media outlets. "To our relief, the metro operator got out of the vehicle unharmed. He is doing well under the circumstances. There were no passengers present," said RET, the transport operator in the city of Rotterdam in a statement. An investigation is underway and RET is planning how to salvage the train.
The artwork's official name, Saved by the Whale's Tail, now seems more fitting given the incident. The whale sculptures were designed by architect Maarten Strulis who installed the work nearly 20 years ago. "I was surprised, I didn't expect this. Buffers are always strong enough," Struijs told CNN. "So, I am looking forward to the results of the investigation of this crash." Struijs said he thought the tail, which is made of plastic, would have been damaged in the accident, "but that's apparently not the case."
Elsewhere in art, OSGEMEOS launched a massive exhibition titled "Segredos" in their hometown of São Paulo, Brazil.