Henbo Henning Releases Carhartt Jackets With Custom Embroidery
Featuring the NY-based artist's original Japanese tattoo designs.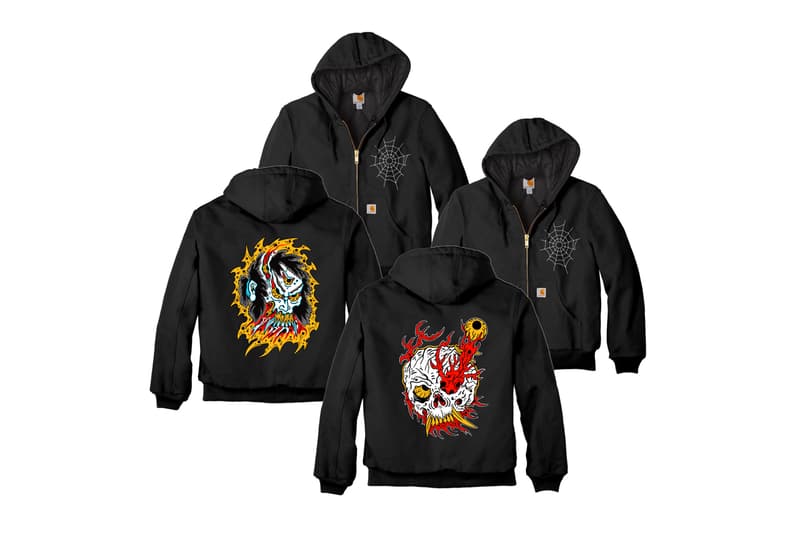 Renowned New York based tattoo artist, Henbo Henning, has unveiled a selection of bespoke Carhartt jackets. The outerwear pieces feature two unique embroideries inspired by the artist's original Japanese tattoo designs: Fatality and NO MERCY. Both pieces arrive in tonal black base options and are custom made with each artwork featuring over 20,000 stitches. Cobweb motifs are also observed in the front sections of the jackets.
"My style has a heavy influence on Japanese tattooing. It's graphic and bold but it has a very loose and fun personality. It's 'wabi sabi' (Beauty in Imperfection). I also have a heavy influence from yokai, which is that Japanese belief of spirits in normal objects," said Henning in an exclusive Pen & Paper interview with HYPEBEAST. "I also love drawing animals. I love giving them personalities. Frogs just look so stupid and have a funny face. They are like fish with legs. In Japanese drawings, frogs are always wrestling, which I love. Drawing blowfish is fun too. They just look so stupid."
Both jackets are priced at $350 USD each. Purchase them both now on Henbo Henning's official online shop.
Elsewhere in fashion, Yohji Yamamoto linked up with New Era on a Fall/Winter 2020 capsule of apparel and headwear.