Jenny Holzer Wants You to Vote for Your Future
"This isn't right or left. This is life or death."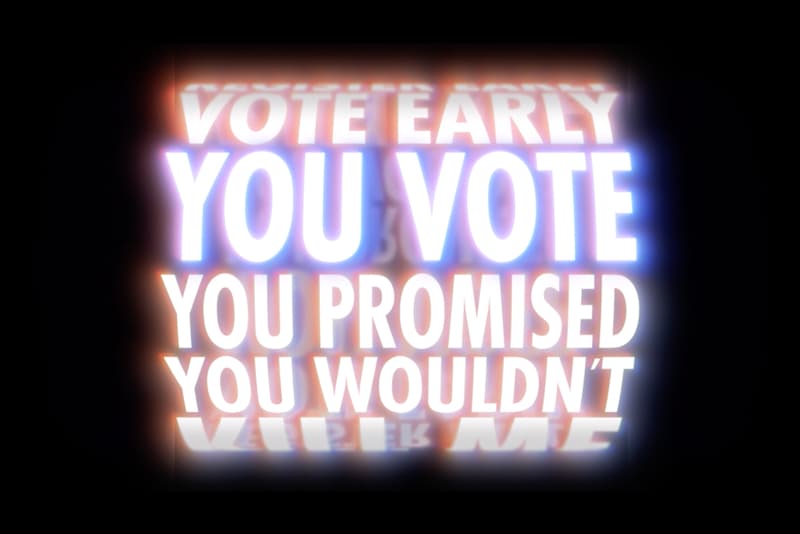 The U.S. Presidential Election Day is Tuesday, November 3, 2020. While states such as New York and Hawaii have already concluded their voter registrations, there are still plenty of states that are still taking applications this month including California by October 19 and Washington by October 26. You can find all the information on deadlines for each state on When We All Vote's website here.
Influential artist, Jenny Holzer, teamed up with When We All Vote, Rock The Vote and Plan Your Vote to spread the word and inspire people to register. Holzer created a series of animations baring phrases such as "Vote. It's Good for Your Health," "Protect Black Women," and "This Isn't Right or Left. This is Life or Death." The artist is widely recognized for her conceptual art that delivers ideas through words. Her messages have been carved in stone, embellished on the banks of the Tiber River in Rome and even projected onto Rockefeller Center.
Holzer joins a long list of artists who have contributed works to encourage people to vote in the upcoming, crucial election. For Plan Your Vote's artist campaign, the artist is among plenty of artists such as The Guerrilla Girls, Sanford Biggers, Laurie Simmons, Robert Longo, Calida Rawles, Robert Wilson, Wangechi Mutu, and Michael Stipe of R.E.M. who created diverse original work — including paintings, sculptures and portraits — so people can come together and choose.
Download Holzer's animations here to help spread the word and visit Plan Your Vote's website for more information.