Michelle Obama's Workout Playlist Includes Cardi B, Nipsey Hussle & More
Get your New Year started off right.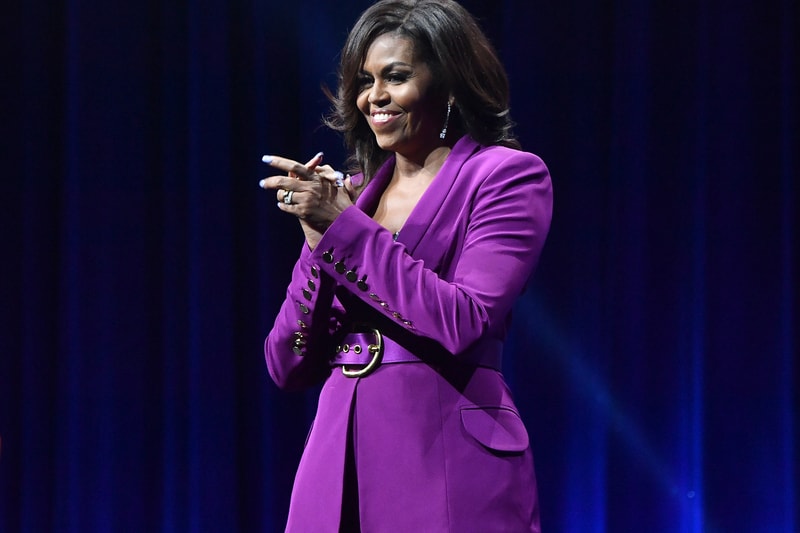 Following in suit after her husband's popular summer playlists, former First Lady Michelle Obama has shared her top musical choices for her 2020 workout playlist.
Shared via her social media accounts, Michelle Obama's Workout Playlist includes a bevy of recent bangers including Cardi B's "Press" (the clean version of course), Nipsey Hussle's "Hustle & Motivate," Anderson .Paak's "Come Down," The Carters' "Apeshit," Calvin Harris and Dua Lipa's "One Kiss," "Clique" by Kanye West, Big Sean, and JAY-Z, Tony! Toni! Toné!'s "Feels Good," and much, much more. In addition to the aforementioned tracks, the curated playlist includes a warm down segment accompanied by Meek Mill and Frank Ocean singles.
She also stated, "It's about that time when New Year's resolutions get a bit harder to stick to. To offer a little inspiration, I want to share my go-to #WorkoutPlaylist with you. These songs always seem to give me that extra boost to get through my toughest workouts. What's on your playlist?"
Although Michelle and Barack Obama are no longer the First Lady and U.S. President, they still continue to impress the country with their infectious charm. Check out Michelle's full 2020 Workout Playlist below.
In more music-related news, these are the first week album projections for Mac Miller, Eminem and Halsey.
It's about that time when New Year's resolutions get a bit harder to stick to. To offer a little inspiration, I want to share my go-to #WorkoutPlaylist with you. These songs always seem to give me that extra boost to get through my toughest workouts. What's on your playlist? pic.twitter.com/GFP56Yi9A6

— Michelle Obama (@MichelleObama) January 19, 2020
From hip-hop to country to The Boss, here are my songs of the year. If you're looking for something to keep you company on a long drive or help you turn up a workout, I hope there's a track or two in here that does the trick. pic.twitter.com/mQ2VssyDwt

— Barack Obama (@BarackObama) December 30, 2019