Martin Lawrence Has Matured, But He's Still Lit AF
The comedy icon talks 'Bad Boys For Life' and his love for stand-up.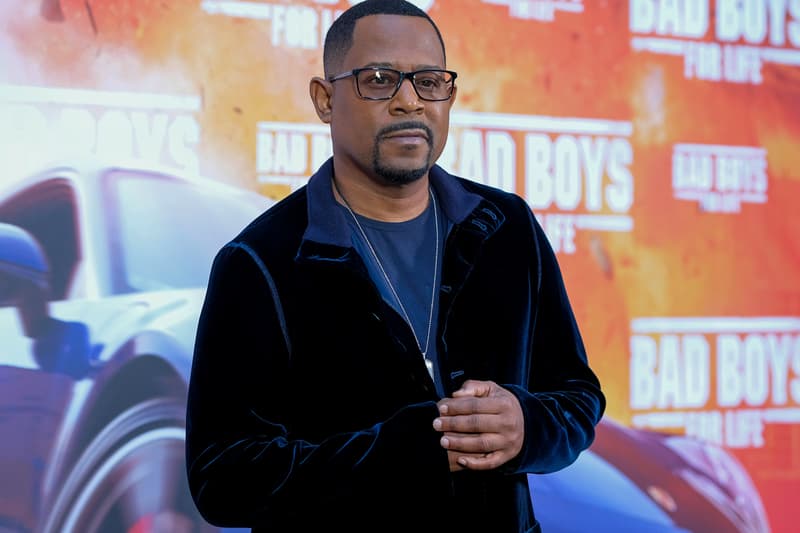 In the 1990s, Martin Lawrence was the undisputed king of comedy. Like Eddie Murphy before him, he parlayed a successful stand-up career into spots in films such as Do The Right Thing, House Party, and even Boomerang; which stars Murphy and Martin's future television co-star Tisha Cambell. But it was TV that cemented his legacy, thanks to Lawrence's titular series Martin, which ran from 1992 to 1997 and has remained one of the most iconic television shows of the era.
Then, in '95, he went on to star in the first installment of the Bad Boys trilogy. It was Martin himself who suggested Will Smith as his co-lead, who was on his own influential sitcom at the time Fresh Prince of Bel-Air. The film served as something of a testing ground for Martin as his first starring role, but the Michael Bay-directed flick went on to gross $141.4 million USD on a $19 million USD budget, propelling him further into superstardom. Martin followed that up with his directorial debut A Thin Line Between Love and Hate in 1996, which he also wrote and starred in, garnering $30 million USD at the box office against an $8 million USD budget.
Now, Will and Martin have reunited for the third and final installment of the franchise. Although it's been 10 years since Martin has starred in a feature film, the two are finally coming together for Bad Boys for Life — 17 years after Bad Boys II. However, the gap in time may be to the film's benefit, given the resurgence of older franchises in Hollywood today. The film had been in demand for years, with production plans continuously falling apart. As the years progressed, however, the franchise has gone on to garner a cult status among action movie fans. And as of publication, Bad Boys for Life currently sits fresh at 76% on Rotten Tomatoes.
Will and Martin have reprised their role as Mike Lowrey and Marcus Burnett. But much like the actors themselves, the characters are in very different places since we last saw them in in 2003's Bad Boys II. HYPEBEAST caught up with Martin Lawrence to talk about Bad Boys for Life, his future endeavors, and of course, his iconic television series Martin.
HYPEBEAST: What's it like coming back to the franchise with brand new directors?
Martin Lawrence: Oh it is great. Just having to do this once again with Will Smith, one of the best in the business, one of my best partners to work with. I just enjoy it.
Comparatively speaking, what are the biggest changes from the first Bad Boys to this third installment?
I think the story. This story might be the best story out of all three, and we just getting older and things like that. But, I think it's the story.
As this is your first starring role in almost a decade, how did you prepare for the film?
Well, how did I prepare? I ate a lot of good food, because I tell everybody I couldn't work out because I had hurt my back. I was on tour, and I did this New Year's Eve show. And I was going up the steps and I slipped and I hurt my back. I couldn't work out before the film, and we had to start filming in a week, so the only thing I could do was eat. I had pudding, pizza, stuff like that.
You're currently hosting the Lit AF tour. At this point in your life and your career, how important is it for you to still be able to perform stand up?
It's important because it's my baby. It's where I started, and those fans that come out and see me and all that are the reason that I'm here. They supported me from day one. They came to the comedy club, they came to the concert halls, and they still come out and see me. And so my love and dedication to them, for stand up is unmeasurable.
What do you think about Eddie Murphy's return to stand up and have you two spoken?
I think it's great. I think he's one of the best to ever do it. He paved the way for all of us that are doing it now. Richard Pryor first being the king and godfather of it all. And so I love that Eddie's coming back to stand up.
In your recent GQ interview, you mentioned not being the same boisterous, no-nonsense man that you were when you were younger. Do you ever worry about those elements and if those are the things that make you funny?
No, I don't really worry about that because I know what funny is, I know how to be funny. I just make better choices now, and I know I don't have to be as off-the-cuff and things, and have all this bravado to get attention or whatever. I'm just in a different place. I've matured.
You're on social media now in a big way. You got your YouTube channel where you're featuring clips of your stand up. You're addressing your fans, giving a little insight into your life. What made you want to get into the social media space?
It's a better way to reach my fans in this new age. Because it's all about social media today. So if you're not changing with the times then you're going to get lost in the time.
Will Smith is huge on social media. Was he the one that got you on to social media
No, but he gave me a camera to use. He says, "Use this man. Document whatever you want to document and post it."
A Thin Line Between Love and Hate remains a cult classic, and a financial success. Do you have any interest in picking up writing and directing again?
Oh wow. That was one of the hardest things I ever did in my career. If I did direct again, I wouldn't act in it or I would only make a cameo. But I wouldn't try to act in and do everything that I did when I first did that line.
Are there any themes or true stories you would potentially like to direct or write?
No, there's nothing that's been presented to me just yet. But we're in the midst of looking at some things.
You've spoken about weed at length in your act throughout the years, and even made a relatively rare appearance on Snoop Dogg's GGN news. How do you feel about the recent legalization of marijuana in certain States?
I think it's great. But then I think everyone should smoke marijuana. If it calms the world down then smoke it.
If Martin was still around, what artists would you feature on the show?
I would be trying to get every artist that wanted to be on the show. We wasn't turning down artists back then. So, every hot artist that's out, we'd be trying to get them, and trying to make room for them.
The better question is, who are you really feeling right now, today in hip-hop?
Kendrick Lamar, Drake, you know the names. The people that I… I don't want to get started there man, because I started leaving people out, but I listen to everybody.
So the LeBron 16 "Martin" was released last year. And you always had fly kicks on in the show. My personal favorite being the Air Jordan 12 "Taxi" you got from the Nigerian Prince, which you later gave to a little kid in the "Scrooge Christmas" episode. Are you still into sneakers and if so, what are some of your more recent favorites?
Yeah, I love sneakers. I love the Jordans. I'm a Jordan man, so you probably mostly catch me in Jordans, but every now and then you catch me in a different shoe or whatever. But for the most part I like Jordans.
Do you have a favorite episode of Martin?
Favorite episode of Martin is the boxing episode with Thomas Hearns, the one I wrote. That's one of my favorite episodes.
As a family man, how do your children perceive the show and its impact?
They love it. They laugh. I mean, "Daddy is so crazy." They love it. And they're pursuing their own careers in the business and everything else, so they love it.