Tesla Model S "Plaid" Reportedly Beats Porsche Taycan Nürburgring Time by 20 Seconds
Plus, Elon Musk reveals a production timeline.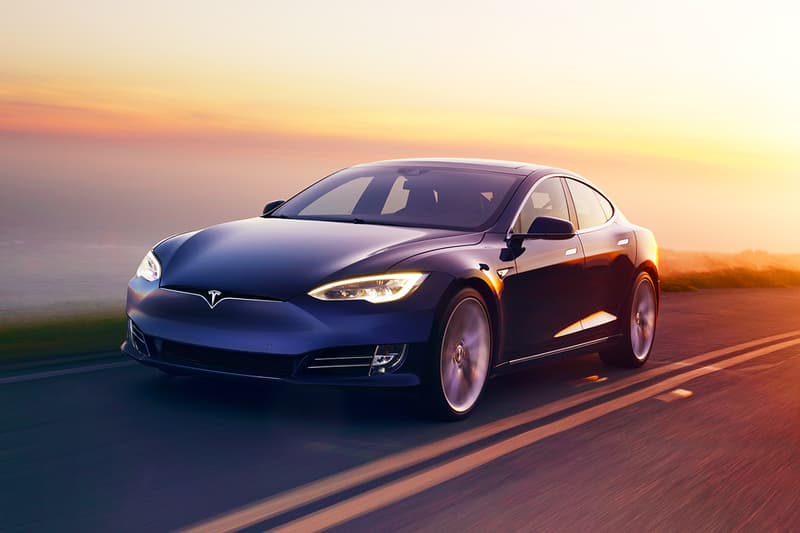 Ever since the launch of the very speedy, all-electric Porsche Taycan earlier this month, Elon Musk has been on a mission to prove that Tesla's vehicles are the highest performing electric vehicles. This week, the CEO's mission continued at Germany's Nürburgring track, where a stripped-out Tesla Model S has reportedly beaten a Porsche Taycan by an impressive 20 seconds, resulting in a full lap time of just 7:23.
Road & Track Magazine had a photographer on site who managed to capture the two Model S vehicles — one red, one blue — as they lapped the track. As suspected in our previous coverage, the Tesla models at the Nürburgring were equipped with the EV company's new "Plaid" powertrain, which allows the cars to surpass even Tesla's fastest "Ludicrous" mode. In addition to a new tri-engine powertrain, the prototype Model S revealed a new body style that appears to feature aggressive fender flares that allow for a wider stance and larger tires, as well as a prototype rear spoiler. It is unclear, however if these details will make it to production or not.
In response to the coverage, Musk tweeted that even though the model being tested is stripped of its interior, Tesla "expect[s] these track times to be beaten by the actual production 7-seat Model S Plaid variant that goes into production around Oct/Nov next year," which announced a production timeline for the tri-engine Model S. He also stated that the new car will feature the S's "original 5 forward-facing seats plus 2 rear-facing smaller seats," adding that the "new rear seats will accommodate larger passengers than before."
Until official times for both the Model S Plaid and Porsche Tacan are revealed, take a look at the new Vision Mercedes Simplex concept, which combines tech-forward features with retro design details.
No, original 5 forward facing seats plus 2 rear-facing smaller seats. The new rear seats will accommodate larger passengers than before.

— Elon Musk (@elonmusk) September 17, 2019