Kanye West & Kid Cudi Are Planning a 'Kids See Ghosts' Sequel
"We had a discussion where he said he wanted to make a spiritual album."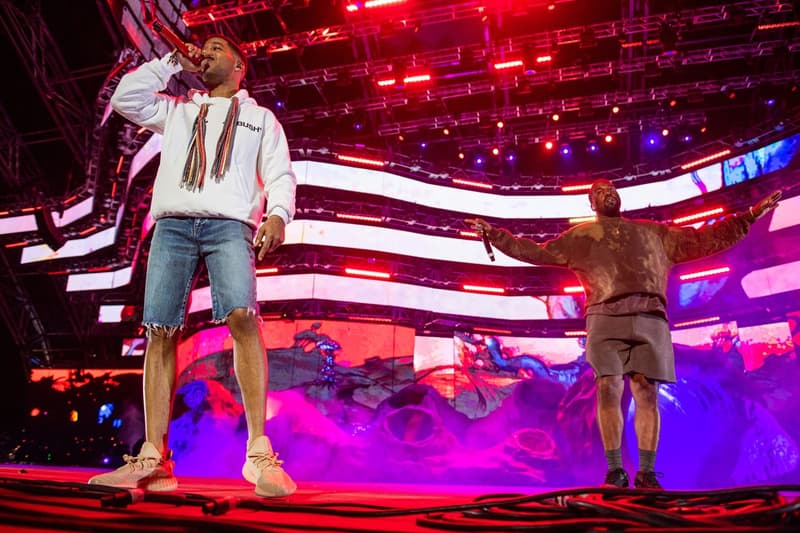 Last summer, Kanye West and Kid Cudi released their collaborative studio album Kids See Ghosts. Made up of seven tracks, Kanye and Cudi's joint offering featured "Japanese folklore and traditional ukiyo-e woodblock printing-inspired" artwork from Takashi Murakami and collaborations with Pusha T, Ty Dolla $ign and Mos Def. Now, as a recent Complex cover-story notes, it looks like Kanye West and Kid Cudi are interested in cooking up a sequel to Kids See Ghosts.
Speaking to Complex for his latest interview, Cudi opens up about his next major collaboration with Kanye West, revealing that the pair have already spoken to each other about working together on another project. Specifically, the 35-year-old Man on the Moon superstar confirms that there will "definitely" be another full-length collaborative release from himself and Ye.
"Kanye already told me he wants to start working on the second one," Cudi tells Complex. "It's kinda weird, 'cause with the first album, I didn't know how serious he was about making a collab album with me. He had mentioned it, but I thought it was just a good idea he had in the moment. But then he kept bringing it up and kept having me come to his house, listen to music, and work on beats, so I was like, 'Wow, he's really into this.' We had a discussion where he said he wanted to make a spiritual album and I told him, 'Great. That's what I do. I would love to do that, something I can sink my teeth into.' So there will definitely be more."
We'll keep you updated as more information concerning a potential Kids See Ghosts follow-up surfaces.
Last month, Kid Cudi celebrated the tenth anniversary of Man on the Moon: The End of Day by debuting a special Stance socks capsule.