Seven Signature Scents to Try This Fall
Featuring IIUVO, Aesop, Le Labo, Byredo & more.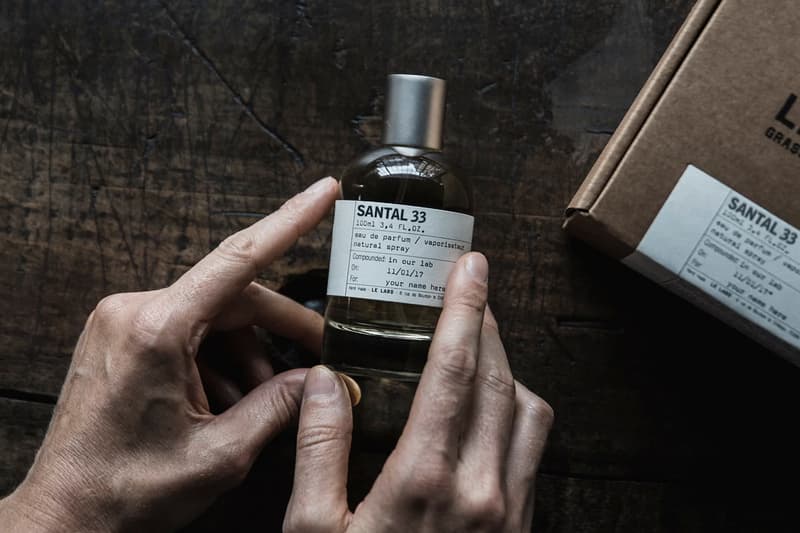 Just like a wardrobe we also need a seasonal fragrance, and as the nights draw in a Summer spritz is no longer going to stand up against the cold air and heavy weather that awaits. Instead, introduce a signature heady scent that can take you from cozy Fall days to crisp Winter nights (think cedar, vetiver and amber), in order to exude warmth, comfort and luxury. 
HYPEBEAST has curated a list of unique, reliable and original fragrances from a lineup of trusty retailers for you to have a waft of. Spotlighting London-based brands, much-loved staples and interpretive left-fielders, here are your seven signature scents to try this Fall. 
Byredo Gypsy Water
Ben Gorham's Byredo has rapidly become a go-to in the fragrance world. The best-selling Gypsy Water scent has fresh yet woody transitional notes, using citrusy lemon and calming vanilla to offset deeper masculine tones of creamy sandalwood, pine needle and bergamot. Much like Byredo's ethos, Gypsy Water tells a story — promising uplifting notes perfect for Fall and sultry comfort for Winter, thanks to undertones of incense and amber. 
Timothy Han Against Nature
Timothy Han's small-batch perfumes are produced similarly to fine wines. Against Nature is inspired by Joris-Karl Huysmans' 1884 novel of the same name, which draws inspiration from its discussions on luxury and excess. Han bottles botanical ingredients such as top notes of juniper, metal and pink pepper alongside base notes of musk, vetiver and amber for an earthy dewiness, which comes packaged in an edition number-inscribed bottle.
Aesop Marrakech Intense
Aesop has bottled its well-loved and complex use of plant-based, laboratory-made smells into a series of fragrances. The warming Marrakech Intense is as intoxicating as the sites that inspire its name, channeling the aromas of spices in Souqs and the warmth of surrounding deserts. This woody offering has three key notes: clove, sandalwood and cardamom. In toilette form, Marrakech Intense is spicy yet floral, and in parfum, it elevates into a deep, rich aroma. 
Neandertal Dark Perfume
For those who want their fragrance to double up as an avant-garde ornament, Neandertal's Dark perfume might be for you. Packed with raw, animalic, smoky scents derived from hearty notes such as leather accord and tobacco, as well as base notes of labdanum — the main ingredient used for amber odors — as well as robust vetiver, it's one of the darker offerings on the list and one that intrigues and clashes for a truly neanderthal-approved accord. 
IIUVO Fonteyn
IIUVO Fonteyn evokes Stanley Kubrick's ability to create something dark yet beautiful and the story of prima ballerina Margot Fonteyn's Nocturne 1970. The ballerina portrayed a melancholic flower seller at a ball, which inspires Fonteyn's clashing notes of a dark earthiness and a welcomed sweetness. Pick up Fonteyn for something warmer that is layered with mellowness, thanks to its notes of moss and Virginia cedar alongside contrasting violet and grapefruit. 
Tom Daxon VSOP
British perfumer Tom Daxon describes VSOP's scent as the "seductive setting of being drunk." Instead of adding cognac to the mixer, Daxon uses a host of spices, musks and woods for a base that propels scent-tingling notes of fruity pink pepper, lemon sherbet-like elemi and the minty floral notes of geranium. As a result, the long-lasting fragrance offers a captivating scent that takes you from day to night, and from season to season.  
Le Labo Santal 33
Santal 33 by Le Labo has developed somewhat of a cult following thanks to its unisex, all-year-round scent. The fragrance is comforting and well-rounded, using Australian sandalwood, papyrus, cedarwood and sweet violet against leathery, musky notes for a lingering waft. Described as 
"a perfume that touches the sensual universality of this icon, that would intoxicate a man as much as a woman," Santal 33 is your best all-rounder, available in $6 USD samples, carry-on ready 100ml bottles for $189 USD or $998 USD decanters.