Everything We Currently Know About the Supreme/BLU Burner Phone
The phone's manufacturer gives us the lowdown.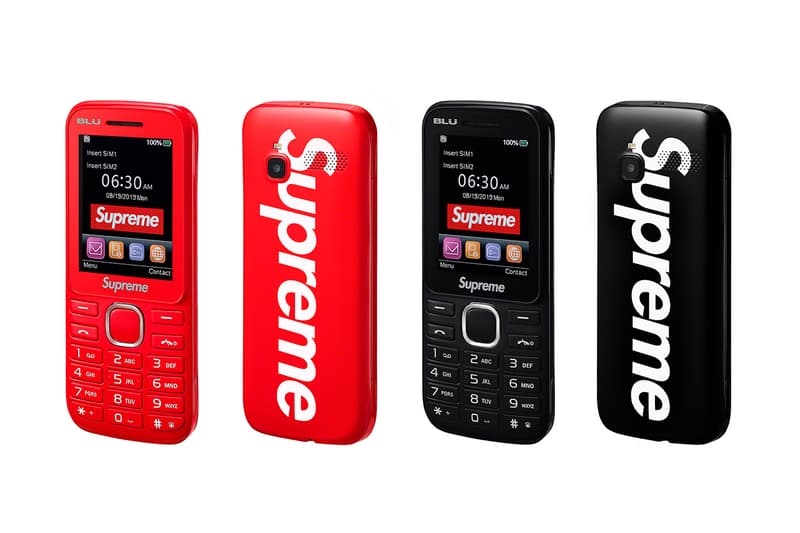 Supreme recently announced its upcoming Fall/Winter 2019 accessories, one of the standout items on the roster being a classic prepaid burner phone. The phone is manufactured in partnership with BLU, the last U.S.-based mobile phone company that still produces burner phones. Supreme has often applied its logo to a wide variety of objects, as past seasons have included everything from branded bricks to drum kits. However the Supreme/BLU Burner Phone marks one of very few times the brand has ventured into tech, making the nostalgic device a particularly curious drop for the brand's growing Gen Z fanbase.
For BLU, this burner phone collaboration was a long time in the making. "We had tried in vain for a long time to reach out to Supreme to pitch collab ideas," BLU Products CEO Sammy Ohev-Zion tells HYPEBEAST. "It became apparent that you can't reach out to Supreme, Supreme reaches out to you." Much to BLU's excitement, Supreme finally answered its requests in hopes of reviving the classic burner phone in line with the streetwear brand's 25th anniversary.
There aren't many concrete details available for the upcoming Supreme phone, but the brand's website shows a model that seems to most closely resemble BLU's Zoey 2.4, a no-frills phone boasting all the necessary mobile device features — nothing more, nothing less. The Supreme/BLU Burner Phone will come in both red and black colorways and will (naturally) feature a large Supreme logo across the back, as well as metallic logo detailing on the front beneath the screen.
Supreme's website also notes that the phone is 3G and features a built-in-camera. If the model is in fact a branded version of BLU's Zoey 2.4, it's safe to assume the Supreme version will have many of the same features as the original.
The Zoey 2.4 measures in around two inches wide, half an inch in depth and a little under five inches tall. At 2.4 inches, the display screen takes up around half of the phone's body. Its camera isn't anything to write home about, but those looking to add some grainy Instagram shots to their feed can make use of its LED flash and minimal video capability. Since the phone only includes 128MB of internal memory and 64MB Ram, Supreme is kindly including a 16GB memory card with purchases of the phone.
Bluetooth connectivity and an internet browser keep the Zoey 2.4 somewhat modern, while a built-in FM radio and MP3 player act as a nod to the early aughts. The phone includes a 1000 mAh battery, which maintain a full charge for about one hour. As those who lived through the pre-smart phone era will remember, however, burner phones don't process high volume texts, videos, etc., and therefore can last for days before needing a recharge.
Even without the help of Supreme, Ohev-Zion insists that burner phones still sell well in today's market. Over the past three years, BLU has reportedly sold over 30 million cellphones, including both prepaid smartphones and classic burner phones. The company isn't alone in its findings either: AT&T's 2018 Annual Report also showed an increase in prepaid mobile phone revenue, citing higher participation and profit from its subsidiary services like Cricket.
"You can't reach out to Supreme, Supreme reaches out to you."
Outdating many of Supreme's Gen Z shoppers, prepaid mobile phones were first described in a patent filed in 1994. Their original purpose was to democratize cell phone usage, as prior to burner phones people were often denied a cellular contract based on credit score or financial status. Today, burner phones are largely associated with criminal activity thanks to their disposability and high level of privacy, as seen in productions like Breaking Bad, The Wire, and Netflix's recent film Polar.
Regardless of the burner phone's perceived usage, Ohev-Zion makes a compelling argument for the nostalgic piece of technology in today's smartphone age. "When out having a good time, and someone asks you for your number, wouldn't it be awesome to just have a burner phone? You could hand out that number and not have to worry if the person turns out to be a creep," he notes. In addition to validating future dates, burner phones can also provide a cheaper, more simplified phone option during travel, as well as a handy device to have around in case of emergency.
The Supreme/BLU Burner Phone will be exclusively sold by Supreme both online and in Supreme's U.S., Europe, and Japan locations. Given Supreme's markups on past accessories, it's safe to estimate that the phone will retail for somewhere between $55 and $75 USD — and of course for even higher on the resale market. Those who don't manage to snag one on the drop date and don't want to shell out for the resale price can instead try slapping a Supreme box logo sticker on a Standard Zoey 2.4, which goes for around $33 USD on Amazon.