Medicom Toy Readies Rugby Japan National Team BE@RBRICKs Ahead of 2019 World Cup
Dressed in "The Brave Blossoms'" uniform.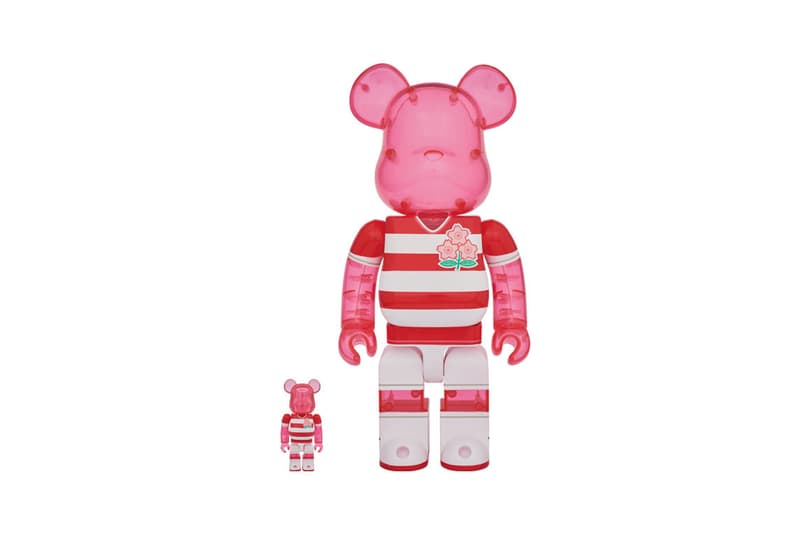 After releasing a set of psychedelic BE@RBRICKS a few days ago, Medicom Toy has returned with its latest iteration of figures, this time as a nod to the Japanese National Team ahead of the 2019 Rugby World Cup.
To be held in Japan from September 20 to November 2, the upcoming tournament will mark the very first time the Rugby World Cup is hosted in Asia. The opening match will take place at Ajinomoto Stadium in Chōfu, Tokyo, while the finals will happen at Nissan Stadium in Yokohama. By virtue of hosting the games, Japan was assured qualification, making its national team The Cherry Blossoms, or more recently The Brave Blossoms, the only Asian team to qualify this year.
The figures come in a pink-tinted translucent shell, dressed in the national team's uniform. Complete with an open V-collar, the BE@RBRICKs wear red and white striped shirts stamped with the team's Sakura emblem. The thematic stripes continue past the torso, covering the legs, while the arms are kept bare. As a finishing note, the number "24" is printed across the back, a number that currently isn't held by any player on the team but instead may reference a famous win by Japan from back in 1989 when it beat Scotland XV 28–24.
Coming in sizes of 100% and 400%, the Medicom Toy "Brave Blossoms" BE@RBRICK will be available on August 24 at 7net.omni7.jp for approximately $141 USD.
Elsewhere, Kanye West's dome concept houses have been torn down following noise complaints.
Medicom Toy BE@RBRICK "Brave Blossoms" 100% & 400%