Frances Tiafoe Wants to Become the LeBron James of Tennis
The 21-year-old athlete opens up about his career, the state of American tennis and more ahead of the US Open.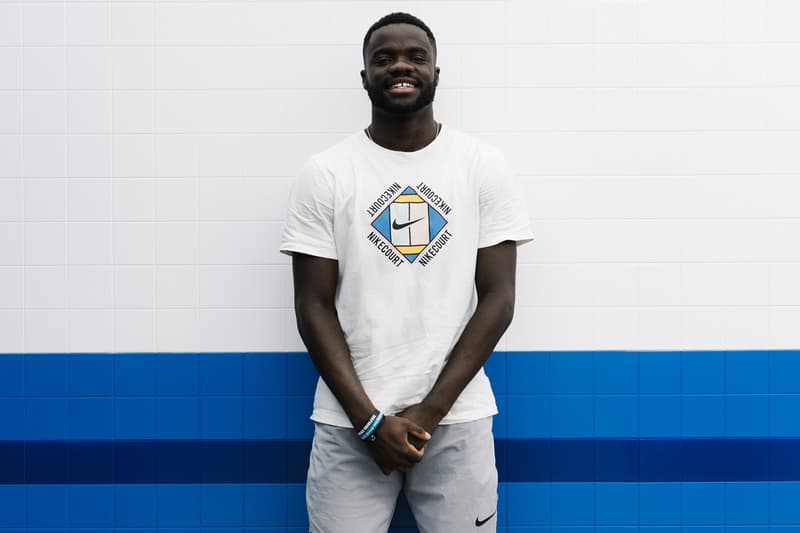 In 2001, 22.7 million people tuned into CBS to watch the US Open women's final between Serena and Venus Williams. Last year's finals however, now on ESPN, between Serena and Naomi Osaka, attracted 3.1 million viewers, while the men's final between Novak Djokovic and Juan Martín del Potro drew in 2.1. Although last year's numbers are up from the previous year, tennis, especially American men's tennis, is still far from its heyday of the '90s and 2000's.
Luckily for us, Serena — who is still a favorite to win this year's Open, 20 years after the first time she captured the title — is arguably the greatest tennis player of all time, male or female, and has inspired a new generation of young athletes of both genders. Among them is a young, up-and-comer by the name of Frances Tiafoe.
Tiafoe, 21, was born and raised in Maryland to parents who immigrated from Sierra Leone. His father worked as a custodian at the Junior Tennis Champions Center in College Park, and was given a spare office where he spent some of his nights after a long day on the job. Tiafoe, along with his twin brother, weren't in the tennis program, but often stayed the night with their father, sleeping on a massage chair that was stored in a closet. Eventually, a six-year-old Frances was seen by coaches pounding tennis balls with every-growing ferocity against the facility's hitting wall every morning and night, and was soon admitted to the Center.
Flash forward to the present day and Tiafoe is now one of four American men in the top 45, three of which are 21 years of age, and is already being compared to greats like Pete Sampras and Andre Agassi. He has a powerful serve and an equally-powerful, but rather unorthodox forehand, as well as the charisma, intensity and billion-dollar smile that American fans love to see.
Last year, Tiafoe lost in the second round of the US Open, and earlier this year he reached the quarter-finals of the Australian Open, his best Grand Slam finish yet. Looking to end the 2019 Majors season with a successful run at this year's Open, the budding superstar athlete sat down with us at Amex's Fan Experience Center to talk about his career, what he hopes to accomplish in Flushing, the state of American tennis, becoming the LeBron James of his sport, and much more.
How do you feel coming off Winston-Salem?
I feel good. The last couple of weeks have been good. I played well in Cincinnati as well, beating [Gaël] Monfils and had a tight match with Bautista [Agut]. And Winston was also good. I've been playing pretty good. I've been more aggressive, trying to get some good matches under me. But now I'm here and it's definitely time to pop off.
What parts of your game have you been focusing on heading into the US Open?
Ultimately, trying to be in a good head space, take care of my strategy and playing on my terms, playing aggressive, taking it to my opponents, and playing off my front foot. I want to make sure I'm coming to the net, having a lot of energy, really just taking it to my opponent, and playing to win, not to lose. No fear, and playing my ass off, competing for every point.
What would make this US Open a successful one?
If I can get to the second week, I'll be extremely happy, because I haven't had the best stretch lately. If I can get some wins under me; it's all about confidence, you know, you get one, two wins then you start feeling good, and that's when good things happen. In the early rounds you got to shake off those nerves and just keep going from there.
What feelings or emotions do you have being American and playing in the US Open?
It's more excitement, you're anxious, you just want to get out there and get going. This is where the Americans got to make a big push because we haven't had massive runs, making it to the finals or anything like that, so everyone's looking for that. But the fans will be behind us. And the energy, you can't beat it, being in New York and all. Even in the city, when you're just kicking it, you feel it. There's good vibes out here.
Do you have any plans for your downtime here in NYC?
My girlfriend is coming, so she'll probably make me do some date night stuff with her — I'll probably take her around the city. But I like to be pretty low-key when I'm playing, but then after, we'll have some fun and enjoy the city a little bit.
How would you define the current state of American tennis?
Right now, it's in a pretty good space. There's a lot of young guys playing well. Obviously it's not what it was, but I think now or in the next year and some change, Americans will be pushing for a [Grand] Slam. I had a great year at Australia, and there's [Taylor] Fritz and Reilly [Opelka], there's a ton of guys playing great. So if the stars align, and they take the opportunity, it's kind of like a "why not" thing.
You've said in the past "I want young kids to play tennis because of me." How important is it for kids, and especially kids of color, to see someone like yourself on court?
I think it's a massive thing. I mean, I would love to see more people of color playing tennis, but it's not easy, it's an expensive sport — rackets, training, travel, clothing, etc. But that's why I'm here, to maximize my time and give those kids an opportunity. I was one of those kids and I got that opportunity, I took it, went balls to the wall, and now I'm here. It's gonna take guys that are not just thinking about themselves but the young kids too.
Venus and Serena, who have long championed this movement, are mentors of your's, correct? What have you learned from them?
Greatness, that's pretty much it. All they care about is being great, and how they carry themselves, it's pretty interesting. They're much different than I am, they don't really converse with any other competitors at all, it's kind of just them, they ride for each other and are there for each other. They're very professional. But off-court, they kick it, they have a good time. They're very chill, they're almost like little kids out there.
Do you feel you face any heightened challenges being black in a sport dominated mostly by white athletes?
I don't think about it like that. I just go with what I want to do; I have my certain goals and that's pretty much it. Honestly, I feel more love in that sense, because any good thing I do it kind of explodes. There aren't many people of color in tennis, so I definitely get that recognition.
But you must've seen many changes since you picked up a racket some 15 years ago, right?
Oh yeah, it's night and day. A lot of changes; then, you weren't accepted, but now, I've been taken in.
So what can tennis do to get more kids excited and want to play the sport?
A ton of outreach things. And it's got to come from the top guys, guys that can really give and share. It just takes guys coming together and making something happen. Togetherness is huge. I understand it's a selfish sport, but it's bigger than tennis, it's what are you leaving after you're gone, what are you doing for the sport you love. Legacy is everything.
I love coming together though. I always roll with a big group, I'm one of those guys. Same guys I grew up with.
Have you seen any changes in your group of friends since you turned pro?
Honestly, no. I'm not really big into the new friends. I've had the same friends since I was like eight or nine years old, and we do the same things, just hanging out all the time. They'll be real with me and tell me things I'm not trying to hear. They're not just blowing smoke.
How has your career changed with all of these sponsors supporting you — Nike, American Express, Tag Heuer?
It has definitely opened my eyes up. I'm extremely blessed, I really didn't think any of these things would happen to me. I'm thankful for everything that has come my way. I'm thankful for all these brands that want to work with me and hopefully we can do something long-term.
Did you ever think you'd be a Nike athlete?
Nah. As a junior, I was with adidas. I wanted to be Nike, but they said no, so I was like "I hate Nike, I'll never go to them," but obviously when you turn pro, things happen [laughs].
You recently retweeted Jerry Lorenzo, who was talking about focusing his time on his passions and not being distracted by the "peripherals." How do you remain focused with all that has been happening in your career?
Man, that was a great tweet. The better you do the more of this happens, and you gotta have that in the back of your mind. What you do, whatever your craft is, it's just going to create more opportunity for you, so you want to stay focused on that. Tennis is what I love and what I want to be great at, so that's always going to be the priority. What Jerry said was great, to be the best at what you do, you can't give yourself to everybody.
Tennis is having a bit of a moment in fashion and culture at large — Serena and Virgil, Kyrie and Kyrgios. Why do you think that is?
Honestly, I have no idea, but I think it's great. That's some really cool stuff. Nick [Kyrgios] was pretty excited about it, and what they did with Off-White™ was pretty cool — bringing new swag to tennis. I hope more and more just keeps happening with it. It'll definitely attract some attention from the young crowd, and that's what these brands are trying to do, get the young kids excited about tennis.
If you could collaborate with any designer on apparel or a shoe, who would it be and what would it look like?
Ah man, honestly, I haven't even thought about it…
You should, because you're next in line.
[Laughs] I probably should think about that, huh?
Serena caught some flack for not wearing all-white at the French Open and you even caught some heat at a local club, do you think these traditions are good or bad for the game?
I have mixed opinions about what happens at Wimbledon, and yeah, this country club in Maryland even did that to me, and I was like, "Come on, guys, really?" But, I mean, rules are rules. A lot of people like the old tradition of things, but Wimbledon has been more loose with it, like Novak [Djokovick] will wear blue wristbands and stuff like that. I actually like the all-white tradition, it's a different vibe. Everything else, I wouldn't mind some change, but as far as Wimbledon goes, I think you gotta keep it the same. You gotta do it for the Queen [laughs].
What about the recent push for athletes having a platform to address real problems, problems within the communities they were raised in, like the recent Roc Nation x NFL initiative, how important is this to professional sports?
I'm very interested in seeing what Hov does with that. What happened with Colin [Kaepernick] was crazy, and the Nike ads were massive, but I want to see how this goes. It's going to benefit the both of them, really, like Hov's going to get his music out there like crazy, but he's also giving guys a platform to stand on.
I think it's good. Athletes are bigger than the field, with their social media following, we're so much bigger than playing football or basketball. Look at what LeBron is doing with The Shop and his I Promise school, my man is a legend. I think that stuff is massive and we really got to get behind those guys. Sure, some of these guys are clowns, but others have some good things to say.
Would you say you want to be the LeBron James of tennis? And do you guys talk at all?
100%. I'm definitely trying to connect with him the next time I'm in Los Angeles.
I could see a LeBron x Tiafoe sneaker in the future…
That would be tough! I wouldn't even know what to do with that [laughs].
Before I let you get back to practice, can you describe these players in five words or less?
Nadal?
Relentless
Serena?
The GOAT.
Federer?
The GOAT.
Tiafoe?
Ah…Showman.