Best Art Drops: Parra x Romance Cycling Bicycle, Steven Harrington Limited Print & More
Including 400% BE@RBRICKS executed by Karimoku and fragment design.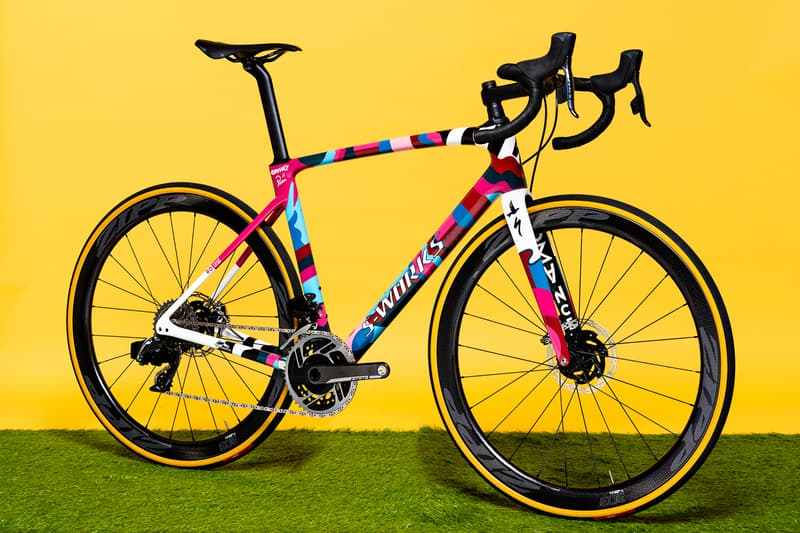 Every week we spotlight the best art drops by notable artists, galleries, museums and contemporary art platforms across the globe. Listed items typically encompass limited edition artworks, prints, collectible figures, collaborative merchandise and more.
For this week's installment: Romance Cycling taps Parra for a special one-off bicycle, Steven Harrington celebrates his "Magic Hour" exhibition with a limited print release, Adam Lister purveys a new print entitled 'Homer' in homage of the famous Simpsons character, Karimoku and fragment design collaborate with Medicom Toy for 400%-sized BE@BRBRICK figures, and Selena Gallery launches limited edition beach towels designed by widely-known visual artists.
View the full list below.
Parra x Romance Cycling Special Edition Bicycle
Release Date: Available to bid now on mnc.cc
Release Price: Varied
Trailing their cycling kits, Romance Cycling once again teamed up with Amsterdam's leading visual artist, Parra, on a special one-off bicycle. The 'Specialized S-Works Robaix' is completely wrapped with the artist's minimalist figurative motifs and bold color palette consisting of pink, blue, magenta, and navy hues. The bike just hit a charity auction with all proceeds to benefit the World Bicycle Relief. Place your bid before the auction closes on August 16.
Steven Harrington to Launch Limited Edition 'Anxiety' Screenprint
Release Date: August 8 at 12 p.m. PST on Steven Harrington's website
Release Price: TBD
Steven Harrington recently announced the launch of a limited edition print that features his signature artwork entitled 'Anxiety.' Harrington's whimsical cartoonish subjects are portrayed in the vivid composition alongside psychedelic motifs inspired by nature. A total of 300 prints are included in the signed and numbered edition. Each screenprint is sized 24 x 24 inches. Altogether the artwork release is in tribute for the artist's latest Los Angeles exhibition called "Magic Hour."
Adam Lister Releases 'Homer' Limited Edition Print
Release Date: Available on Adam Lister's website
Release Price: $250 USD
New York-based artist Adam Lister recently unveiled a new limited edition print entitled 'Homer.' The brightly-colored piece pays homage to Homer Simpson from the cult-cartoon series. Lister executed the composition with his trademark 8-bit motif, creating an abstract-meets-figurative composition as a whole. Each print is sized 24 x 24 inches and arrives signed and numbered. Only 20 pieces are up for grabs.
fragment design x Karimoku x Medicom Toy BE@RBRICKS
Release Date: Available to order on medicomtoy.tv
Release Price: ¥237,600 JPY (approximately $2,190 USD)
Japanese art collective Karimoku once again joins forces with Medicom Toy and fragment design to release special edition 400%-sized BE@BRICK figures made out of varying types of wood. A total of two iterations are purveyed in the collaboration boasting motifs inspired by a chessboard. Finishing off the design execution are slightly indented carvings to elevate their forms.
Sapphire Pools 3 Artist-Designed Beach Towels
Release Date: Available for purchase on SapphirePools.com
Release Price: $130 USD
Artist and founder of NYC-based Selena Gallery, Selenas Mountain, is curating a forthcoming group exhibition that features a selection of limited edition beach towels made in collaboration with leading visual artists. The show is part of an ongoing installment entitled "Sapphire Pools" with the latest edition featuring original artworks by Ryan Travis Christian, Dalia Amara, Katie Buckleitner, Lauren Clay, Alexander Deschamps, Carlos Jaramillo, Anjuli Rathod, and Josh Reames. 
The show will run through August 11-25 at Selena Gallery located in NYC's Ridgewood neighborhood.
Selena Gallery
37 Troutman St.
Brooklyn, NY 11206