15 Practical Bags to Upgrade Your Everyday Carry
Featuring Carhartt WIP, Opening Ceremony, Prada, Raf Simons x Eastpak & more.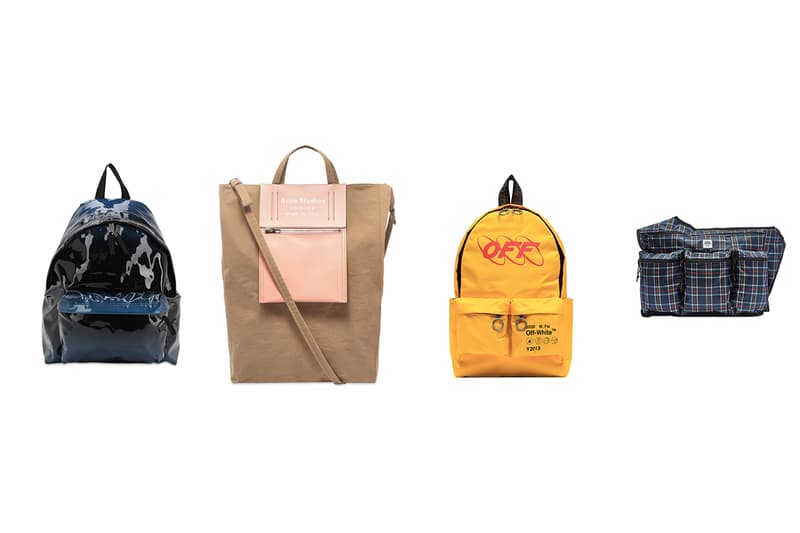 Buying a new bag is always an important choice. The options can be overwhelming; do you go for something bright and bold to contrast your everyday wear? Do you opt for something sophisticated and timeless that will last you from season to season? How about replacing your trusty backpack with a tote, sling or duffle?
The options are endless, and that's why HYPEBEAST has curated 15 of the best bags available to choose from now — each from some of our favorite global retailers. From practical Eastpak Pak'r's to bold luxurious offerings from Gucci, as well as various alternative carrying options, scroll down to find the best all-round bag for your next statement carrying choice.

UNDERCOVER Red A Clockwork Orange Edition Canvas Backpack
UNDERCOVER brings Stanley Kubrick's 1971 seminal classic A Clockwork Orange to life with its Fall/Winter 2019 backpack selection. This iteration is served in a seasonal hue of burgundy and features a large top pocket graphic. Asides from aesthetics, UNDERCOVER has incorporated numerous storage solutions inside and out, and finishes its bag with extra padding.
Polo Ralph Lauren Polo Sport Duffle Bag
Polo Ralph Lauren looks to the '90s with its Polo Sport duffle bag. The universal carrying options means it can be used as a holdall or worn over the shoulder, and its generous size makes it one of the biggest options on the list. Inside you can find compartments for small loose items, while the large opening is perfect for those who pack their entire day in their bag.
Porter-Yoshida & Co. Tote Bag
Porter-Yoshida & Co.'s tote bags are staples in the carrying department. This version is even more utilitarian than standard Porter offerings, and not just thanks to its 33cm x W41cm sizing. It's made from black nylon and features a reinforced base, secure clasp fastening, D-ring hardware, a large front zip pocket and a sinching system for when you're carrying light.
Raf Simons x Eastpak Matelassé Backpack
Raf Simons and Eastpak's Matelassé backpack delivers affordable style, a unique design and guaranteed hardwearing quality. Its baggy nature and flap closure mean that this backpack can be filled with all your daily needs and more, while a textured nylon exterior and decorative silver-tone rings offer an evergreen aesthetic. Carry this bag by its sturdy grosgrain top handle, or wear it over your back in comfort thanks to the cushioned shoulder straps.
Off-White™ Yellow Industrial Backpack
Purveyors of the tactical and technical, Off-White™ has mastered the big and bold bag with its Yellow Industrial Backpack. It features archetype Off-White™ design details including industrial belt straps, detailed metal hardware, a heavy dose of branding and some fitting industrial-themed graphics. It's practical, too, as it features two pockets on the front, plenty of storage inside and a body made from weather-resistant PVC and polyester.
Opening Ceremony Plaid Sling Backpack
Fusing formal and casual is Opening Ceremony's Plaid Sling Backpack. The unconventional carry style is one of the most affordable pieces on the list, yet stands out as one of the more unique offerings thanks to its slouchy slung statement. Because of how it sits on the body, Opening Ceremony could add three front pockets, two side pockets and plenty of space inside. Its plaid nylon body also makes for a timeless look.
Acne Studios Baker Out Tote
This preppy, formal offering from Acne Studios is inspired by the humble brown paper bag. It was designed in Stockholm and made in Italy from canvas and leather, which come together for a muted, retro schoolboy aesthetic. Acne Studios gives the best of both worlds with its Baker Out Tote, offering an abundance of interior space and a zip pouch on the front for your matching accessories.
Eastpak 24L Padded Glossy Pak'r Backpack
Eastpak ticks all the boxes with this season's Pak'r backpack. Taking design cues from the likes of Margiela's $1,540 USD PVC bag, adding an on-trend ombre blue and black colorway and maintaining its timeless design makes the Pak'r a back-to-school talking point. It's 24L capacity, front pocket and padded laptop pouch also make it one of the most practical back-to-school options that will take you from semester to semester.
Wood Wood Mills Backpack
For those who have work by day and a wildness trek by night, Wood Wood's outdoors-inspired Mills backpack is for you. The Danish label's Mills backpack allows you to carry everything you need in its three front pockets and bountiful interior, and taps into the forever-growing "outdoorsy" trend. Wood Wood's bag is made from 100% polyester and boasts a military aesthetic thanks to its various buckles, tightening straps, top flap closure, and reinforced base. Secure the bag with a drawstring to keep precious belongings safe.
WACKO MARIA x Porter 12 Record Tote Bag
The 12 Record Bag is the Japanese label's signature offering. Fittingly, Porter-Yoshida & Co. has collaborated with fellow Japanese imprint WACKO MARIA for this tactical and super-practical offering. It's a perfectly executed multi-purpose bag, suitable for all your back-to-school necessities, a weekend away, or more sophisticated occasions. Branding is kept to a minimum, and those in the know will note that its multiple inner compartments, numerous exterior pockets, and detachable shoulder straps mean you have a classic and versatile bag.
Burberry Deer Print Nylon Drawstring Backpack
If you're looking for a statement carry option that isn't your typical backpack, then look no further than Burberry's Deer Print Nylon Drawstring offering. Featuring a print that is now synonymous with Riccardo Tisci's vision for Spring/Summer 2019, this piece takes the simple drawstring gym bag and elevates with a made in Italy title, Italian calf leather trims, a hiking-esque aesthetic (spot the metal hardware buckles and detailed drawcords), as well as a British design heritage and theme.
Carhartt WIP Kickflip Backpack
You've probably seen the Carhartt WIP Kickflip on the back of fellow students and colleagues your whole life. That's because it is one of the most hardwearing, low-key and archetype offerings around. Made from 11oz "Duck Canvas" polyester that is both water repellent and durable, this backpack is as resilient as the stalwarts' denim and outerwear options. It's a classic carrying choice, and its utilitarian aesthetic happens to be on-point for Fall/Winter 2019.
ADER error x Maison Kitsuné Drawstring Tote Bag
If you're looking to fly under the radar while, opt with the ADER error x Maison Kitsuné Drawstring Tote Bag. This elevated staple is cut from cotton canvas and exquisitely serves a Paris-via-South Korea aesthetic, using a classy mixture of black and blue alongside tactical mesh and a thick drawcord that weaves through large metal loops. The bag features a slip pocket and a mesh pocket for smaller items and a large interior for everything else, and can be carried either by its top handle or worn over the shoulder.
Prada Nylon Backpack Tote Bag
Prada's tactical tote-meets-backpack hybrid is one of the smaller bags on this list, but what it lacks in space it makes up for in heritage and luxury. It's made from the same durable nylon that the Italian label has been using since the '90s, and its complemented by a host of Saffiano-leather accents and a Prada Milano logo patch on the front for a luxe finish. Dual cargo pockets, high-shine buckles and the minimalistic main bag design provide the perfect blend between form and function for those looking to stand out with a backpack that perfectly blends in.
Gucci GG-Plaque Crinkled Leather Backpack
At $3484 USD, Gucci's GG-Plaque Crinkled Leather Backpack is the most expensive on HYPEBEAST's bag roundup. However, it's inspired by traditional hiking design cues and was created for the ultimate modern traveler. At 44cm x 45 cm x 19cm, you're getting a lot of space for your buck, but its the finer details that make this bag stand out amongst its competitors. Gold-toned hardware is featured throughout, golden tiger heads have been used as stoppers on the straps, buckles are engraved with the house's moniker, padding and premium leather has been used for ultimate comfort levels and a light pink suede interior swathes your daily necessities in sheer luxury.