A$AP Rocky Speaks on Assault Case in Swedish Court
He and the plaintiff were cross-examined earlier today.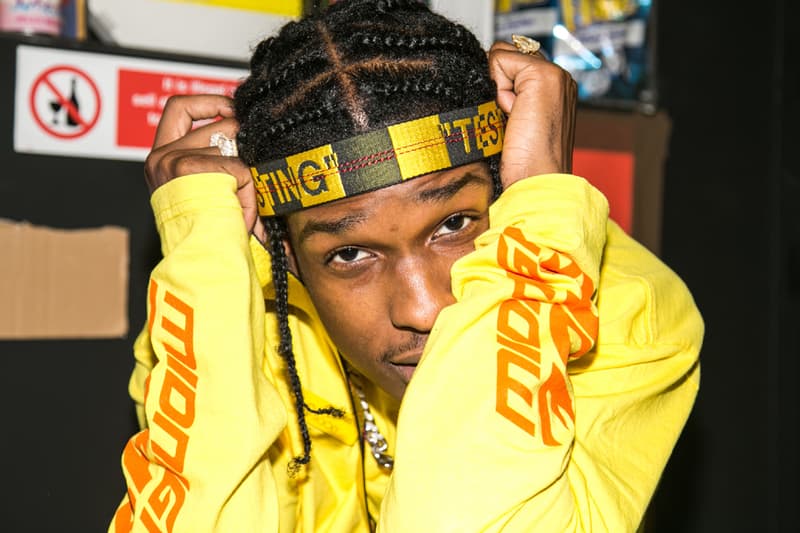 A$AP Rocky has spoken in Swedish court in a cross-examination process in regards to his ongoing assault charge, following his arrest on July 3.
Sitting with his defense lawyer Slobodan Jovicic, Rocky was questioned on his involvement with the fight. Assault accuser Mustafa Jafari was cross-examined and questioned by Rocky's lawyer, who claimed during the examination that he was looking for his friend when he approached Rocky's group in the street.
BBC News' Larissa Kennelly was at the hearing with Maddy Savage who live-tweeted the court case. According to in-court reports, Jafari claimed multiple times that he was unaware of Rocky's celebrity status.
Last week, the Prosecution District of Stockholm released its preliminary investigation to the public which uncovered and detailed a number of revelations surrounding the assault charge. It said that there were "objects such as broken glass or the like" used during the fight used by Rocky and three others, however, Thursday's court case revealed in a video that Rocky and co. did not have bottles in their hands following a closer examination of video frames.
Rocky was asked what he was doing outside the Max burger chain. He said he was exploring Stockholm via electric scooters, and while he and others downloaded the app, "two men approached his security guard." Following this, the two men reportedly returned and began to speak with Rocky's security guard again, who asked the two men to move while he kept them away from the rapper. Rocky said that the assault accuser then hit the security guard with a pair of headphones adding, "it got a little scary for us."
After plenty of discussions, Rocky then admitted to picking up a bottle at one point as part of the snap decision he and his team made to prevent the two men from having access to them. However, he said he soon realized that was a bad idea.
Read more on the case below.
AUDIO AND SKETCHES: #ASAPRocky testified at his assault trial in Sweden that he did everything possible to avoid conflict with two men he said persistently followed his entourage in Stockholm, saying that one of the men picked a fight with one of his bodyguards. pic.twitter.com/8a2gPqNjOS

— AP Entertainment (@APEntertainment) August 1, 2019
#ASAPRocky says he saw alleged victim hit the security guard with his headphones. "At this point everything seemed strange….it got a little scary for us"

— Maddy Savage (@maddysavage) August 1, 2019
"He was fearless, his eyes were all weird, he came up to a big bodyguard and asked us questions he knew we couldn't answer. He looked like he was on drugs," #ASAPRocky says of Mustafa Jafari's behaviour on night of brawl in Stockholm that led to his assault charge

— Kim Hjelmgaard (@khjelmgaard) August 1, 2019
#ASAPRocky says his bodyguard knows he has to protect him at all costs but that he is not a naturally violent person

— Kim Hjelmgaard (@khjelmgaard) August 1, 2019
We're back from a break and a lawyer for David Rispers, Jr., one of the accused in this assault case, is asking the plaintiff if he drank alcohol/took drugs around the time of the alleged #ASAPRocky incident. Mustafa Jafari, who is from Afghanistan, has a prior drugs conviction

— Kim Hjelmgaard (@khjelmgaard) August 1, 2019
#ASAPRocky says he held a bottle "momentarily" and then put it down after he realised it was "stupid" to have it in his hand. Says bodyguard asked girls to ring police because they didn't have the number for police in Sweden. They tried to get an Uber but couldn't

— Maddy Savage (@maddysavage) August 1, 2019
ASAP Rocky questioned on what he did in the fight. Admits to punching arm of alleged victim. Court has now stopped for short break. #ASAPRocky

— Larissa Kennelly (@LarissaKennelly) August 1, 2019
We're seeing some potentially incriminating text messages now that prosecutors are implying were sent by #ASAPRocky's assistant: "Harlem came out and smashed a bottle on a person." The implication is that "Harlem" is #ASAPRocky. He's from New York

— Kim Hjelmgaard (@khjelmgaard) August 1, 2019
"I have spent a month in Sweden. This is my 5th or 6th time here. I have seen the most beautiful architecture. And the not so nice things … People have said I could be compensated … What I want is justice. I want my name to be cleared. Justice for all of us" #ASAPRocky

— Kim Hjelmgaard (@khjelmgaard) August 1, 2019