Starbucks Launches Limited-Edition Tie-Dye Frappuccino in U.S. & Canada
Get your Instagrams at the ready.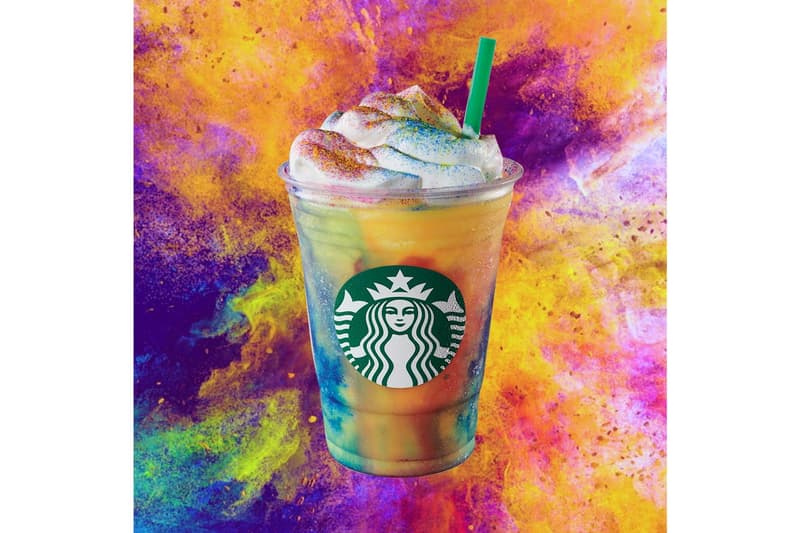 Starbucks has officially unveiled the Tie-Dye Frappuccino at select number of U.S. and Canadian stores. The '60s-tinged Frappuccino was previously leaked on Instagram which stated that the drink would only be around from July 10 to July 15 — if stocks last that long.
Starbucks has since released the multicolored drink, affirming that it will be only available in limited supply. The summer-ready drink is made with a tropical Crème Frappuccino with dashes of yellow, red and blue powder, which derive color from natural substances like red beet, turmeric and spirulina. To finish the drink off, Starbucks adds a dash of whipped cream and another sprinkling of colored powder.
Paloma Carrington-Bataller, the designer of the Tie-Dye Frappuccino said in a statement, "We wanted to create something that celebrates summer and really conveys it both visually and through flavor within the beverage… We knew it had to make you smile at first sight and our Tie-Dye Frappuccino does all this!"
Just like the bevy of seasonal tie-dyed T-shirts, no Frappuccino will be alike. Head to your nearest participating Starbucks to grab one before stocks run out.
In other news, Tyler, The Creator and Jeni's Splendid have released a new ice cream flavor.