Best New Tracks: E-40, Rick Ross, Shoreline Mafia, Kevin Gates and More
July is coming to a close.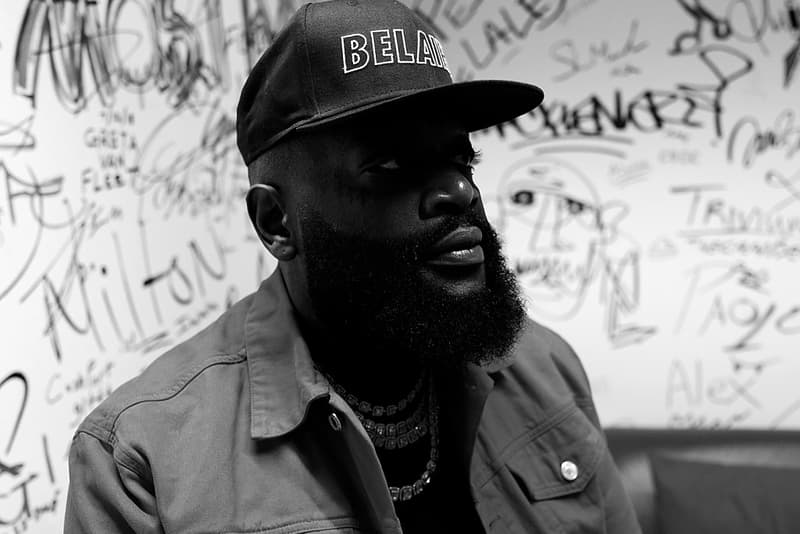 Last week, we spotlighted new releases from Rich Brian, Moonchild, Marlo, King Princess and others. For this week's edition of our Best New Tracks series, we're bringing attention to new deliveries from Com Truise, Rexx Life Raj, E-40, Rick Ross, Mozzy, Shoreline Mafia, Veeze, Kevin Gates and ODIE.
Dua Saleh – "Warm Pants" (Com Truise Remix)
At the beginning of this year, Dua Saleh released their debut studio project, Nur. A five-track EP, Nur featured Psymun as its primary producer and a guest contribution from Velvet Negroni. Now, Dua Saleh is revealing plans for a special remix package for Nur; to introduce that drop, they are sharing a new remix of "Warm Pants" cooked up by Com Truise. Besides Com Truise, the the 11-cut Nur remix-album will also feature reworks from Suicideyear, FaltyDL, Gravez, Shigeto, MISOGI, Kim Tee and others.
"This is a collection of remixes by a handful of my favorite artists/producers," Dua Saleh shares via an official statement, explaining their forthcoming remix project. "Some of them happen to be good friends from the local music scene in Minneapolis."
Rexx Life Raj – En Route
Following up last December's California Poppy project with Kyle Poppy, Rexx Life Raj serves up a new EP titled En Route. Made up of three new tracks, En Route serves as a sort of prelude to its creator's next major studio album and features a guest feature from ALLBLACK on "Rich."
"I was in the studio with DTB wrapping up my album and he told me ALLBLACK had a session after me," Rexx Life Raj previously told us when asked about his En Route collaboration with ALLBLACK. "I said 'Load me up, I'm no bitch.' The rest is history."
"My whole thing with music when I put it out, is I want it to have staying power," Rexx Life Raj explains. "I want my shit to be around for a minute, so I'll be really invested in my records, because so many songs are here and gone hella fast. If you follow the trends of what's hot … in the next year or two, that's not what's hot anymore, so you're music's not going to be hot anymore. I'm just creating in a space where I f*ck with this beat because I like this beat and not only because others f*ck with it."
Mozzy – "Cut Ties"
Nearly two months after the release of his latest studio album Internal Affairs, Mozzy is back with another new single titled "Cut Ties." A collaboration with Marc E. Bassy and Sage the Gemini, the Dave-O-produced record finds Mozzy digging into the more melodic side of his sound, serving up bars about a love interest that he has had a difficult past with.
"Check the call log, I hit you at least a hundred times / I been on your line, tryna cuff you for the summer time / You ain't double back 'cause they goofy, it ain't no wonder why / Fly high, baby, from caterpillar to butterfly," Mozzy raps on "Cut Ties." "Text message lengthy, I'm simply finna just summarize / Even cotton into my candy, it's time to cut the ties / First you tell me "Pull up", now you tellin' me "Nevermind" / Blood put his hands on you, I was there for you every time / Lookin' at the photo you send me, it got me mesmerized / Like "Damn, I'm in love, quick playin' with a thug, yeah."
Kevin Gates- "Facts"
Previously, Kevin Gates introduced his forthcoming I'm Him LP with the release of a single dubbed "Push It." Following up that drop, the Baton Rouge superstar is back with I'm Him's second single, "Facts." Expect I'm Him to hit streaming services on August 30.
"It's just me venting about everything. It's all facts," Kevin Gates explains via an official press statement, breaking down his new track. "Sometimes, venting is the best thing you can do to cleanse your heart. I'm not going to let the pain from my past affect my future. You need to let go of unresolved grief. Don't keep it all bottled inside."
Shoreline Mafia – "Free Drakeo, Free Greedo"
Drakeo the Ruler just scored an incredible legal victory this week, so the release of Shoreline Mafia's latest single, "Free Drakeo, Free Greedo," couldn't come at a better time. Produced by Shoreline Mafia's go-to producer Ron-Ron the Producer, "Free Drakeo, Free Greedo" finds OhGeesy spitting bars alongside Bandgang Paid Will.
"Hello, all they call is collect / Free my n***as out that cage, all my dogs is the best," OhGeesy raps on "Free Drakeo, Free Greedo." "It's a competition nigga, who the richest in they set / Bet I be the first one, put a milli on my neck / Cus I've been getting bricks, and I make them bitches stretch / And I've been getting hoes, make them mothaf*ckas wet / Then I make her walk a mile, just to bring me back a check / We just smoking on some kill, yeah I'm smoking on the best / Gelato, Cookies, n***as want to book me / All these n***as talking shit, but ain't no n***as shook me / Getting money, lil n***a like I should be / And all these n***as would be me, if they could be."
Rick Ross & Drake – "Gold Roses"
As part of the rollout and promotional campaign for his anticipated new studio album Port of Miami 2, Rick Ross enlists Drake for a new single known as "Gold Roses." Previous Port of Miami 2 singles include the Wale-assisted "Act A Fool" and the Just Blaze-produced Swizz Beatz collaboration "Big Tyme." Port of Miami 2 will see release on August 9.
E-40 – Practice Makes Paper
Following up 2018's Gift of Gab, E-40 presents his 29th studio album, Practice Makes Paper. Made up of 26 new tracks, the West Coast legend's latest LP finds him looking to ScHoolboy Q, A$AP Ferg, Quavo, Rick Ross, Scarface, Wiz Khalifa, Sada Baby, Boosie Badazz, Redman, Method Man and others for assistance. For production, E-40 taps Helluva, Cypress Moreno, Paupa, ChaseTheMoney, Traxamillion, Traxx Fdr, Reece Beats and more.
Veeze – "Heart Insurance"
At this point, you could crank out a solid weekly roundup of Detroit's latest and greatest offerings; with all the great new talent Detroit has to offer, that city clearly holds the crown for hip-hop's best region. For this week's entry in "Detroit's best rap video and single," Veeze comes through with "Heart Insurance." Another fast-rising up-and-comer, Veeze is one to watch as the summer of 2019 comes to a close.
ODIE – "North Face"
In April of 2018, ODIE delivered his debut studio album Analogue. Now, over one year after his first full-length album's arrival, the Toronto-to-Bay-Area singer-songwriter is revisiting Analogue for his latest music video; specifically, ODIE is teaming up with director Yumna Al-Arashi for the visual in support of "North Face."
"I always try every day to think about or just write something that happened in the day that was important to me," ODIE told Billboard when asked about the recording sessions that birthed Analogue cuts like "North Face." "The studio sessions were on and off, because we were pretty much living in the space that we were creating. Nothing was really forced or rushed — like, I didn't have set times to record anything. One day I would feel something and I would make a song and finish it in 30 minutes. Some songs literally took two years to make … It was a process of me growing."