Microsoft's Purple 'Fortnite' Themed Xbox One S Has a Release Date (UPDATE)
A new 'Fortnite' skin will be included in the bundle.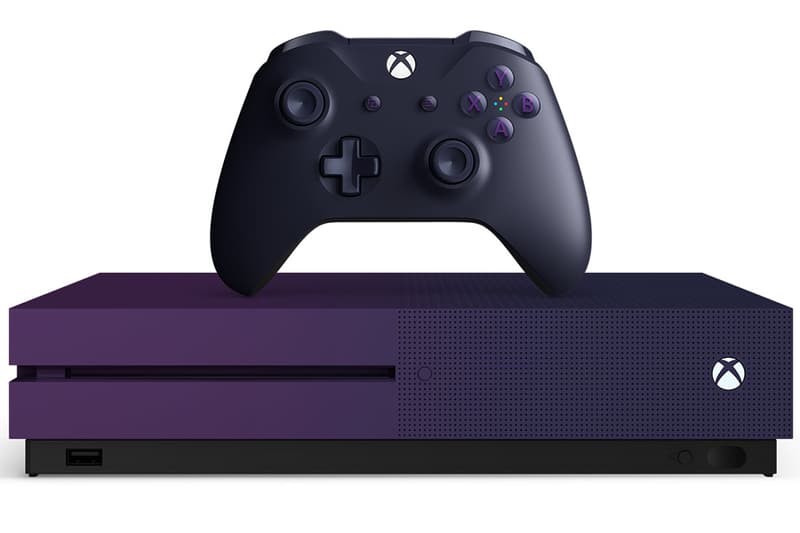 UPDATE: Microsoft has confirmed their purple Fortnite-inspired Xbox One S, it's bundled content, as well as its release date of June 7 for $299 USD. The console alongside the bundle will be offered for $50 USD during launch as part of E3's celebration.
Get the Royale treatment with the Fortnite Battle Royale Special Edition Xbox One S Bundle.

? Purple 1TB Xbox One S
? 2,000 V-Bucks
? Dark Vertex Cosmetic Set
? 1 Month of Xbox Live Gold

Available June 7. Learn more: https://t.co/B1hwRRLKol pic.twitter.com/b3wIVF9hG8

— Xbox (@Xbox) June 3, 2019
Original Story May 25, 2019: Leaked images (seen below) have surfaced showcasing a special edition Xbox One S inspired by Epic Games' Fortnite and the new content bundled alongside it. The "Gradient Purple" covers the entire Xbox One S design with an accompanied controller that matches.
The content bundled alongside the game includes a new "Dark Vertex" skin and 2000 V-Bucks. It is also speculated that it'll come with a month of Xbox Live Gold, EA Access, and Xbox Game Pass. While there's no official word from Microsoft on when the console will release, it'll be 1TB with a Blu-Ray optical drive.
According to the leaks, the console is expected to be available "within he next few days and weeks" for $299 USD.
In other gaming news, Call of Duty: Modern Warfare is getting rebooted.
NEWS: Limited Edition Xbox One S includes exclusive #Fortnite Dark Vertex set!

? @FNMasterComhttps://t.co/lUw4yQ7m5O pic.twitter.com/Lj3ZimswDZ

— Fortnite News (@FortniteINTEL) May 17, 2019
Here are some more images of the Xbox! #Fortnite pic.twitter.com/V3SAWFjHU1

— FortniteBR – Info | Code: BR (@FNInformation) May 25, 2019
Full Xbox Bundle: pic.twitter.com/etuqER6nQM

— Lucas7yoshi // Fortnite Leaks & News (@lucas7yoshi) May 23, 2019