Here's Everything Microsoft Announced at E3 2019
The company's longest slate in E3 history.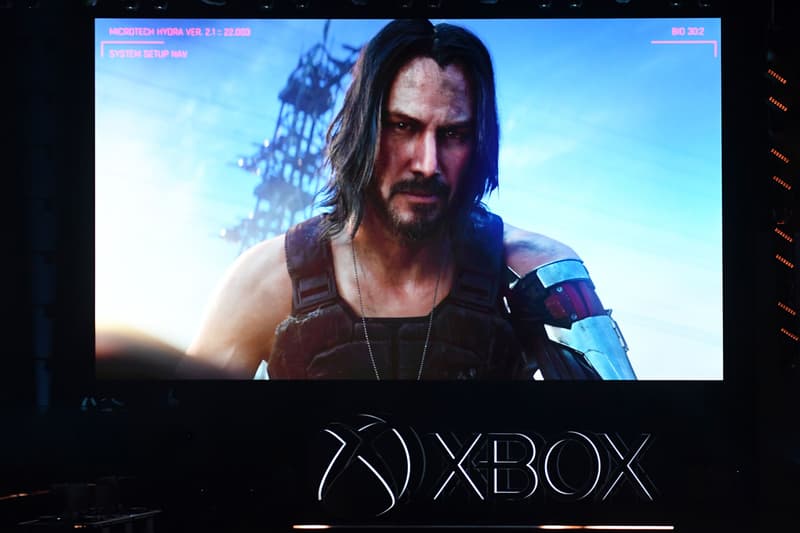 Microsoft just unloaded its lengthiest catalog in E3 history, revealing a total of 14 game titles, its new machinery and an unexpected guest appearance. The projects introduced include highly-anticipated franchise installments such as Gears 5 and Halo Infinite, the collaborative project from Dark Souls creator Hidetaka Miyazaki and Game of Thrones' George R. R. Martin called Elden Ring and a Blair Witch game. Tech features like Xbox One's new remote play feature along with first details about the upcoming Project Scarlett console were also unveiled during the program. Microsoft topped things off with a little star power from John Wick star Keanu Reeves who not only announced the release date of Cyberpunk 2077 but also revealed the major role he plays in the video game.
Take a look at the complete Microsoft slate below.
In related news, here's the complete schedule for E3 2019.
Games
Gears 5
The fifth installment in the Gears of War franchise, Gears 5 will feature a new multiplayer mode called "Escape." In a squad of three, players will infiltrate a hive, plant a bomb and attempt to escape. A crossover character pack with Terminator: Dark Fate will also be available in the near future. Those who purchase the special edition or have the Game Pass Ultimate will be able to play it four days early, but for everyone else, Gears 5 will release on September 10, 2019.
Elden Ring
Game of Thrones and Dark Souls creators George R. R. Martin and Hidetaka Miyazaki have joined forces for the fantasy title Elden Ring. The short trailer showcases a general idea of what the game is about — a shattered Elden Ring and the after effects on the fictional world. No actual gameplay footage was revealed, but Miyazaki mentioned in an interview that the game will follow an open world format. A release date is yet to be confirmed but the game will be available for Xbox One, PS4 and PC.
Dragon Ball Z: Kakarot
The upcoming Dragon Ball Z title will be going down a different path this time around, trading its predecessors' solo combat aspect for an action-RPG instead. Kakarot's trailer is mostly just the characters screaming each other's names, but it does show the events of the anime's first few seasons, including Vegeta and Nappa's arrival on Earth, a fight between Vegeta and Goku and the crucial battle of Frieza and Goku. The exact release date hasn't been announced, but we can expect the game to release some time in 2020.
Crossfire X
An adaptation of one of Asia's most popular first-person shooting games Crossfire is landing in the West. Crossfire X will include many of the original game's features including vehicular combat and underwater fights. The game will be available for the Xbox One in 2020.
Blair Witch
From the 1999 film that got everyone believing it was a real documentary, Blair Witch follows a police offer and his four-legged companion Bullet in search of a missing young girl in the woods. Labeled as a "first-person, story-driven psychological horror game," the trailer heavily features the use of a video camera and a number of paranormal creatures that will remind you of your trauma from the movie. Blair Witch will be available on August 30, 2019 for PC and Xbox One.
Halo Infinite
Officially announced as an Xbox Scarlett title, Halo Infinite marks the franchise's sixth installment in its 18-year history. While no gameplay footage was shown, the cinematic trailer reveals a stranded UNSC soldier coming across and reviving protagonist Master Chief. The visual gets cut right before he jumps into action, but it's enough to get loyal fans excited. No exact release date was announced, but expect the game to be available in 2020.
Minecraft Dungeons
A mutliplayer spinoff from the creators of Minecraft, Minecraft Dungeons is an action-packed game with fantasy elements in the distinct boxy fashion. The title will be available in Spring 2020 on PC and Xbox One.
Tales of Arise
The latest installment in Bandai Namco's Tales RPG franchise will arrive in the form of Tales of Arise. Billed as a "story driven RPG following the journey of two people, born on opposing planets, each looking to change their fate and create a new future," the upcoming entry will feature a new set of characters and action combat but will retain the series' iconic gameplay mechanics. An unspecified release date of 2020 has been announced.
Dying Light 2
Four years after its debut, this innovative zombie finally announced the sequel. Dying Light 2 follows a new protagonist, Aiden Caldwell, and his parkour-driven journey through the infested areas. The city's environment will heavily rely on the choices the player will make as Aiden, along with the title's distinct day-night cycle that impressed gamers and critics alike back in 2015. Dying Light 2 will be available in Spring 2020 for PS4, Xbox One and PC.
Cyberpunk 2077
Unarguably one of the conference's most exciting moments, Keanu Reeves came out to present the well-awaited Cyberpunk 2077 — a game that he's actually a part of. Detailing the title's theme and storyline, CD Projekt released a short clip of gameplay footage and a four-minute long trailer giving fans a glimpse of Reeves' lifelike character, Johnny Silverhand. Cyberpunk 2077 will be available on April 16, 2020 on PS4, Xbox and PC.
Others
In addition to the listed titles, Microsoft also announced the following: Sega's RPG Phantasy Star Online 2 will be landing in the West for Xbox One and PC in Spring 2020, the first Battletoads game in 20 years, a new Microsoft Flight Simulator, Obsidian's RPG game The Outer Worlds, Ninja Theory's multiplayer game Bleeding Edge, the platform-adventure sequel Ori and the Will of the Wisps comes out February 11, 2020, Psychonauts 2, the Age of Empires II: Definitive Edition with remastered audio and 4K graphics will arrive for the PC in Fall 2019, Forza Horizon 4's Lego Speed Champions expansion is dropping this week, Spiritfarer, The Legend of Wright, Lego Star Wars: The Skywalker Saga, 12 minutes, Way to the Woods and the mobile game Gears of Pop!. New trailers for Borderlands 3 and Wasteland 3 were also released.
Tech
Project Scarlett
The newest entry in the Xbox line, the Xbox Scarlett boasts an AMD processor four times more powerful than its Xbox One X predecessors, a solid-state hard drive that doubles as "virtual RAM" to reduce loading time, high-bandwidth GDDR6 RAM and an 8K resolution with 120 FPS.
Double Fine Productions
Microsoft acquired Psychonauts developer Double Fine Productions and announced that a sequel of the 2005 platform game is in the works. A gameplay trailer was also revealed, but a release date is still to be confirmed.
Xbox Elite "Series 2" Controller
Packed with internal battery for up to 40 hours of gameplay, the new controller has a charging dock and an impressive Bluetooth connectivity feature. The "Series 2" controller drops November 4 for $179.99 USD.
Xbox Game Pass
Microsoft listed a number of game titles coming to the Xbox Game Pass, including Dead Static Drive, Pathologic 2, Star Renegades, The Good Life, Totally Accurate Battle Simulator, Creature in the Well, Killer Queen Black, Riverbond, Unto the End, Blazing Chrome, Felix the Reaper, Undermine, Supermarket Shriek, Secret Neighbor, Ikenfell, Lord of the Rings Living Card Game, Totem Teller, Cross Code, Batman Arkham Knight, Metro: Exodus, Hollow Knight, Commander Lilith and the Fight For Sanctuary, Borderlands: The Handsome Collection and a piece of new content that will lead to the third Borderlands installment.
The Xbox Game Pass has launched in open beta for PC at $10 USD a month with over 100 games. Halo's Master Chief Collection will also be offered to PC gamers, starting with 2010's Halo: Reach. Membership options such as the Xbox Live Gold and the Xbox Game Pass Ultimate bundle for both console and PC users are up for grabs.