Snow Ghosts Meticulously Portray Death & Mourning on 'A Quiet Ritual'
The British trio's third album is finally here.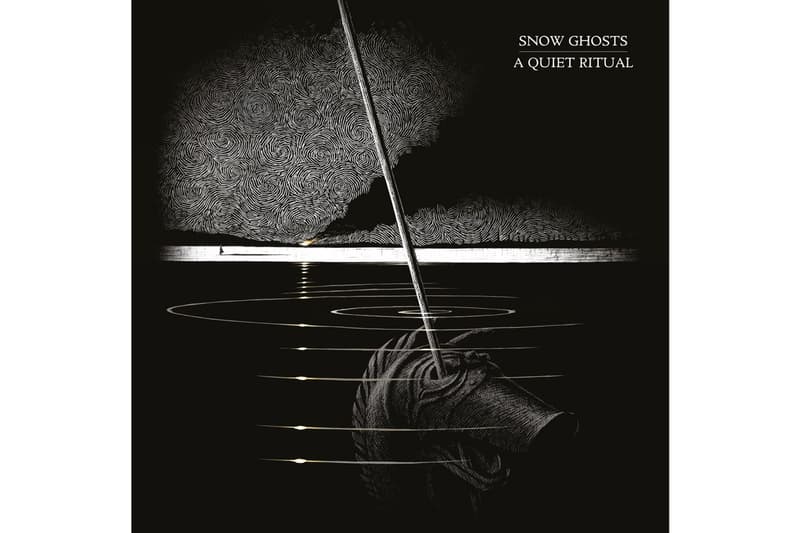 British trio Snow Ghosts, consisting of singer-songwriter Hannah Cartwright, producer Ross Tones, and multi-instrumentalist Oliver Knowles have had a fervent relinquishing of the electronic scene over the past eight years. In 2013 the trio gracefully swanned into the scene with their debut album A Small Murmuration, following it up with 2015's album, A Wrecking, and 2016's EP, Husk. Much of the bands sound relishes in ominously melancholic tonalities — Cartwright's brooding vocals are expertly paired alongside deeply distorted production and immensely layered instrumentation. It's no surprise that the group's recent album, A Quiet Ritual, is centered around themes of death and grief, offering up an equally dark yet sensual aural experience.
After releasing their carynx-heavy lead single "Rip," their desolate cut "Heavy Heart," and viscerally-grim "Ribcage," the album has finally graced audiences at-large. The new project mandates itself with the same sonic sensibilities as previewed with the previously released tracks. It is notoriously bleak in an approachable manner, with Cartwright's vocals appropriately contrasting the gloomy instrumentals. Much of the sounds from the album are crafted in superbly experimental ways, effectually taking instruments to new lengths that allow them to relish in newfound darkness. And while much of the singer's songwriting is placed within the aforementioned themes, Cartwright's ability to cast light onto such harrowing topics in such a manner is powerful in and of itself, as these are conversations that are innately part of the human experience.
You can stream Snow Ghosts latest effort, A Quiet Ritual, below.
In case you missed it, Vampire Weekend just dropped their latest album.