Five Things to Look Out for at Photo London
Everything from photography competitions to special-edition releases.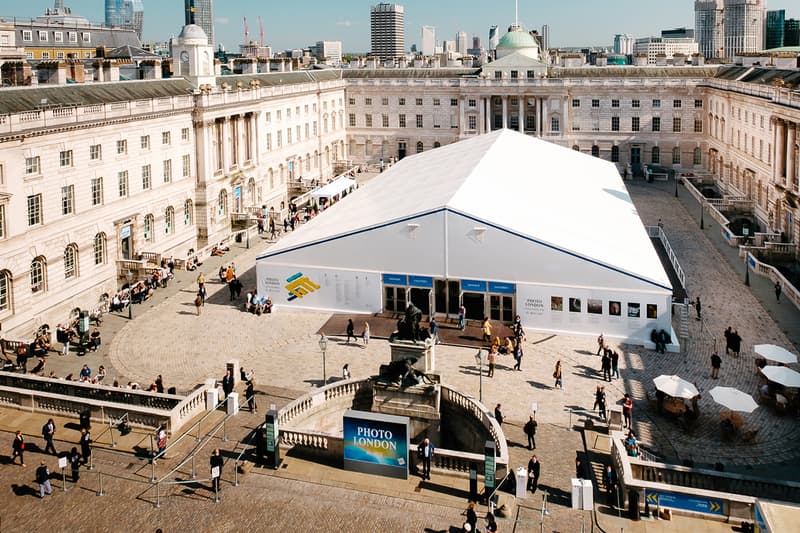 London-based photography fair Photo London is set to return to the UK capital for its annual exhibition. Taking over Somerset House, this year's fair is set to include almost 100 galleries from all over the world, spread across the main participants and Discovery section of emerging talent. Alongside the main exhibitors, the fair will also feature a programme of talks, 16 solo presentations and a wide range of satellite events across London.
Ahead of this year's fair — which runs from 16-19 May at Somerset House — we've pulled together five things to look out for at Photo London 2019.
Discovery Section
One of the stand outs of every year's fair, the Discovery section shines a spotlight on new and emerging talent from across the world. This year, 23 galleries have been selected for the Discovery section, putting a number of London-based spaces alongside international galleries including Paris' Galerie Binome, the Mexico City-based ALMANAQUE fotográfica and San Francisco's Euqinom Gallery.
Palm* Photo Prize
One of the many official satellite events for the main fair, the Palm* Photo Prize sees London-based publisher Palm* Studios showcase work from a final list of 100 photographers. The prize itself is set to be judged by a panel including writer and curator David Campany, Karen McQuiad of The Photographer's Gallery and Tate Modern Assistant Curator Sarah Allen. As well as the prizes, the 100 selected works will be on display at theprintspace gallery from May 14 until May 17.
Photo London Talks Programme
This year's programme of talks is set to feature names including photographer Martin Parr — who will discuss the theme of British identity in his work — biographer Ann Marks on the legacy of Vivian Maier, and Ed Templeton on his archive and creative process. Another standout from the talks schedule is Stephen Shore, who is also Photo London's 2019 Master of Photography, discussion of his career and "Details," his most recent series.
Kiko Kostadinov x Magnum Photos
The London outpost of Dover Street Market continues its annual tradition of marking Photo London with a series of events, launches and openings. The stand-out launch this year sees designer Kiko Kostadinov team up with Magnum Photos for a capsule of T-shirts, sweatshirts and hoodies. The limited-edition pieces all feature images from Indian photographer Sohrab Hura. As well as the Kiko Kostadinov capsule, Dover Street Market will also launch pieces from Adish Studios, Expert Horror and Nick Cave on May 16.
Gavin Turk's "Portrait of an Egg"
British artist Gavin Turk has created a special installation for this year's Photo London, with his Oeuvre sculpture which was installed on Somerset House's River Terrace back in February. During the fair, the sculpture — a giant bronze egg — will be photographed by visitors for a live Instagram competition titled "Portrait of an Egg." These pictures will then be projected onto the walls of the Great Arch Hall. Announcing the project, Photo London described Portrait of an Egg as "opening up ideas around social media, memes and the global obsession with recording the world photographically through our cyborg phones."