The Best Booths to See at Frieze New York 2019
Including retro-futuristic works by Tom Sachs, crushed car sculptures by John Chamberlain, and more.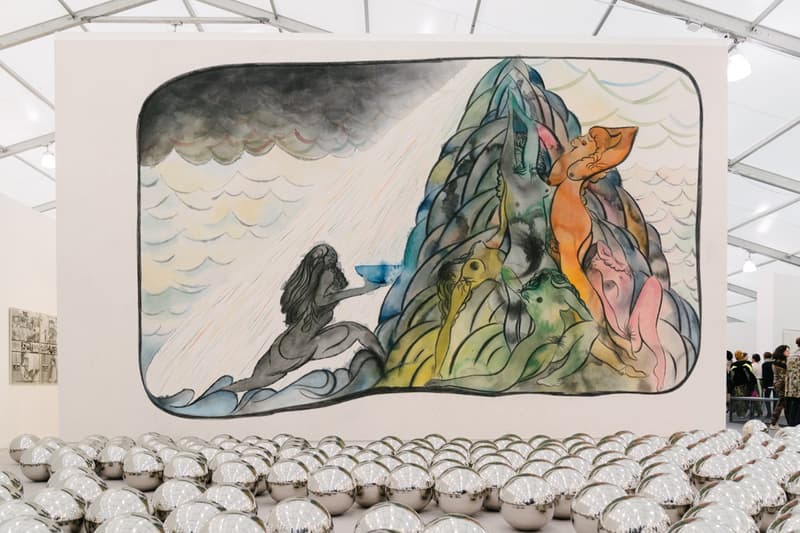 1 of 2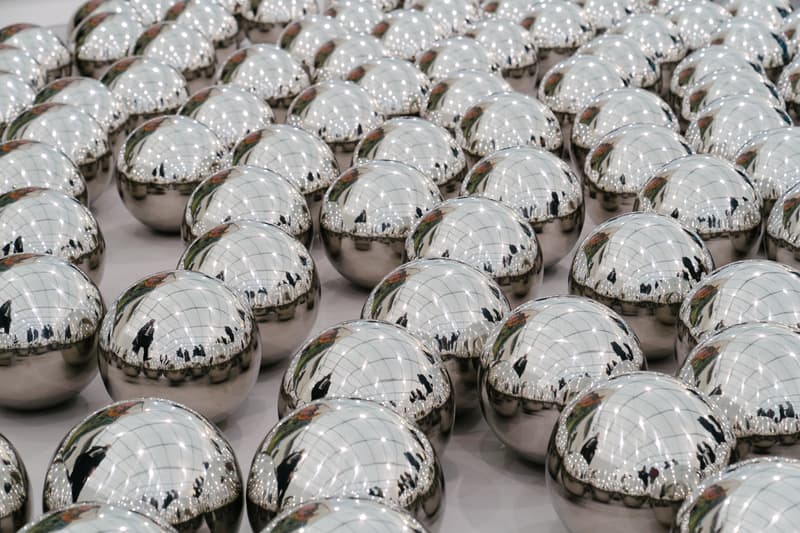 2 of 2
Frieze New York kicked off its 2019 edition today at Randall's Island. Inside the fair's enormous white tents is a sea of booths helmed by over 190 galleries from 25 countries. Welcoming visitors is Victoria Miro's display of reflective orbs by Yayoi Kusama entitled Narcissus Garden (1966–present). Another standout work near the entrance is Lauren Halsey's painted white columns to honor late rapper, Nipsey Hussle.
To help you navigate through the fine art madness, we selected the five best booths to check out at the fair below. Frieze New York 2019 concludes on May 5.
Perrotin, Booth #B16
Perrotin unveils a dynamic curation with works by Izumi Kato, Paolo Pivi, Takashi Murakami, Daniel Arsham, among others. Standout pieces include Pivi's handmade feather bears in a kaleidoscopic color palette, Arsham's cast sculpture of a New York Times newspaper dispenser, and a solo section dedicated to seminal Japanese artist Izumi Kato consisting of psychedelic yet minimalist paintings and sculptures of alien-like creatures.
White Cube, Booth #C13
White Cube presents a selection of paintings, sculptures, and works on paper by diverse artists who use the body as a source of inspiration Artists include Miroslaw, Balka, David Altmejd, Tracy Emin, and Magnus Lessen. Highlighted pieces consist of sculptures suffused with ornaments by Altmejd, Emin's I Thought of Nothing BUT You (2019) paintings, and Plessen's new paintings that explore movements of the body such as Untitled (Blue) (2019).
Kaikai Kiki, Booth #C21
Kaikai Kiki's booth is a cause for pause as its immersive presentation features a plethora of works by its dynamic roster of contemporary artists. Notable pieces include miniature paintings by Madsaki on the patchy exterior of the booth, large- and small-scale sculptures by Otani Workshop, water-based spray paint works by Stickymonger that feature her signature child-like subjects, and anime-inspired pieces by Mr.
Gagosian, Booth #C26
Gagosian's installment pays homage to the work of revered artists John Chamberlain and Steven Parrino. The monochromatic, twisted sculptures of Chamberlain immediately catch the attention of Frieze attendees that were crafted using vintage cars and repurposed steel. Moreover, Parrino's three-dimensional paintings are hung on a sprawling wall that were made using engine enamel, aluminum, and other unconventional materials.
In addition to the booth, Sarah Sze's first outdoor stone sculpture Split Stone and three of the fourteen sculptures from Walter De Maria's Truth / Beauty series are included in the inaugural New York edition of Frieze Sculpture at Rockefeller Center.
Salon 94, Booth #DLG1
No other booth has a pop culture and streetwear sensibility than Salon 94's. Included in the gallery's presentation are retro-inspired works and furniture by Tom Sachs including the artist's recently-released Shop Chair available for purchase at the fair for $2,500 USD. The gallery also presents Natalie Frank's fairy-tale inspired gouache and chalk pastels on paper, Lisa Brice's blue and white silhouettes of female figures, abstract paintings by Elizabeth Neel and Marina Adams, as well as David Benjamin Sherry's vivid landscape photographs.
Moreover, the institution celebrates El Museo del Barrio's 50th anniversary with a themed section highlighting art by contemporary Latinx and Latin American artists such as a new sculpture by multidisciplinary artist, Luis Flores.
Frieze New York
247 Centre St.
New York, NY 10013