Cristiano Ronaldo Shares First Trailer for Upcoming Superhero Cartoon 'Striker Force 7'
It comes alongside a free comic for Free Comic Book Day.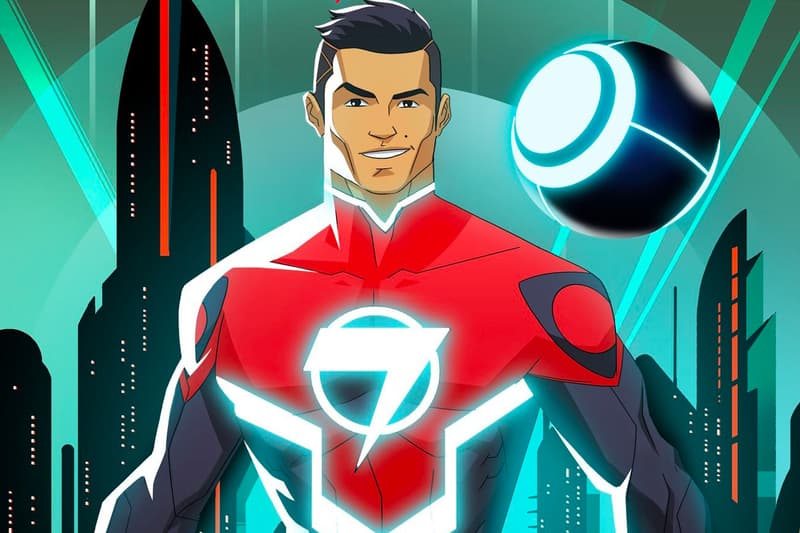 Several months after football superstar Cristiano Ronaldo announced his newest project with Graphic India, the five time Ballon d'Or winner has debuted the trailer for Striker Force 7 — a cartoon and comic book series which sees him become a superhero — via his social media accounts. The video, linked below, shows the superstar stepping out of a limo and signing autographs for his fans before trouble hits, demanding his attention. He transforms into a superhero by the push of his watch dial. Dressed in a black and red super-suit with neon blue highlights and a large '7' emblem on his chest, Ronaldo can be seen putting his extreme football skills to use, destroying robot foes with a high-tech robotic-looking football.
Speaking about the project, the Juventus player said: "In the same way football connects cultures and people around the world, I believe great animated characters and heroes can do the same and that's why I am excited to bring together these passions of football and superheroes through this project and share it with my fans." Sharad Devarjan, co-founder of Graphic India, added: "CR7 is a real-life superhero to a generation and this new series will bring together a global team of characters from our world and others, that are representative of the diversity of his millions of fans."
Aside from his animated series, Striker Force 7 also comes in comic book form, which can be purchased over at the series' official website. A free issue will also be available on Free Comic Book Day, so make sure to check your local comic book store then.
For more Cristiano Ronaldo news, check out Nike's limited edition Mercurial Superfly 360 CR7 SE in honor of the player.
Hi guys! Check out my animated show trailer and the comic book now! ? https://t.co/pq8lesrqYI ? #FCBD #FreeComicBookDay #SF7 #CR7 pic.twitter.com/bTe7DzXQRw

— Cristiano Ronaldo (@Cristiano) May 4, 2019