Dave and a Champagne-Filled Restaurant Lead This Week's UK Roundup
All the best things to do from April 12-18.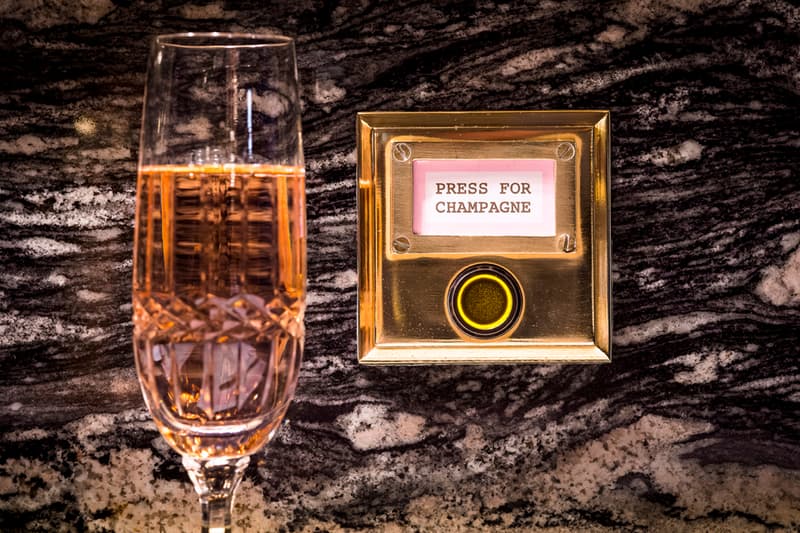 At a loose end for happenings in the UK for the next week? HYPEBEAST has plenty of options for you. There's more than enough happening this week, the concerts this time lead with Dave, Comethazine and Yasiin Bey.
There's also more than enough sample sales, new restaurants and exhibitions to visit while you're in the city. So without further ado, here's a list of happenings on the weekend of March 21 and beyond.
Music & nightlife
Where: O2 Academy Newcastle
When: April 13/14/16/17/18, 7pm
Dave continues his whirlwind UK tour, this time playing five nights that begin in Newcastle and ends in Liverpool. Fresh off his star guest appearance at Drake's show and the reveal that he'll star in Top Boy's return, it's been a busy time for the Number 1 rapper.
Where: Leeds Belgrave Music Hall
When: April 13/14/16/17, 7pm
Devlin, a stalwart of the music scene, is on a UK tour at the moment, playing four nights that begin with a show in Leed's Belgrave Music Hall. You can expect him to play songs from his latest release The Outcast.
Where: Electric Brixton
When: April 14, 7pm
Comethazine comes to the UK once more, this time playing in London's Electric Brixton venue. His hit song "Walk" recently had A$AP Rocky jump on the remix.
Where: O2 Forum Kentish Town
When: April 14/16, 7pm
Yasiin Bey returns to the UK for a two-night show, beginning in Kentish Town's O2 Forum. Bey recently launched his album Negus at Art Basel Hong Kong with an immersive listening experience.
Food
Where: Level 8, 122 Leadenhall St, London EC3V 4AB
When: April 2019
The infamous "press for champagne" button will now make an appearance at Bob Bob Cité in East London. The latest branch of Bob Bob Ricard doesn't have a firm release date yet, but it will be opened during April.
Where: 26 – 27 Lisle Street, London WC2H 7BA
When: April 16
Bun House is bringing its steamed buns to Chinatown, launching with a much expanded space. Adding two new buns — beef brisket and pineapple — there's also classics such as char sir pork belly, pig bun and cumin-spiked lamb.
Art & Cinema
Where: 16 Wharf Rd, Hoxton, London N1 7RW
When: Until May 18
Victoria Miro is host to NS Harsha's latest exhibition. Taking place until May 18, the renowned artist looks to the wide range of Indian painting traditions for inspiration, combining these influences with typical Western canon to create his works. The centrepiece of this exhibition is 2017's "Reclaiming the Inner Space," a three-dimensional wall-mounted work with a herd of 1400 hand-carved wooden elephants.
Mandy El-Sayegh: Cite Your Sources
Where: Chisenhale Gallery, 64 Chisenhale Road, London, E3 5QZ
When: Until June 9
Mandy El-Sayegh's latest exhibition is hosted at Chisenhale Gallery. The first solo exhibition from the artist, the work focuses on The Financial Times, which is applied directly onto the gallery space, which provide stark contrast to the typically pristine white gallery walls.
Visions of the Self: Rembrandt and Now
Where: Gagosian Gallery, 20 Grosvenor Hill, London, W1K 3QD
When: Until May 18
Rembrandt's classic "Self-Portrait with Two Circles" painting is the focus of this exhibition. Focusing on the difference between then and now in terms of artist, the show posits the likes of Francis Bacon, Jean-Michel Basquiat, Lucian Freud, and Pablo Picasso against Georg Baselitz, Glenn Brown, Urs Fischer, Damien Hirst, Howard Hodgkin, Giuseppe Penone and Richard Prince.
Where: David Zwirner, 24 Grafton St, Mayfair, London W1S 4EZ
When: Until May 18
William Eggleston's latest series is called 2¼ and focuses on square-format color photographs from the '70s. Taken around 1977 in California and throughout the American South, the images show a different side to America.
'Game of Thrones' Season 8
Where: Altrincham, Barnet, Bristol, Canary Wharf, Chelmsford, Crystal Palace, Esher, Glasgow, Harrogate, Horsham, King's Cross, Leeds, Birmingham, Muswell Hill, Stratford-Upon-Avon, York
When: April 15, 18:30
Game of Thrones is back on Sunday and to celebrate its return, Everyman Cinemas will be showing the premiere episode in cinemas around the country.
Fashion & Shopping
Liam Hodges "Physical Reality" Pop-Up Store
Where: 59 Greek Street, London, W1D 3DZ
When: Until April 21
Liam Hodges recently launched his first ever physical pop-up space, called "Physical Reality." The store is open for just over a week and includes archive garments, current season and even homeware.
Goodhood Yard Sale
Where: 42 Hoxton Square, London N1 6PB
When: April 13, 11AM – 5PM
East London institution Goodhood returns with its annual yard sale of discounted pieces. Expect bargains covering apparel, accessories, homeware and footwear, with brands including Our Legacy, Aries and Junya Watanabe all represented.