Prague Fashion Week FW19: Five Moments You Missed
A recap of the must-see moments.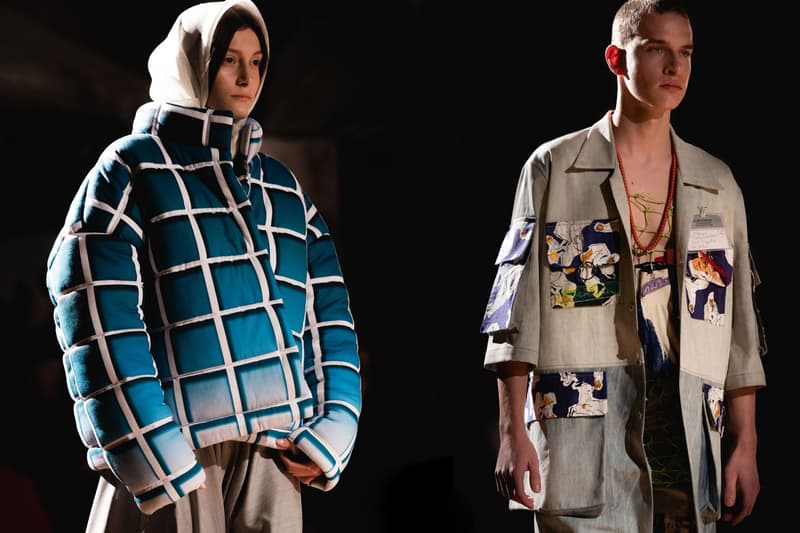 Prague Fashion Week is one of the many global events sponsored by Mercedes-Benz in an effort to give nascent designers and local brands an international presence — other iterations include Mercedes-Benz Fashion Week Russia and Mercedes-Benz Fashion Week Istanbul. With several fashion schools in its city limits, however, the Czech capital would appear to have an advantage over other regions in cultivating new talent for the international market.
Indeed, the fresh minds bred by the two universities represented by Mercedes-Benz Fashion Week Prague, Umprum and UTB ZLÍN, complemented the established talents with adolescent zest. What resulted was a surprisingly market-ready selection of progressive creations — if you like what you see, the MBPFW website helpfully includes links to shop some of the presenters' clothing.
After attending the weeklong event, HYPEBEAST has selected the must-see moments from MBFWP. Read on for a recap of the fashion week's best showings.
Jan Cerny
Jan Cerny is one of the most established young Czech designers, having launched his own label in 2015 and joined the MBFWP line-up in 2017. Currently balancing his time between his eponymous brand and an internship at Louis Vuitton, Cerny has shown ambitious creativity with each collection.
The Fall/Winter 2019 collection Cerny showed last week is an excellent introduction to his designs, demonstrating Cerny's ability to toe the line between youthful exuberance and contemporary sophistication. Splattered tie-dye, bold colors, stylized "JAN" branding and clever construction — asymmetric hems and doubled-up snap button closure — subverts Cerny's workwear inspiration with aplomb. Cerny designs clothes for himself and his young Czech fanbase, underlined by ample pride for his native country; the entire line is crafted in the Czech Republic, anchored by special deconstructed sneakers created in collaboration with local footwear company Prestige.
Umprum: Atelier Módní Tvorby
One of the city's premier fashion schools, Umprum was represented at the event by Pavel Ivančic's Atelier Módní Tvorby, a collective of graduating seniors to present a diverse array of looks on the runway. Though fellow Czech fashion school UTB ZLÍN's showcase was arguably more theatrical, Umprum's output was a worthy hybrid of cutting-edge intent and commercial influence, yielding clothing that was both conceptual and functional.
Emoji-studded jackets reminded viewers that, yes, this is a presentation of adolescent students, with other touches of youth coming by way of a delicate lace cut-out held aloft by a model walking down the runway. Bright sportswear was twisted into a shrewd gown-and-culotte set, taking the athleisure concept to the next level, while workwear-indebted chore coats were bolstered by graphic pocket details and mixed-material intrigue. A floral dress demonstrated advanced pattern-cutting, with petals delicately floating off the body and several blooms peeling back to reveal hidden houndstooth.
Lukáš Krnáč
Some of fashion's foremost creatives found their way into fashion accidentally, rather than working through a formal education. Such is the case for Lukáš Krnáč, who studied animation before joining the design studio at Tomas Bata University in the Czech city of Zlín. Krnáč takes a playful tact when designing his fledgling eponymous line, with a growing number of Czech fashionistas taking note of his eccentric creations each season.
Krnáč drew influence from rural Czech villages for Fall/Winter 2019, blending picnic-ready gingham patterns and fence-like patterns with bold florals and satin dresses. The upscale inclinations were undercut with adorable plastic goat appliqué and pig prints. Plastic waders really drove the farming influence home, while slouchy wool coats and tracksuits ensure comfort for chic city dwellers.
Adam Kost
Many Czech brands exclusively design womenswear, with an occasional mixed-gender offering. Young creative Adam Kost is a rare outlier, developing his vision of progressive menswear garments while studying fashion and footwear design at Umprum. Kost won a contest to work with footwear label Bata and was sponsored by Esquire for Fall/Winter 2019, underpinning the buzz around the juvenile designer's output.
In line with his past efforts, Kost overturned menswear constructs with clever styling, pulling sweaters down around his models' shoulders, tucking in blazers and cropping his chunky knitwear. Swirls of color were digitally printed onto the garments, inspired by topographic rock formations underground, while ingenious magnet fastening seals jackets shut and holds pouches against the surface of each garment.
Petra Ptáčková
An established talent on the European Fashion Week circuit, Petra Ptáčková developed a taste for detail-oriented couture techniques at prestigious French university École de la Chambre Syndicale de la Couture Parisienne. She debuted her eponymous brand in 2014 at Mercedes-Benz events in both Prague and Amsterdam, illustrating a taste for what Ptáčková describes as "magic realism"; draping genderless cuts, painted prints, vivid color and cheeky, inverted garments inform the seasonal collections.
These tenets carried over to Ptáčková's Fall/Winter 2019 show, swathing a variety of models in richly-textured scarves, dresses and jackets. Billowing trousers and militaristic parkas grounded the fanciful colors and patterns seen elsewhere, olive tones juxtaposed against brilliant tie-dye. Functional waist bags, backpacks and pouches gave the quilted looks a utilitarian edge, again offsetting comfortable garments with rugged motifs.
For more from Prague Fashion Week, check out the event's best street style.