Pharrell Brings out JAY-Z, Tyler, The Creator, Snoop Dogg & More During Inaugural Something in the Water Festival
J makes a surprise appearance.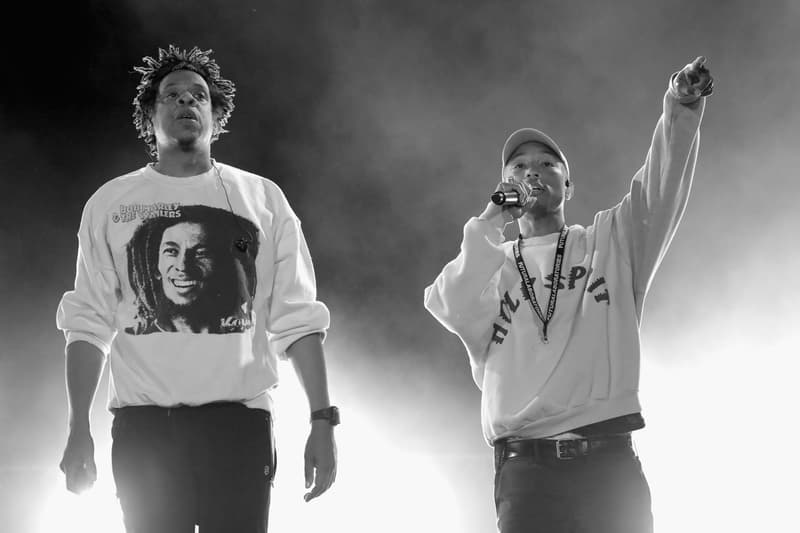 Pharrell William's inaugural Something in the Water Festival is currently being held in Virginia Beach, and last night the former N.E.R.D. frontman brought out JAY-Z for a surprise performance.
During his set, Williams shared the stage with JAY as the duo performed their song "Frontin'." Following after, JAY-Z took it upon himself to bless the crowd with his own single "PSA" from The Black Album along with "Izzo (H.O.V.A.)." On the other-hand Williams also performed "Beautiful" alongside cultural icon Snoop Dogg. Check out some of the other highlights from the festival below which included acts from Tyler, The Creator, Travis Scott, Migos, Virgil Abloh, Pusha T, and more.
JAY's been having quite the busy weekend seeing as the night before he re-opened New York City's Webster Hall by using the venue for the second installment of his B-Sides concert series. During the event, him and his former foes Nas and Cam'ron paid tribute to the late-Nipsey Hussle with an exclusive freestyle.
In more music-related news, Skepta announces new album, Ignorance Is Bliss.
@S_C_ performing "Izzo" @sitw. I heard the ? spit "fo shizzle my nizzle used to dribble down in VA" in Virginia Beach! Life is crazyyy. pic.twitter.com/HWeFsvzlpo

— ibrahim (@probablynotheem) April 28, 2019
I just saw @Pharrell bring out @S_C_ at @sitw to "Frontin". God, I'm ready you can take me now ?? pic.twitter.com/qpVEjn3hs1

— ibrahim (@probablynotheem) April 28, 2019
PHARRELL JUST PERFORMED FRONTIN' IN VIRGINIA BEACH AND THEN

JAY-Z CAME OUT AND DID HIS VERSE

???????#SITWfest

— juliana pache (@thecityofjules) April 28, 2019
Walking through that sand and stuff. Im tired but SITW last night was epic! Seeing Jay-Z and Pharrell perform frontin' live and then go into Izzo. Mannn

— Special Agent Rue (@butimvikki) April 28, 2019
I can literally die happy. I can't believe I saw Pharrell and Jay perform frontin

— Cristal (@cristal_pereira) April 28, 2019
.@Pharrell & Friends ?
THANK YOU VA BEACH. We'll see you tomorrow! #SITWfest pic.twitter.com/4S3v9wHTGX

— SOMETHING IN THE WATER (@sitw) April 28, 2019
@Pharrell, @SnoopDogg & @CharlieWilson performing "Beautiful" @sitw. Legendary moment. pic.twitter.com/l6H1YwLsde

— ibrahim (@probablynotheem) April 28, 2019
@tylerthecreator performing "See you Again" @sitw pic.twitter.com/jUrwIKyP0Q

— ibrahim (@probablynotheem) April 28, 2019
Literally la flame @trvisXX at #SITWfest main stage right now ?????? pic.twitter.com/56tA1HIlBE

— Sony (@Sony) April 28, 2019