UPDATE: Dragons Are Spotlighted in New 'Game of Thrones' Promos
As Winterfell prepares for battle.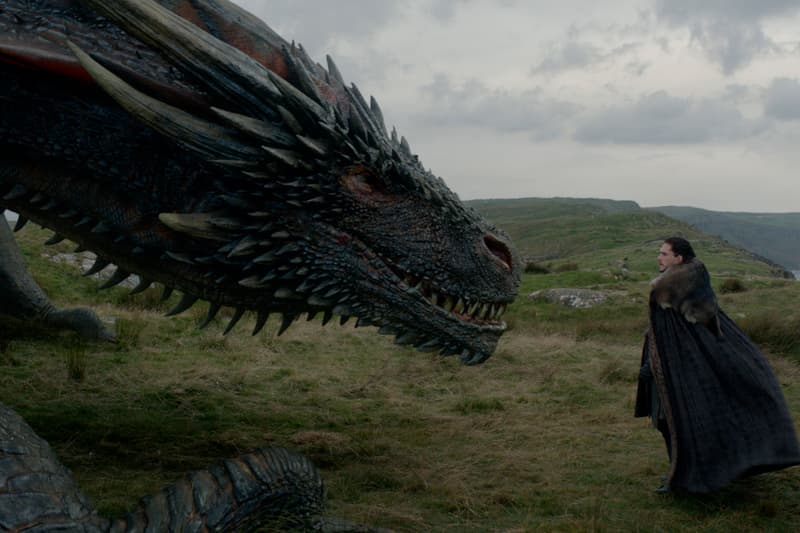 UPDATE: HBO has officially released two new promos for Game of Thrones titled, "Survival" and "Together." You can watch them both in their totality below.
ORIGINAL STORY: Two new Game of Thrones promos were shared by HBO over the weekend, however both were not released online.
Thanks to a few Twitter users such as @radcliffe, the two short clips were uploaded to the web which features a few key never-before-seen shots. Included in the footage is a glimpse of Arya and Jon together for the first time since Season 1. Elsewhere in the clips, we see Beric Dondarrion and his flaming sword, Tyrion addressing an assembly in the great hall of Winterfell, and both Daenerys and Sansa sitting at the head table.
Also thrown into the mix are scenes of Winterfell getting ready to battle the White Walkers while dragons fly overhead. One visual in particular stands out and it is of Jon walking away from Daenerys who is staring into a fire. What kind of grave news could have been shared between the two during this scene? Only time will tell.
Check out the new Game of Thrones promos below and catch the return of the popular show April 14 on HBO.
In case you've missed it, the final Iron Throne was found in New York City.
NEW GAME OF THRONES PROMO pic.twitter.com/OK0PTAT8VM

— ً (@radiclffe) April 1, 2019
لقطات جديدة تم عرضها على قناة HBO للموسم الاخير من Game Of Thrones ❄️?. pic.twitter.com/sJUG6TF0RB

— قيم اوف ثرونز (@Thrones_Ar) April 1, 2019