The Best Festivals Across Europe This Summer
The best places to catch Travis Scott, A$AP Rocky & more.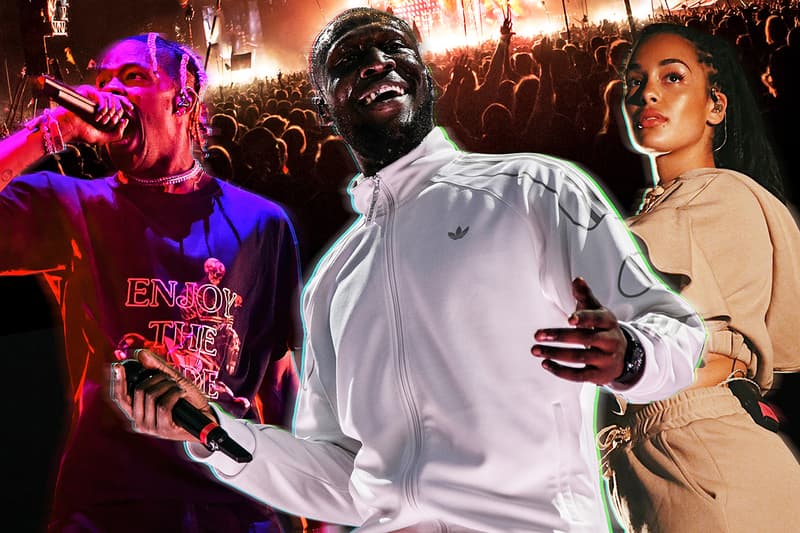 As spring turns into summer, we've pulled together a list of the best festivals happening across Europe. The majority of festivals on the list cover a diverse range of music as US-based rappers sit on posters next to legendary British rock bands, although some focus almost exclusively on hip-hop or electronic music.
Elsewhere, our top 10 covers established names such as Glastonbury and Primavera Sound to less-well-known events including The Netherlands' WOO HAH! and Way Out West in Sweden. The European festival circuit this year is dominated by the likes of Travis Scott, Cardi B and Stormzy, all of whom are due appear across the continent during the summer months.
Primavera Sound (Spain)
Barcelona's Primavera Sound returns for another year with a week-long run of events, although the real action is from Thursday to Sunday. For the 2019 festival, Primavera Sound has announced a line-up that is over 50% female, adding in a statement that this year's festival would highlight "equality, eclecticism and audacity." Notable names from this year's line-up include Pusha T, James Blake and Robyn alongside Erykah Badu, FKA Twigs and J Balvin. Another benefit of Primavera Sound is its location, making it easy to get into central Barcelona and to hit the beach nearby.
When: 30 May-1 June
Where: Parc del Fòrum, Barcelona, Spain
Who: Pusha T, James Bake, Robyn
Glastonbury (UK)
Undoubtedly the UK's best-known festival, Glastonbury began all the way back in 1970. Since then, the rural festival has grown and grown, with 135,000 people set to descend on the area this year. The line-up has also gone from strength to strength over the last four decades, covering everything from rising stars to the household names, as well as a wide range of nostalgic favorites. The 2019 festival will see Stormzy headline on the Friday, followed by The Cure and The Killers. Other big names on this year's line-up include Wu Tang Clan, Ms Lauryn Hill and Janet Jackson.
When: 26-30 June
Where: Worthy Farm, Somerset, UK
Who: Stormzy, Ms Lauryn Hill, Tame Impala
Roskilde (Denmark)
Denmark's Roskilde has unveiled a diverse line-up covering acts ranging from Travis Scott, Skepta and Sheck Wes to Bob Dylan and Vampire Weekend. The main festival runs from Wednesday July 3 until Saturday July 6, although there are performances from a number of Scandinavian talents running from June 29 until July 2. Similarly to Flow, Roskilde also puts a focus on arts activities, and features a line-up of artists and activists alongside the musical arts.
When: 3-6 July
Where: Roskilde, Denmark
Who: Travis Scott, Skepta, Sheck Wes
Wireless (UK)
After last year's impromptu Drake performance, London-based Wireless is set to bring Migos, Travis Scott and A$AP Rocky to the UK capital for this year's festival. Taking place in North London's Finsbury Park, the festival has become known for bringing impressive line-ups so close to Central London each year. Joining the three headliners, the 2019 festival is set to feature big names from the US — Cardi B, Future & Lil Uzi Vert — as well as some of the UK's finest including AJ Tracey, Steflon Don & Unknown T.
When: 5-7 July
Where: Finsbury Park, London, UK
Who: Migos, Travis Scott, A$AP Rocky
Lovebox (UK)
Originally founded in conjunction with Groove Armada — although the group are no longer involved — Lovebox moved across London in 2018 after 13 years in Victoria Park. The festival has always been known for attracting some of the biggest names in the industry, with Frank Ocean headlining in 2017 and Childish Gambino taking the stage a year later. For 2019 — Lovebox's second in West London's Gunnersbury Park — the main stage will feature appearances from Chance the Rapper, Solange and London's very-own Giggs.
When: 12-13 July
Where: Gunnersbury Park, London, UK
Who: Chance the Rapper, Solange, Giggs
WOO HAH! (Netherlands)
Arguably the stand-out feature of Netherlands-based WOO HAH! is its setting in a safari park on the banks of a river in the country's Tilburg Region. While the animals won't be on show during the weekend, festival goers will still be able to take in the location's nature-rich scenery. Visitors to the festival can either stay in a tents around the park, or rent out lodges and log cabins. The line-up is hip-hop focuses, with headline slots from Travis Scott and Stormzy, as well as appearances from Little Simz, Octavian, Pusha T and Rae Sremmurd over the three day festival.
When: 12-14 July
Where: Beekse Bergen, The Netherlands
Who: Travis Scott, Little Simz, Octavian
Melt! (Berlin)
Few festivals in Europe can get close to Melt! in terms of location. The festival is situated in Ferropolis, an island in a now-flooded coal mining area with five disused excavators acting as the backdrop. The line-up for 2019 is headlined by Bon Iver, A$AP Rocky and Jorja Smith, and also comes with a number of rising stars including London rapper Flohio and New York duo Oshun. Additionally, the Melt! line up boasts a range of DJs and producers covering everything from Four Tet to Arca to Virgil Abloh. All that, and it's not too far away from Berlin.
When: 19-21 July
Where: Ferropolis, Germany
Who: Bon Iver, A$AP Rocky, Virgil Abloh
Way Out West (Sweden)
For 2019, Swedish festival Way Out West has announced a diverse line-up headlined by Cardi B, Stormzy and The Cure, alongside Sweden's very own Yung Lean. The festival also takes advantage of its location close to central Gothenburg, running alongside the "Stay Out West" series of events. "Stay Out West" sees the festival take over nightclubs across the city for a number of night-only events, continuing the festival feeling. Elsewhere, Way Out West also boasts an enviable selection of vegetarian food as well as non-music events ranging from film premieres to talks.
When: 8-10 August
Where: Slottsskogen, Gothenburg, Sweden
Who: Yung Lean, Cardi B, Stormzy
Flow Festival (Finland)
Celebrating its 15th anniversary this year, Helsinki's Flow Festival mixes music and the arts. In terms of its musical line-up, this year's festival will see performances from Cardi B, Earl Sweatshirt, Blood Orange and more, while the art element includes a wide-ranging collection of works covering street art to light installations. This year will also see Flow expand to collaborate with the Finnish National Opera.
When: 9-11 August
Where: Parrukatu 2, Helsinki, Finland
Who: Cardi B, Earl Sweatshirt, Blood Orange
Dimensions (Croatia)
2019 marks the last time that Dimensions will be situated in the picturesque Punta Christo fort off the coast of Croatia. Before it heads off to a new location, the electronic-focused festival will play host to some of the world's best-loved DJs and producers. Key names on this year's line-up include Peggy Gou, Gilles Peterson and Ben UFO. The late-summer festival will kick off with an "opening concert" headlined by Anderson .Paak & The Free Nationals, alongside performances from Object, Tony Allen and Jeff Mills.
When: 28 August-1 September
Where: Fort Punta Christo, Pula, Croatia
Who: Anderson .Paak & The Free Nationals, Peggy Gou, Gilles Peterson