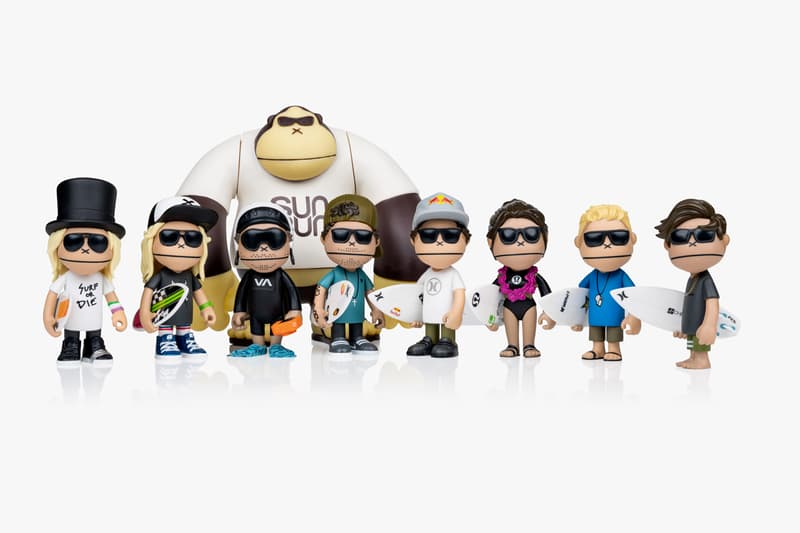 1 of 5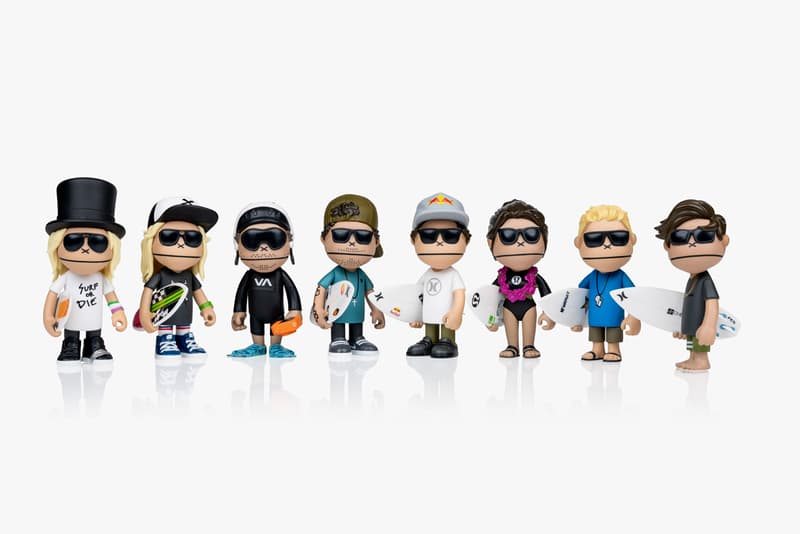 2 of 5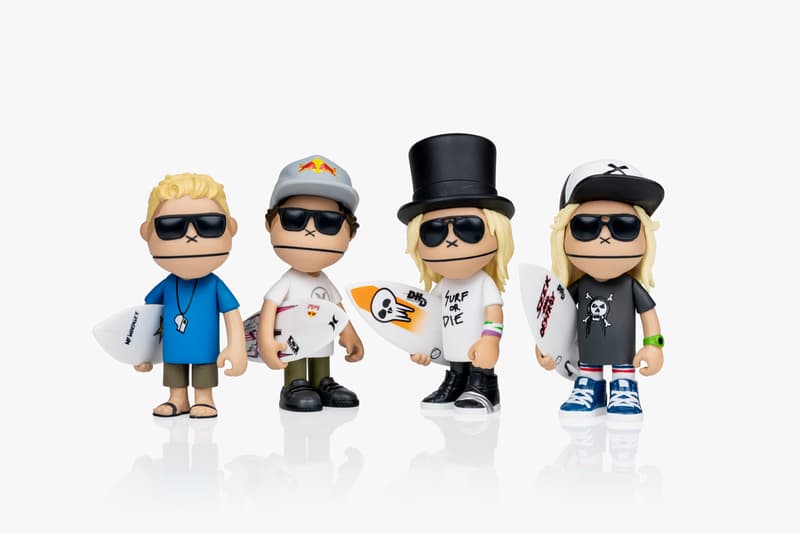 3 of 5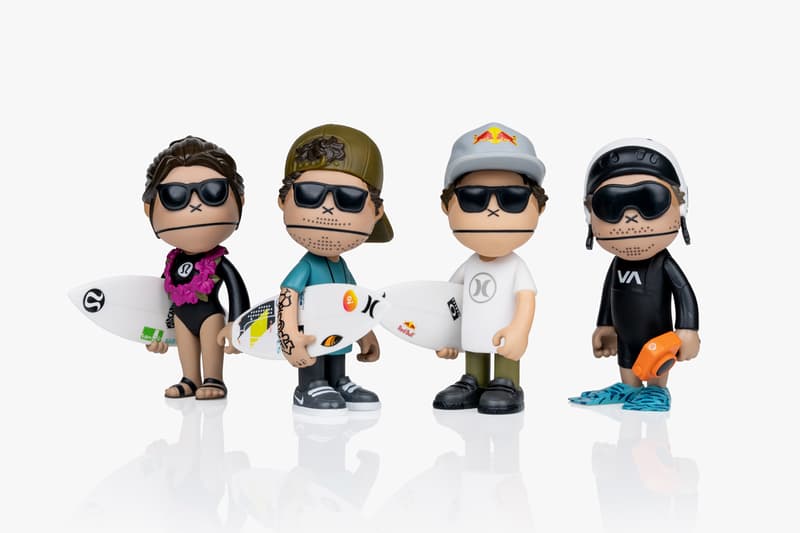 4 of 5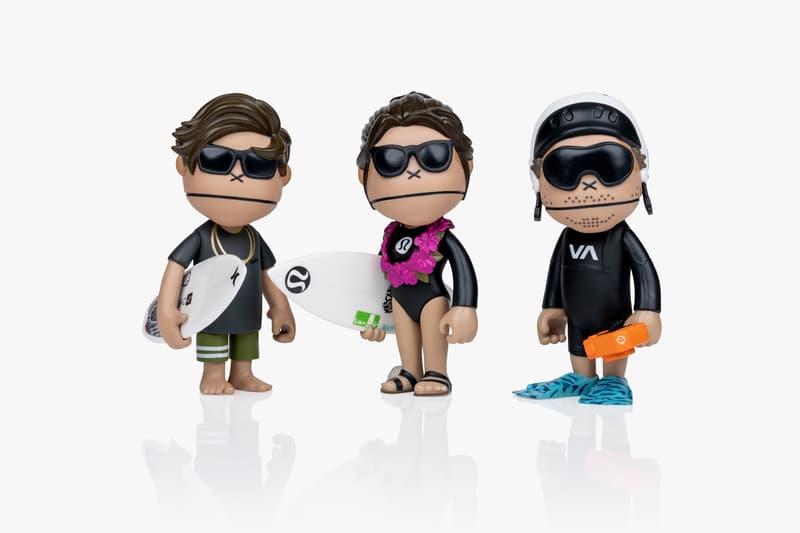 5 of 5
Sun Bum Celebrates 10 Years of Vinyl Figurines With Limited-Edition Series
Cartoon renditions of Julian Wilson, Filipe Toledo, Zak Noyle and more.
---
10 years ago, Sun Bum introduced a vinyl figurine depicting its stoic, sunglasses-clad ape mascot, "Sonny." Part of the long list of core values that complement its lifestyle aesthetics, the conception of the beach-bum simian was a nod to the collectible memorabilia that the likes of Kaws and BE@RBRICK were dropping at the time. According to the Founder, Tom Rinks, "When we started the brand we had a bunch of Kid Robot vinyls on our shelves and thought it would be rad to make a logo that could also be a vinyl." Evolving over the years has allowed the imprint to keep its finger on the pulse of the community that it takes influences from, but as the brand has grown, the sun care line hasn't gotten too big to not show reverence to the mavens moving forward the Sun Bum way of life.
This want to stay further connected led the brand to establish an ambassador program that brought together a collective of creatives, from surfing, music and art, who inspire Sun Bum and their respective communities to be better. Underscoring this group alongside celebrating a decade since the introduction of its first toy, its "crazy talented" friends have been memorialized in a series of limited-edition 5" vinyl collectibles, featuring Julian Wilson, Filipe Toledo, Zak Noyle, Malia Manuel, Barron Mamiya, Bede Durbidge, Kyuss King and Rasmus King.
In support of these recently dropped miniatures, HYPEBEAST met up with the man behind the doll, Zak Noyle, an acclaimed surf photographer. We sat down to talk about the climate of his artistic medium alongside the important lessons his father instilled with him.
At what point in your passion for surfing did you decide to focus less on being on the board and more behind the lens?
Being from Hawaii, we are constantly surrounded by beauty; it's moments to this day that I do not take for granted, something we are truly lucky to be witness to. With that said, I wanted to be able to capture and share these moments and visions with my family, friends and the world. Mind you, this was pre-social media. This was done at a time when film, magazines and print ruled the world. Being able to bring these images to share with someone, like my mom who was never able to be in the water, I found a drive and passion to show and share these moments with 99.999% of the world who wouldn't be able to experience these things for themselves.
Where does the surf photography climate lie in now from its heyday in the '60s?
With the golden age of surfing, the world fell in love with the beauty and lifestyle of surfing and the beach world. With that, the obsession to capture these moments and visions was born. Still, to this day, the romance and love for surfing and the lifestyle are very strong. Being able to record document and share these moments with the world is still in demand.
Surfing is such as fast action activity, if you blink, you could miss the moment or swell. Can you describe the techniques you employ to make sure you never miss a moment?
With surfing, you are very much in the elements. No two waves are the same. Positioning is everything when shooting from the water. You need to be in the moment. This is paramount in order to get the best shot possible. There are no re-dos or retries until one lands a trick. Being in the water you are present. You are in that moment, which is important [so] you don't get hit by the surfer, board or the wave or pushed under.
Your father was such a big part of inspiring and introducing you to your passion, what values and lessons did he instill?
I would be nowhere in my career and life without my father's guidance, encouragement and belief in me. It didn't matter that it was photography, it was what I loved that he was backing and wanting to support me. It just so happened to be the same subject (photography), yet a different genre than what he shoots. My dad always instilled: "It doesn't matter what you shoot with, it's how you shoot it." Meaning, make the most and best of your equipment on hand. He also would tell me: "Shoot loose, edit tight." Meaning to shoot and be in the moment but always put out the most polished product to the client or world. He has also really instilled to enjoy the moments and be forever thankful. I am able to do what I truly love, to work with people I enjoy working with and do amazing projects, this isn't possible or imaginable without knowing where one is from or being thankful throughout every moment.
I am able to do what I truly love, to work with people I enjoy working with and do amazing projects, this isn't possible or imaginable without knowing where one is from or being thankful throughout every moment.
How has social media changed the culture surrounding surf photography?
Social media has forever changed photography and videography: For the better and for the worse. When I started shooting film, it was truly for the love of shooting and capturing the moments. I am still happy to capture the moments, and many young photographers still are, but I feel with social media, many shoot with a certain crop in mind or a certain amount of engagement it will garner. I catch myself caught up in this once in a while and really need to return to the moment. I need to find the passion of why I'm there shooting what I love. I love seeing so many new people's work. I'm truly inspired by what's being done in new ways never before imaginable. Everyone's approach is different and social media helps us to have a platform to share that with the world!
What does the future for the medium look like?
The future is bright! The future is what we make it. You can resist and not use this or not do that, but do you and create your own path. The true creators will rise up and be there long after trends. I am so inspired by these new angles and visions everyone is creating. We just need to keep moving forward and remember that we love this medium, and, instead of competing, it should be viewed as enhancing and pushing one another up and onward!
Vinyl toys will be available in surf shops as a limited-time only gift-with-purchase (GWP) for any Sun Bum purchase of $30 USD or more. For more information, head over to Sun Bum's website.