Supreme Teases $4,000 USD+ Hand-Painted Meissen Cupid Figurines
A short making-of video highlights the detailed manufacturing process.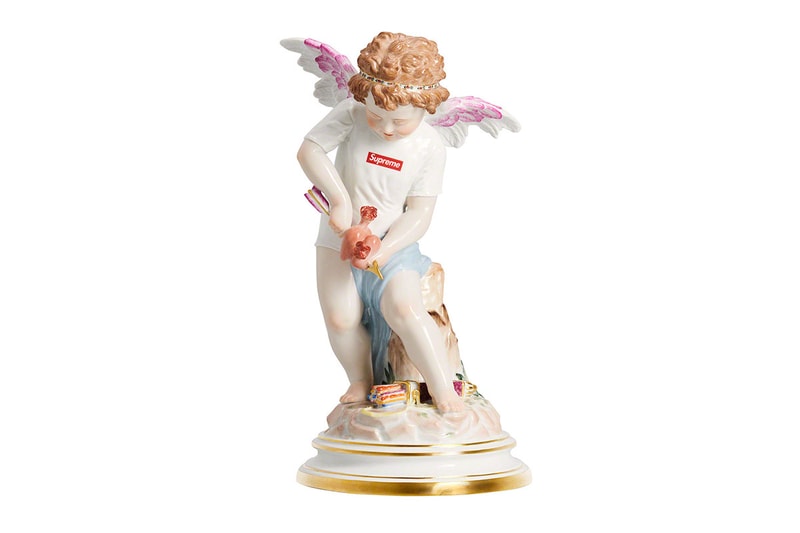 One of the Spring/Summer 2019 season's priciest items, Supreme's collaborative Meissen cupid figure is set to launch as part of this week's drop. To underscore the launch of the big ticket item, the New York brand released a promotional video highlighting the manufacturing process.
Europe's premier porcelain manufacturer, Meissen has been around since the early 18th century. Founded in 1708 by Ehrenfried Walther von Tschirnhaus, the company was the first in the country to produce hard-paste porcelain, or ceramic. This material was used to create fine chinaware and decorative figurines, many of which are now prized by collectors; a quick perusal of auction house websites reveals figures worth an average of $1,000 USD, with particularly desirable lots demanding sums above $8,000 USD.
A quick snippet of a video, Supreme's clip briefly showcases everything from the clay being harvested to the precious figurine receiving a precise paintjob by one of the factory's artisans. The level of craft is in line with Meissen's high standards of quality — the company made its name upon high-end goods for the upper class and still produces exquisite items complete with eye-watering retail prices. Supreme's collaborative figure recalls a past design of a cupid forging two hearts together to represent love with one major upgrade: the cupid's white Box Logo T-shirt.
Meissen's collaborative cupid figurine will release as par of Supreme's March 14 drop. Supreme reps wouldn't confirm the price to HYPEBEAST when asked, but considering that Meissen cupids often retail for over $3,000 USD, expect the Supreme edition to weigh in even higher.
Recently, we spoke to die-hard Stone Island fans about the brand's latest Supreme collaboration.
Supreme x Meissen Hand-Painted Porcelain Cupid Figure